March 12, 2021
Celebrating and Connecting with Sports Fans in the Great White North
The excitement of a live sporting event with devoted fans hanging onto the edge of their seats is unmatched in terms of its energy. But with fans nowadays cheering from their living rooms instead of an arena or stadium, the passion of a crowd coming together to celebrate a goal, a basket, or a win was missing. This was the challenge that the LG team in Canada set for itself – to connect with sports fans to celebrate the moments that make life good, wherever they are, whomever they're with.
As part of its long-standing partnership with Maple Leaf Sports & Entertainment (MLSE), LG is launching a new campaign called #LifesGoodMoment dedicated to Toronto Maple Leafs and Toronto Raptors fans. Knowing the intense emotional connection live sports can create, LG is seeking to build a similar sense of community for fans outside the arena. The season-long #LifesGoodMoment campaign recognizes the moments – great or small – that live sports can create. However you make them, and whoever you are with, it is these moments that make Life Good.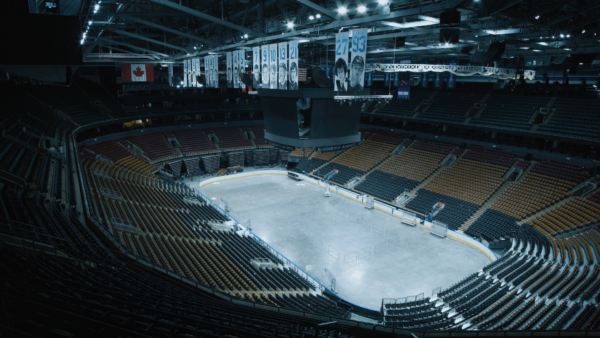 "Naturally we recognize that conveying the LG "Life's Good" brand vision can be a delicate matter at this time," said Robin Powell, head of marketing at LG Canada. "We felt it was time to shift our efforts from marketing our partnership with MLSE, to using our sponsorship platform to shine a light on the power of the human spirit and the many ways that people continue to create moments that celebrate the importance of community."
The campaign features a six-episode content series that shares personal stories from dedicated Leafs and Raptors fans who were nominated for special recognition for their contributions to their local communities. Raptors shooting guard Norman Powell and Toronto Maple Leafs alumnus Wendel Clark are featured throughout the series and are instrumental in creating Life's Good moments for these special award recipients.
"This year's challenges brought us a unique opportunity to redirect some of LG's sponsorship investment into creating special Life's Good moments for some of our most selfless fans," said Galen Davies, senior director for global partnerships at MLSE. "We are proud to work with LG to create a program where fans could nominate community heroes who continue to deserve recognition in these uncertain times."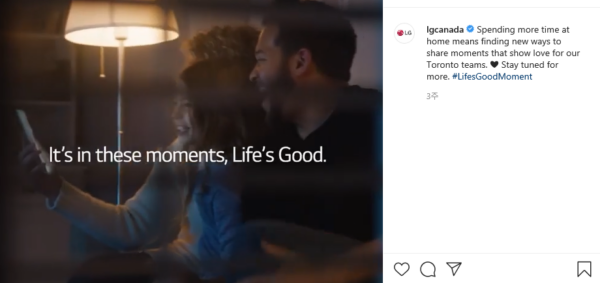 The #LifesGoodMoment campaign extends throughout the Leafs and Raptors seasons in 2021. A launch video kicks off the campaign followed by a content series that can be seen live on LG, Leafs and Raptors social platforms. Fans can share their own #LifesGoodMoment in the social content for a chance to win an LG Connected Home.*
Creative agency Forsman and Bodenfors developed the insight and creative for the campaign while MLSE created and produced the content series. Media agency PHD is responsible for the paid social and digital campaign while social agency Reprise works with social media influencers to create additional content and execute the contest. Public relations efforts are managed by GCI Canada's LG-One team.
To see more of #LifesGoodMoment campaign, click here and here.
LG and MLSE also partnered on an outdoor screen installation during the Maple Leafs and Raptors season-openers in the fall of 2019. The LED screen is 62 feet by 35 feet, a full 37 percent larger than the old screen, which gives Toronto sports fans a superior viewing experience.
The installation of the LG outdoor LED screen is part of the reimagination of Maple Leaf Square, which takes place over the next several years and brings technological and infrastructure innovations to create a world-class fan experience inside and outside the arena. As the exclusive Consumer Electronics Partner of the Toronto Maple Leafs and Toronto Raptors, LG is helping power a new fan experience through the latest sign and display innovations at Scotiabank Arena.
By LG Canada Staff
# # #
* One Grand Prize consisting of LG Connected Home product suite, approximate retail value of CAD 10,000. Complete contest details here and here.