February 12, 2021
Your Guide to a Safe (Yet Still Romantic) Valentine's Day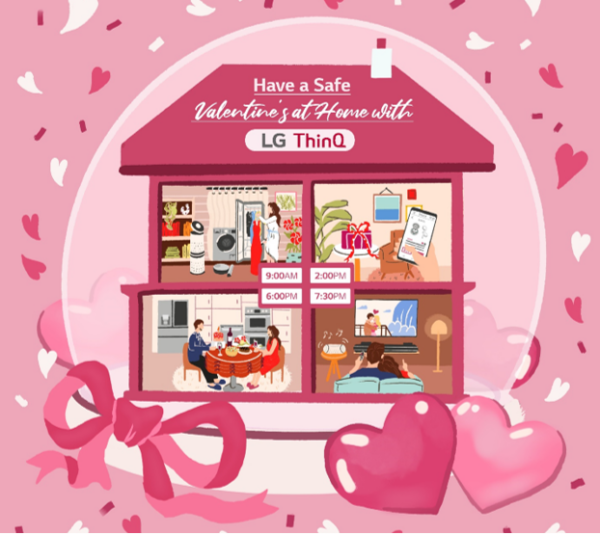 Valentine's Day is just around the corner, and fanfare and frivolities aside, the essence of this special occassion is to express true love, which can be accomplished without expensive restaurants or romantic getaways. There are plenty of ways to celebrate the special day at home, and with the LG ThinQ taking role as a lifestyle platform, it can help make your Valentine's Day more memorable without sacrificing safety. It can help you express love in a variety of ways from the perfect meal to fun-filled activities with your loved ones.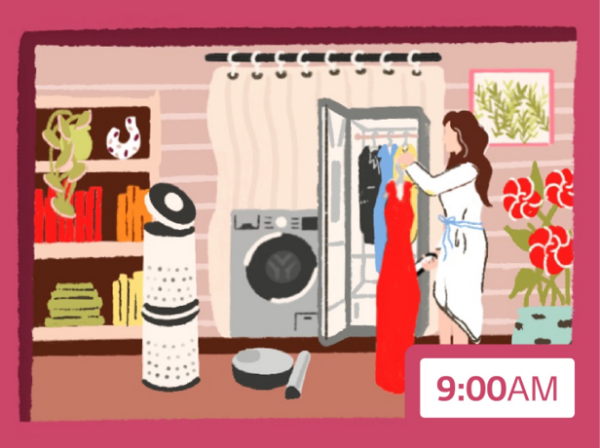 Turn Your Home into Cupid's Safe Bubble
With LG ThinQ, create the perfect environment for this special day is easier than you might think. The Routine feature on the LG ThinQ app  remembers your settings on different appliances to make cleaning easier every time.1 Customize your own modes, such as a "Fresh Air Mode" which could start the robot vacuum cleaner and the LG air purifier simultaneously to keep dust to a minimum while cleaning. With LG Styler, you can freshen up that flattering dress or elegant suit from the back of the closet.2 For everything else, use LG's washing machine with steam that sanitizes while cleaning.3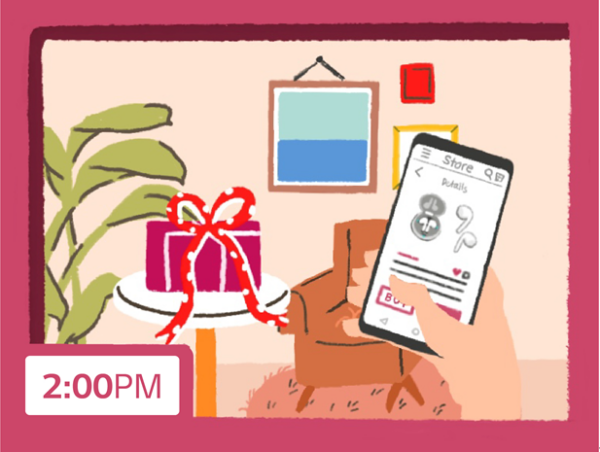 Gifts of Love Hand-Picked from Home
Valentine's Day is also about gift giving and you can even shop for LG products for your loved ones via the ThinQ app and avoid the mall altogether. For music lovers, there's LG TONE Free earbuds or LG XBOOM GO Bluetooth speakers while a portable LG PuriCareTM Mini Air Purifier might be ideal for those who spend much time in the car or for new mothers.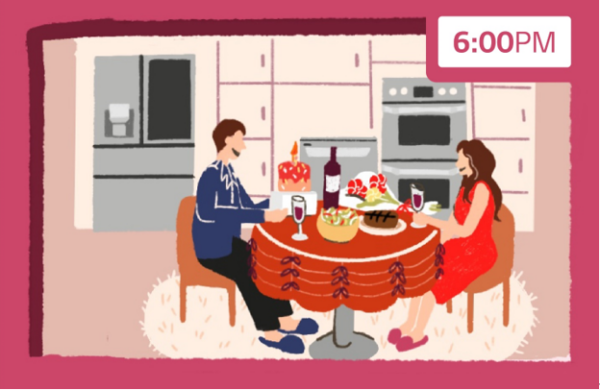 Transform Your Home into a Safe-Haven Bistro
Valentine's Day wouldn't be complete without a romantic candlelit dinner. While the idea of preparing and cleaning up after a four-course meal at home may not seem very romantic, LG ThinQ makes the entire process much easier and more convenient. As for what dish to prepare, LG ThinQ offers services compatible with recipe management apps such as Drop, Innit and SideChef that provide access to thousands of recipes to find an appropriate dish. Find the perfect recipe, click it and it'll send the recipe to your LG oven, preheating it to the right temperature and setting it on adequate functions while you focus on preparing the ingredients. Even if you're not a professional chef, the apps will provide you with step-by-step instructions to help you on your way to a deliciously easy cooking experience. Clean-up is also not an issue, as the ThinQ app lets you control and monitor your dishwasher and robot vacuum for a convenient and pleasant meal from start to finish.
Romance the Evening with Safe and Sound Entertainment
To wind down the perfect day, cuddle with your loved one for a movie and search classic romance films or rom-coms starring your favorite actors. Using the ThinQ AI in LG's AI TVs and the platform-wide LG universal search function, simply ask the LG Magic Remote to "find a romantic comedy film" to track down content you'll enjoy with incredible ease.4 If you're in the mood for something more exciting, turn your living room into a dance floor or ballroom and let loose with your loved one by saying "play love-themed ballads" into the Magic Remote. Whether it be romantic, party, or maybe just some lo-fi beats, or ask the LG XBOOM GO Bluetooth speaker to find music that fits the atmosphere or play your favorite playlist with a simple voice command.
So this Valentine's Day, add your own twist to create a satisfyingly romantic experience in the safety of your home. Learn more about LG smart products at www.LGThinQ.com.
# # #
1 LG ThinQ app compatible product models and available features may vary depending on region.
2 Features and usage requirements may vary depending on fabric of clothing.
3 Certified by the British Allergy Foundation (BAF) for reducing 99.9 percent of house dust mite allergens and Esche-richia coli and Staphylococcus aureus bacteria. Certified as an asthma and allergy friendly® appliance by the Asthma and Allergy Foundation of America (AAFA).
4 Services and features may vary depending on region and product models.