February 8, 2021
A Showroom for Africa in the Era of Social Distancing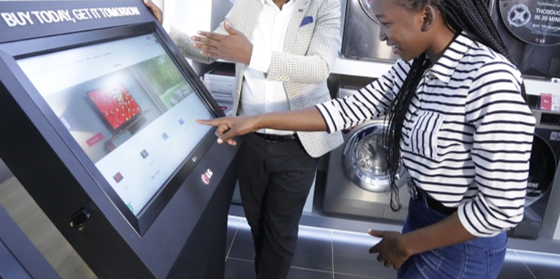 LG Electronics is redefined consumer innovation once again, this time with the opening of Africa's first-ever digital showroom. The LG "e-Showroom" unveiled in western Kenya's Kisumu City allows customers to interact with and conveniently purchase home electronics and appliances in a safe space. The digital showroom is the first-of-its-kind for LG in Africa and integrates LG's online brand shop with a physical browsing environment to enable online purchases through screens installed in the e-Showroom for delivery within 24 hours.
The futuristic LG e-Showroom in Kisumu showcases many of the company's latest innovative products such as market-leading OLED TVs, InstaView™ Door-in-Door® refrigerators, LG TWIN Wash™ washing machines and DUALCOOL air conditioners, in an environment that puts the health of employees and consumers first. Visitors get access to LG products so that they can learn more about them and make a purchase without having to visit an actual retail store. Trained LG personnel are on hand to provide expert guidance on each product's unique features in an environment where strict COVID-19 safety protocols are strictly observed.

Africa's first e-Showroom in Kisumu, Kenya
Following the successful launch of the e-Showroom in Kisumu, a second location was opened in the heart of Kenya in Nanyuki at the end of 2020, just in time for the holidays. The LG e-Showrooms come at a time when Kenyans are embracing the benefits of online shopping, with over 73 percent saying e-shopping is a better value for money since the start of the pandemic. *

Second e-Showroom in Nanyuki, Kenya
"We are conscious of our customers' evolving needs and are constantly reviewing our services to come up with new and creative ways of meeting these growing expectations," said Kim Sa-nyoung, managing director of LG Electronics East Africa. "One of these ways was to create the LG e-Showroom and give customers an alternative way of purchasing our products while ensuring their safety at the same time."
As the first to be launched in Africa, LG Kenya's innovative digital solution brings LG products closer to the people without compromising their health. Through the e-Showrooms, potential and current LG customers can see a real-world example of how LG is making life better… and safer.
By LG Kenya Staff
# # #
* Source: Master Card Study (2020), https://newsroom.mastercard.com/mea/press-releases/73-of-consumers-in-middle-east-and-africa-are-shopping-more-online-since-the-start-of-pandemic-reveals-mastercard-study