October 14, 2020
GIVING AT-RISK YOUTH AN OPPORTUNITY TO LET THEIR CREATIVE LIGHT SHINE
Even with talent and drive, a high percentage of youngsters seeking to enter the creative industry and share their unique gifts with the world rarely get the opportunity to do so. The reasons range from a lack of educational support as well as other factors completely beyond their control.
The LG team in the UK has long been passionate about giving youth the chance to reach their full potential. So, in collaboration with two experienced partners – creative agency Brand & Deliver (B&D) and The Liminality Group (TLG), a charitable organization committed to changing the trajectory of at-risk children and young people – the team developed a unique way to provide disadvantaged teens with a real taste of the creative industry.
During a three-week long virtual summer work experience program, LG and its partners selected 10 eager young people between the ages of 12-18 to provide them with a unique opportunity to network and lay the groundwork for their possible careers. As part of the program, LG UK provided every participant with a new LG gram 17 laptop that they could utilize for the duration of the project to connect to one another and the facilitators via video conference.
With their new tool at their disposal, participants were able to engage in regular video calls with B&D creatives and join workshops with TLG associates who provided advice, support and guidance to develop a campaign to launch the new LG CineBeam Laser 4K projector. Each week, the students learned a new marketing subject, knowledge that they could apply toward their task at hand. Topics ranged from creating a brand, developing a storyboard and editing videos, all skills that are crucial to succeed in today's creative world.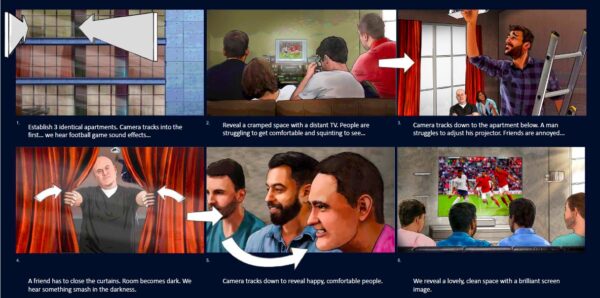 Although the virtual program was something completely new and different for these students, everyone fully embraced the experience, absorbing as much as they could and supporting one another to realize their dreams.
"Thanks to the B&D team, LG and TLG for an incredible experience, I never thought I'd be working on marketing a product for LG," said one participant. "We just don't get taught this stuff at school, so it was amazing to be shown how it's really done."
The program culminated with the students pitching their work to the head of marketing for LG's UK office, Carolyn Anderson. Congratulating everyone on a job well done, Anderson surprised the participants by informing them that they could keep the LG gram laptops that they had become attached to for the past three weeks. Each student also received a professionally designed portfolio to showcase all of their work, a glowing report to their school head and signed references from LG UK and B&D.
"We're proud to have been part of something that we hope will have a positive impact on the lives of these young people, each of whom deserves a future as bright as anyone else's," said Anderson.
LG plans to make this Summer Work Experience Programme an annual event as part of its mission to ensure that "Life's Good" for not only its customers, but for tomorrow's creators and innovators as well. Because life can only get better if today's youth have an opportunity share their unique gifts with the world.
By LG UK Staff
# # #