March 12, 2020
TAKE THE FUN WITH YOU AT LG GRAM CARNIVAL
As the season changes from winter to spring and the weather starts to warm, outdoor events become more popular, bringing fun and excitement and a break from the winter chill. Festivals and carnivals begin rolling into town, with games, rides, food and colorful entertainment in abundance. The carnival gives kids of all ages the chance to experience something unique and magical.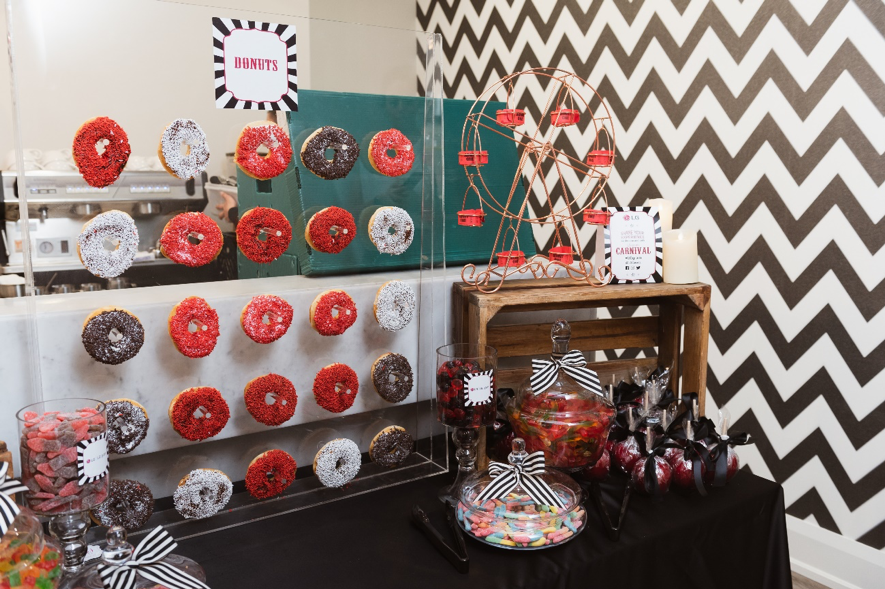 LG gram laptops were designed with portability in mind for creativity, productivity and fun on the go, delivering easy access to all kinds of entertainment and exhilarating experiences. To celebrate the launch of the LG gram laptop series in Canada, LG Electronics Canada created the LG gram Carnival to give media and influencers a unique opportunity to discover the features of one of the lightest, 17-inch laptops on the market today.
Held recently in a chic, downtown Toronto location, the LG gram Carnival showcased the svelte yet powerful laptop's many advantages in a memorably whimsical way. Key product benefits such as ultra-light weight, durability, impressive graphics capabilities, and flexibility, were introduced through creative vignettes centered on traditional carnival games and performances.
Getting into the spirit of the event, media and influencers took turns estimating the weight of various laptops in an updated version of the eternally popular (and perennially frustrating) weight guessing game. LG gram products are a feat of engineering and design, providing the ease of portability without sacrificing one gram of performance. The incredible LG gram 17 model manages to squeeze a 17-inch display, 10th Generation Intel®Core™ processor, 80Wh battery and up to 24GB of memory in a package that only weighs 1,350 grams.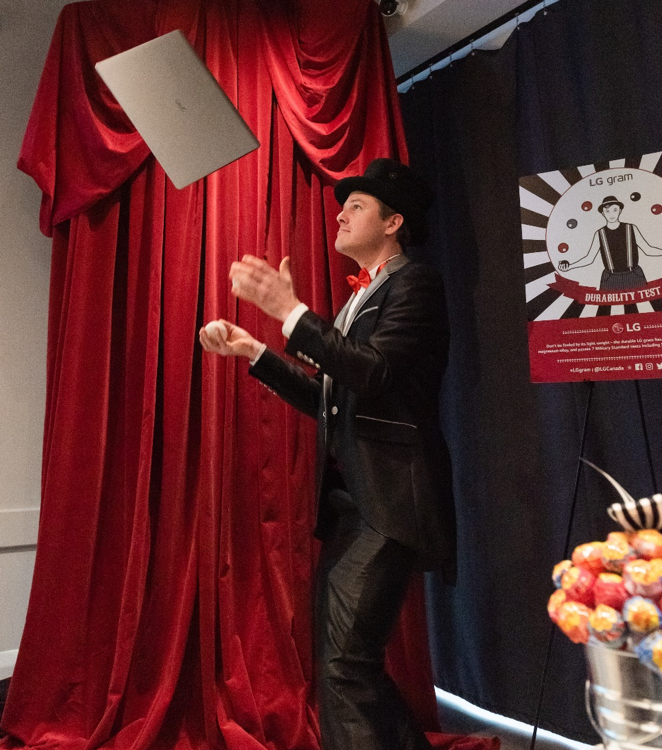 A hold-your-breath juggling demonstration served as compelling proof that the LG gram is lighter than ever, and sacrifices nothing in reliability, boasting a high-quality build that easily meets the U.S. military's MIL-STD-810G standardfor durability.
The LG gram Carnival also provided an opportunity to show off the speedy performance and stunning visuals of the sleek and slender laptops. With Iris®Plus graphics onboard, the LG gram delivers crisp, clear images without flickering, blurring or stuttering. Whether you're playing an intense, fast-paced game or editing 4K video, everything is sublimely smooth when displayed on these take-anywhere solutions.
For the event finale, to demonstrate the flexibility offered by LG gram – to do whatever you want, wherever you want – a Lollipop Lyra aerialist performed a series of mesmerizing acrobatics whilst deftly balancing one of LG's light-as-air laptops as part of the act.
Recreating the amusing atmosphere of a Carnival as a springboard to launch the LG gram laptop series in Canada, the LG gram Carnival delighted and amazed all who attended and proved that LG gram has what it takes to meet the needs of the user who is on-the-go. The combination of power, portability and strength boost productivity and ensure an enhanced entertainment experience on the LG gram, wherever it goes.
Juggler not included.
# # #