November 11, 2019
WHAT MAKES LG DUAL SCREEN THE PERFECT WORK-LIFE PHONE
As most of us have already learned, balancing work and life takes more than just a commitment or a promise. Technology has enabled us to "take work with us" with the help of a laptop or the cloud but even these solutions can be limiting. Inevitably you'll find yourself outside without your trusty notebook or far from an internet café.
Luckily, technology continues to march forward, offering new solutions to old problems. One of these solutions is to make your smartphone – which is with you all the time – into a more productive work tool. Let's take a look at how LG tackled this age-old dilemma.
Designed to be the ultimate multitasking tool, LG G8XThinQ with its Dual Screen is a device where fun and productivity happily coexist. Even when work intrudes on your personal time, you can still be productive even if you leave your bulky laptop behind. Sometimes work simply can't be avoided. With LG Dual Screen, that urgent call from the office can be made less annoying. 
Whenever Work Calls
Imagine this nightmare. The boss is on an important business trip and just called requesting your participation in a last-minute conference call. On your vacation! Without missing a beat, you sit in your study, open your LG G8XThinQ and Dual Screen and initiate a video call on one screen while scanning a report on the other. A half hour later, your clients are happy and so is your boss and you managed all this without your work laptop. Now you can get back to checking out what to do in the evening or posting your day's adventures on Instagram.
Double Your Efficiency
With two generously proportioned screens, there are so many ways to be more efficient. For instance, when participating in a video call with Dual Screen, you can simultaneously collaborate with colleagues on a presentation while responding to urgent e-mails on the other display. Read restaurant reviews on one display while sending venue directions to a dinner date on the other. Two screens mean you can be twice as productive without spending twice the time.
Shortcut To Being a Polyglot
In today's connected world, it's not unusual to come across an interesting website or news article in a foreign language. With LG G8XThinQ and Dual Screen, understanding another language is no longer a challenge with the built-in Whale browser. Simply tap on the Space Translator button and Whale shows the original and translated content side by side. LG Dual Screen makes it easy to look like a polyglot.
Two Search Engines At Once
Use two search engines at the same time with Dual Search on Whale browser, born of the cooperation between LG and Naver. Harness the power of two to get the best answers to burning questions or to seek insight and information on a pair of topics by comparing the results from two search engines simultaneously. No more switching between tabs, no need to split one screen in two and most importantly, no more wasted time.
Your Thumbs Will Thank You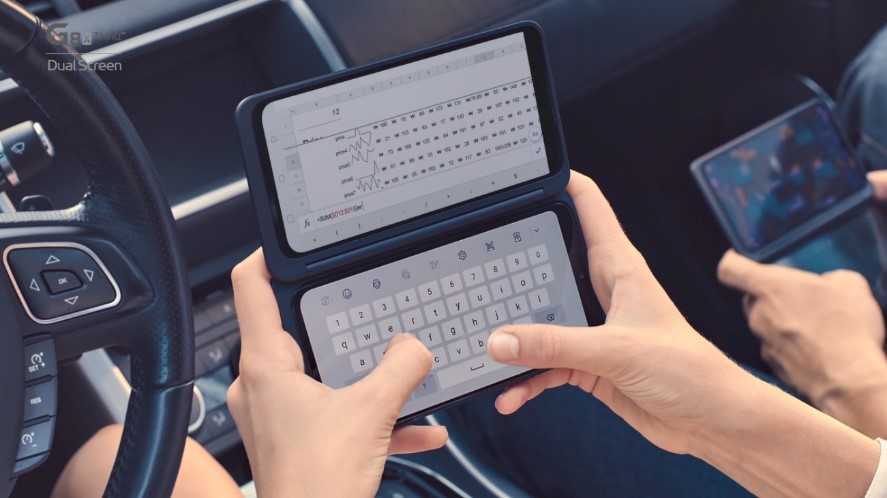 Still struggling to peck out a coherent message on your smartphone? Upgrade to the LG G8XThinQ and Dual Screen combo and experience the expansive full-screen LG Smart Keyboard. With the comfortable 12cm wide keyboard, you can text and email with far less errors and typos. You'll be able to rely less on that annoying autocorrect and your speed and accuracy will go through the roof!
Become A Scheduling Maestro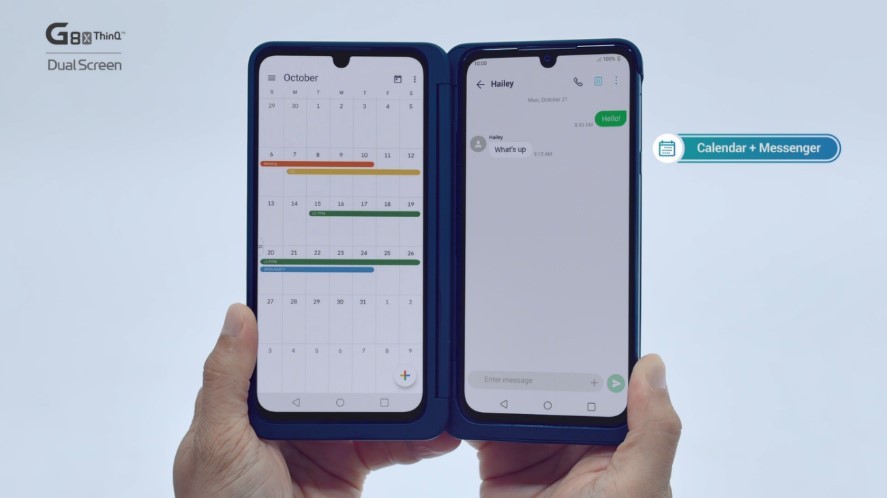 On a hectic day, scheduling can be a challenging whether you're a salesperson or a full-time parent. With LG G8XThinQ and Dual Screen that challenge just got easier with My Pick App. Just set up your favorite application to automatically launch on the second screen when you open the phone for fast, easy access to your schedule, contact list or music playlists.
Blending your work and life has never been easier. At home, on the road or in the office, do more and do it better with the exciting new form factor from LG!
LG G8X THINQ & DUAL SCREEN: MOVIE & CHILL
https://www.youtube.com/watch?v=BGsfMkt-ZTQ&feature=emb_title
LG G8X THINQ & DUAL SCREEN:SEAMLESS WEB BROWSING
https://www.youtube.com/watch?v=tS2ytvsCoaI&feature=emb_title
# # #