October 22, 2019
THE PERFECT MATCH FOR CONTENT CREATORS IN VOGUE
In a survey of 3,000 youngsters between the ages of 8 and 12, more American and British kids said they wanted to be YouTube stars than astronauts or athletes.*

In many ways, it's hard to be surprised by this.
What most respondents don't see, however, is the amount of effort and time that goes into making great videos that attract the most views. Being a successful content creator takes determination for sure, but also skill. Producing content that's both distinctive and original is extremely challenging.
And there's more.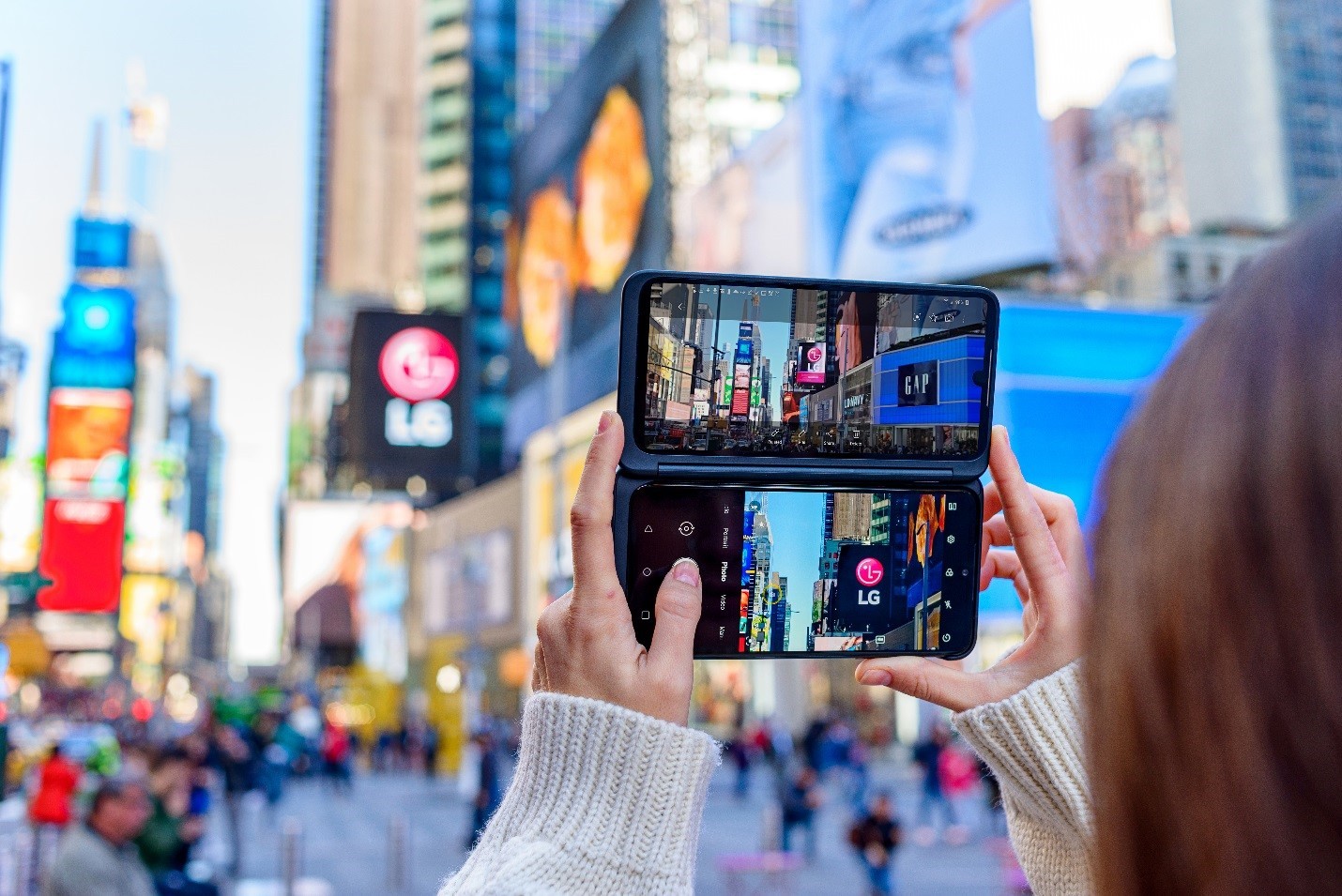 Just as an auto mechanic needs reliable tools and a teacher needs desks, today's most successful creators require prosumer-grade recording instruments. With the need to be mobile and ready to capture moments anywhere, anytime, today's smartphone is often the creator's backup device for never missing that important moment.
With many great smartphones with cameras available today, it's a buyer's market. But there is still nothing comparable to the combination of the LG G8XThinQ and LG Dual Screen for optimal content recording and creation.
Here are some reasons why…
Steady Cam for More Action, Less Nausea
One of the biggest challenges for content producers is shooting video on the move with a minimal amount of shake because no professional creator wants to induce nausea in the viewer. Most responsible creators use gimbals but unless that gimbal is pocket friendly, it may not be readily available. With Steady Cam in the rear 136-degree wide angle lens of the LG G8XThinQ, it's now possible to minimize shake while delivering the action that today's audiences demand.
4K Time-lapse For Making Long Stories Less Boring
Time-lapse on a smartphone may not be new but in 4K, that's a different story. The ability to shoot time-lapse videos on the LG G8XThinQ in stunning 4K detail takes on a whole new dimension. With a minimum of post-processing, show in minutes how you built that treehouse out of toothpicks (and a glue gun) or how you grew an avocado tree from a seed.
ASMR For The Masses
OK, ASMR may not be for everyone. ASMR, for those who haven't run across this bizarre concept, stands for autonomous sensory meridian response. In other words, it's sound that causes a good feeling accompanied (sometimes) by a tingly sensation on the skin. To create ASMR content, many creators use microphones calibrated specifically for ASMR quality sounds. The LG G8XThinQ is equipped with a highly-sensitive microphone that allows users to produce ASMR recordings without a separate recording device or attachments. This feature evolved from the High Acoustic Overload Point microphone which was first introduced on LG V10 and V20, far ahead of their time. An example of the high quality recording capability of the new LG G8XThinQ is available on LG Mobile's Instagram page for real ASMR fans: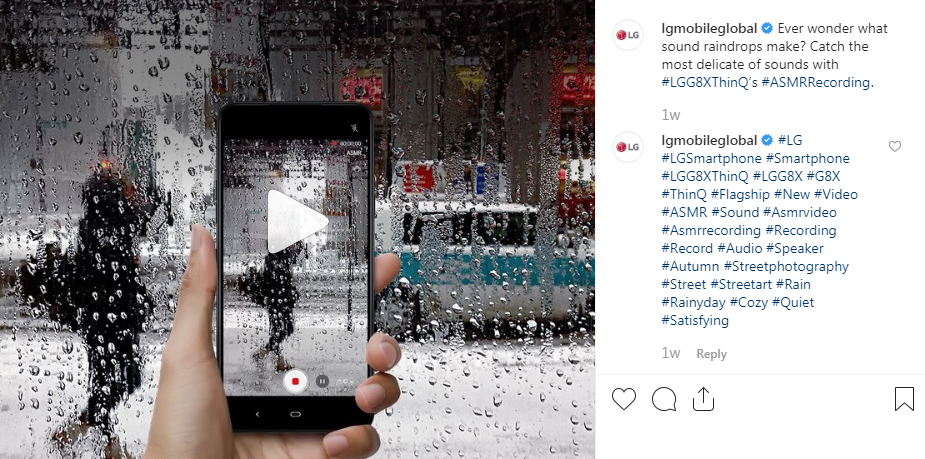 Advanced Front Camera Delivers Glorious Selfies
Any good photographer will tell you that the best images always start with great originals. In other words, there is so much one can do in post-process if the original image is low quality. The LG G8XThinQ sports a 32MP front shooter with an upgraded sensor that rivals its impressive rear cameras. Less time with Photoshop means more time to create Instagram-worthy selfies! Check out this Dual Mirror Mode from LG Mobile Global's YouTube page.
One Take, One Shot with Dual Mirror Mode
When someone takes your picture, wouldn't it be great if you could see what it's going to look like before they press "shoot"? With the Dual Mirror mode of LG G8XThinQ and LG Dual Screen, you can. The Dual Screen provides a full-screen preview so you can adjust your pose and make sure your best angle is captured.
Reflector Mode for Portraits That Look Studio-Quality
Studio lighting might look beautiful, but it's expensive and unsuitable for the on-the-go content creator. For well-lit portraits in any conditions, the LG G8XThinQ with Reflector Mode is the take-anywhere, use-anywhere solution. For shots that pop, the Dual Screen turns into a full-screen light source that's color-adjustable, letting users select a custom hue to illuminate their composition and express their mood.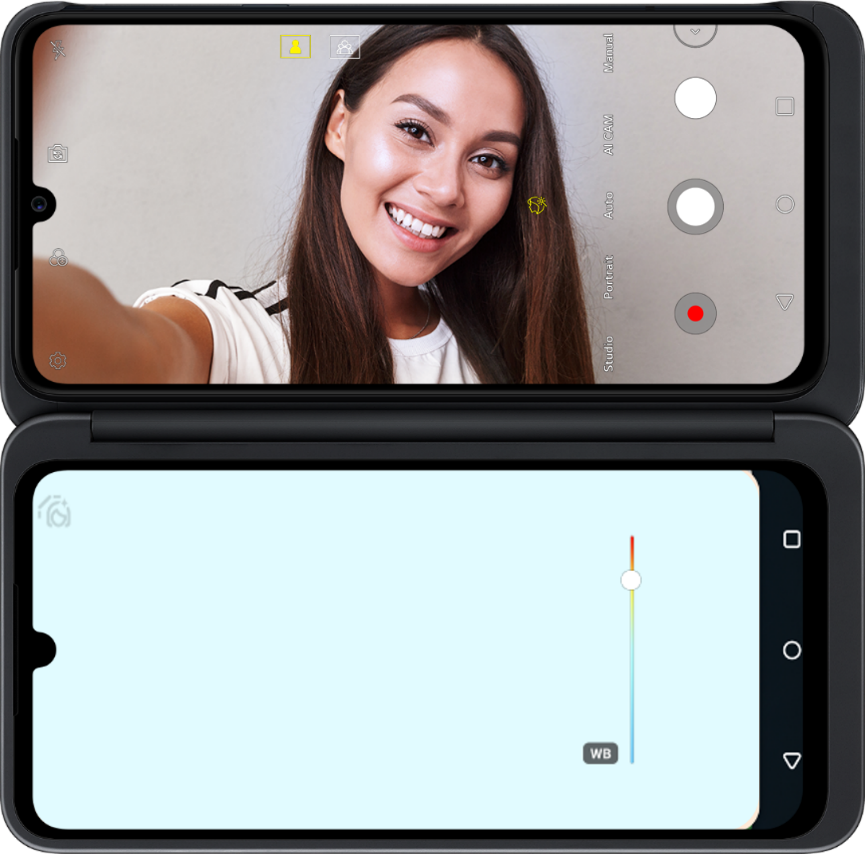 The LG G8XThinQ is the first LG phone to allow switching between front and rear cameras while recording video. And Tilt View is perfect for taking low- and high-angle shots, enabling users to see exactly what they're capturing via the Dual Screen. For those yearning to become influential creators, the LG G8XThinQ and Dual Screen may be just what's needed to turn dreams into reality, vision into actual images that captivate.
LG G8X THINQ & DUAL SCREEN: DUAL MIRROR MODE
https://www.youtube.com/watch?v=1vvV5JCNkGM&feature=emb_title
# # #
* https://www.businessinsider.sg/american-kids-youtube-star-astronauts-survey-2019-7/