November 7, 2018
ALL ABOUT THE LG V40 THINQ AND ITS AMAZING FIVE CAMERAS
(1st of a 3 Part Series)
The LG V40ThinQ has an unprecedented five cameras and offers plenty of ways to put them to good use. Thanks to high quality lenses and superior software, users will be faced with the welcome problem of having too many good photos to choose from!
This is the first of a three part series focusing on three different aspects of the LG V40ThinQ, the dynamic new creation from the lifestyle-enhancers at LG. Part two will focus on design and the audio capabilities of the V40ThinQ will wrap up the series. Read on to find out how LG's latest mobile masterpiece can help to bring a little magic back into everyday life.
1. Introducing Penta Shot and Triple Shot: Five Cameras = Five Times the Fun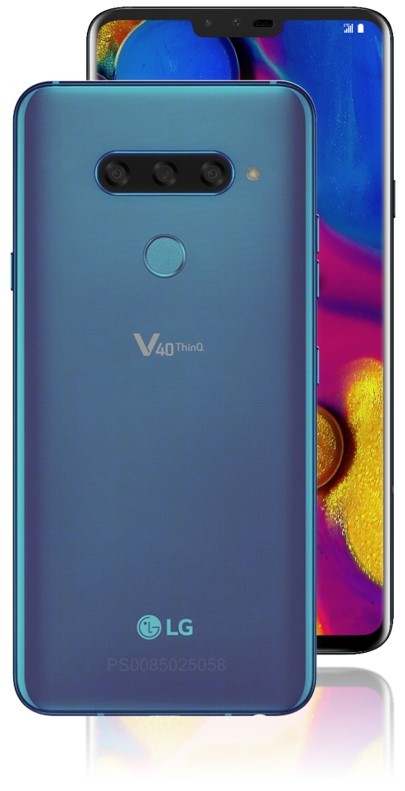 The LG V40ThinQ breaks new ground with five cameras, meaning users can take the perfect picture regardless of the distance of the subject from the V40ThinQ. The rear camera module houses a staggering three different lenses (super wide-angle, standard angle and telephoto), and two more (wide-angle and standard) can be found on the front of the handset. The rear-facing 107-degree super wide-angle lens enables users to capture stunning panoramic scenes, whilst the telephoto lens takes crystal-clear shots from a distance without any loss of detail.

            [Telephoto Lens]                         [Standard-Angle Lens]                       [Super Wide-Angle Lens]
With all this choice, users might worry about selecting the wrong lens to shoot with. Well, they can relax because LG has included a clever feature called Triple Shot, which takes pictures with all three rear-mounted lenses at the same time. Triple Shot stitches together the images captured by each lens to create a short video file that can be easily shared.
Try out Triple Shot from the camera application. Just click on Triple Shot mode, tap on the shutter button, then hit Save. 
 2. Forget About Framing: LG's AI CAM Automatically Adjusts Composition for Portraits That Pop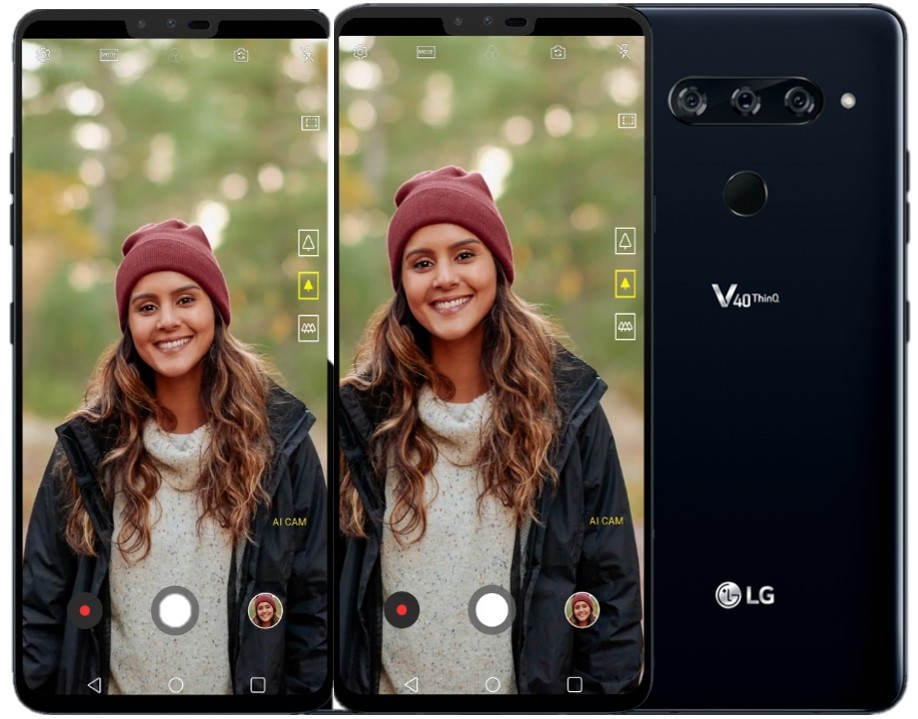 [Original Image]                    [Adjusted Image]
LG V40ThinQ gives users' portrait taking skills a helping hand via the new AI Composition feature, which automatically activates when the phone's AI CAM recognizes a human subject. It works just as well when taking group photos, optimizing shots according to how many people are in the composition and how they are posed. Both original and AI Composition images are saved to gallery, giving users the freedom to choose whichever version they prefer.
AI Composition can be accessed from the camera application. Click AI Camera and tap on the shutter button. Move to the gallery and click AI Composition to view the superb results.
 3. Cine Shot: Bringing Still Images to Life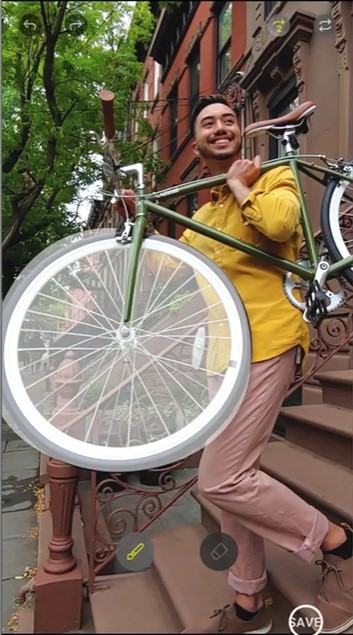 LG V40ThinQ has a wealth of features that allow users to get the most out of its five cameras, and have a lot of fun doing it. With Cine Shot, it's easy to make six-second GIFs where one element (of the user's choosing) remains in perpetual motion while the rest of the picture stays static – like a still life painting with a distinctly fun, modern twist.
To produce a Cine Shot masterpiece, click the Cine Shot mode from the camera application, then tap the shutter button. Select the area of the frame to keep in-motion then hit Save. 
 4. Backdrop: Change Background to Create Different Moods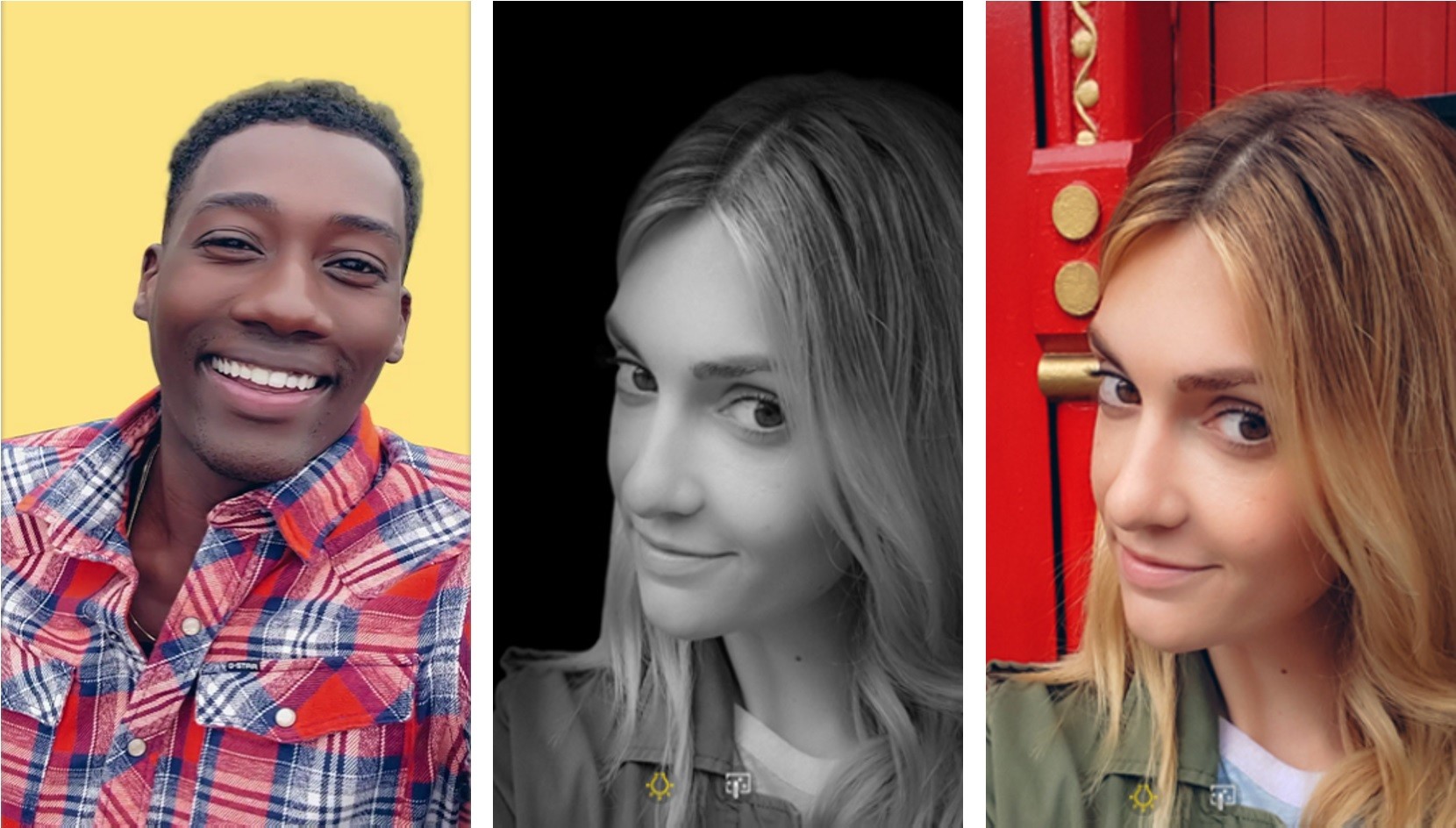 [Backdrop ]                           [3D Light Effect_Stage Mono]               [3D Light Effect_Soft Box]
Backdrop cleverly allows users to alter the background when taking portraits using any of the front or rear cameras. Play with focus, brightness, exposure, blurring effects, or bring in a solid color to give portraits that studio look. There are 5 studio-like lighting effects – including Natural, Softbox, Contour, Stage and Stage Black & White – to brighten, contour or add drama to portraits. Users can also choose from a variety of colored backgrounds to make pictures pop.
From the camera application, simply select Backdrop then adjust the background using the Settings bar. Tap on the shutter button and Save. 
 5. Makeup Pro: No Makeup Remover Required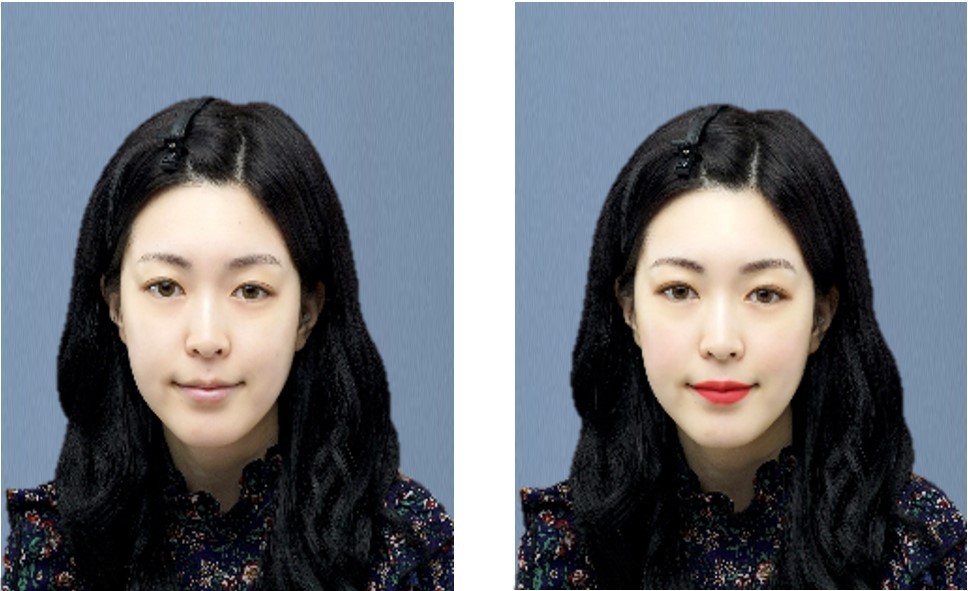 [Original Image]                                             [Image Using Makeup Pro]
With the Makeup Pro function, it's easy to virtually apply various makeup palettes developed by some of the top makeup artists working today. Try out transparent, chic, glamorous and more to project different moods.
Experiment with this creative feature by clicking the Makeup Pro icon and cycling through the available makeup effects. 
 6. My Avatar: Cute Emojis That Mimic Users' Facial Expressions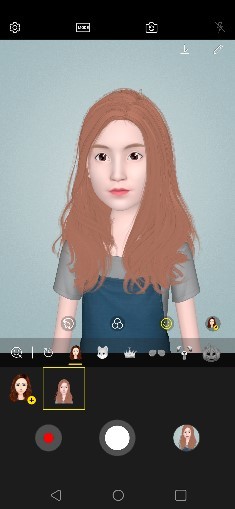 [My Avatar]
The My Avatar feature in the LG V40 ThinQ analyzes the user's appearance, taking one's unique facial features into account to create a personalized 3D avatar. Adding to the fun, AR Emoji can track and copy the user's expressions, making it possible to animate their avatar in real-time. Users may also choose from various 2D and 3D AR Stickers, and create 15 different GIFs when using the front-facing standard camera.
This concludes the first of a three part series on the LG V40ThinQ, the phone that boasts five incredible cameras along with some truly innovative features and functions. Stay tuned for the next installment in this series where the focus will turn to the modern, minimalist style of LG's latest mobile sensation.
# # #