August 30, 2017
LG SMART ECOSYSTEM NOW COMPATIBLE WITH BOTH AMAZON ALEXA AND GOOGLE ASSISTANT PLATFORMS
LG's Open Smart Home Strategy Expands to Include
Two Most Popular Intelligent Personal Assistant Services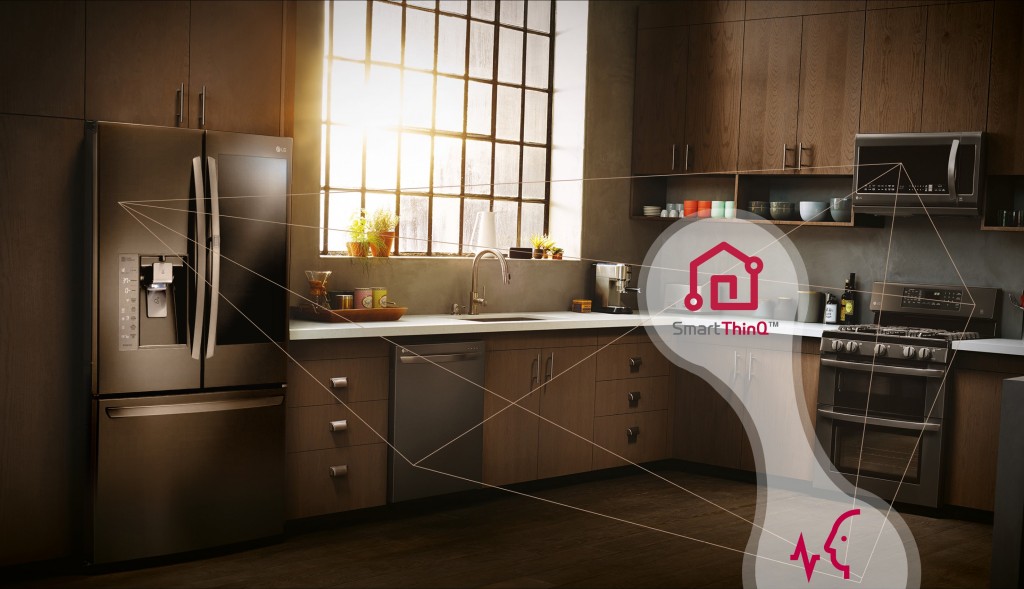 BERLIN, Aug. 30, 2017 — LG Electronics (LG) continues to work earnestly behind the scenes to expand its smart home partnership strategy to work with as many different smart platforms and services as possible. Committed to its Open Partnership, Open Platform, and Open Connectivity strategy, LG has been steadily building up its smart ecosystem with a smart lineup that includes not only intelligent home appliances but also robots that greet, clean and mow, to be on display at IFA 2017 in Berlin from September 1-6.
With Wi-Fi built into all of its 2017 appliances, LG makes it especially easy for its customers to connect and interact. LG's Smart InstaView Door-in-Door™ refrigerator powered by LG's own webOS smart platform is compatible with all the convenient features provided by Amazon Alexa voice service. With more than 15,000 skills, Alexa can control thousands of smart home devices, play music, arrange car service, set timers, and more.
New for 2017, the Google Assistant is now compatible with all of LG smart home devices using either Google Home, your eligible Android phone or your iPhone, you can control connected appliances hands-free. Using the Google Assistant, users can perform a range of tasks such as checking the remaining time for a wash cycle to finish or telling the refrigerator to create more ice. And because the Assistant on Google Home can distinguish one voice from another, the entire family can get in on the action.
LG also utilizes its own intelligent voice platform, Deep ThinQ, as well as Amazon Alexa and Google Assistant. SmartThinQ Hub plays a central role in LG's smart home platform by collecting information from smart appliances as well as conventional devices connected to SmartThinQ sensors via Wi-Fi, Zigbee and Bluetooth. Information is displayed in the form of notifications on the LCD screen or announced through its embedded speaker.
LG will be showcasing its intelligent robots for the first time in Europe at the Berlin show, led by the very approachable Hub Robot. More than just an assistant, the Hub Robot uses voice recognition technology to connect to other smart LG devices to make household tasks less of a chore. A verbal command is all it takes for the robot to execute tasks such as adjusting the dryer cycle from hot to warm or turning on the air conditioner in another room.
The Airport Guide Robot and Airport Cleaning Robot form the foundation of LG's out-of-home service robots initiative. Using LG's own voice recognition platform, the Airport Guide Robot understands Korean, English, Chinese, and Japanese – the four most popular languages spoken at Incheon International Airport. With a quick scan of a visitor's boarding pass, the robot provides flight information as well as the time and weather in the destination city. The friendly robot is currently in full operation at Korea's largest airport, providing visitors a warm welcome and escorting late travelers to their departure gate in record time.
LG's Lawn Mowing Robot, making its European debut at IFA, trims grass accurately, reliably and most of all, safely. Equipped with many of the advanced sensors found in the Airport Robots, the Lawn Mowing Robot recognizes its own location at all times and keeps track of every visible obstacle – such as trees and hedges – to maximize cutting performance.
"The development of voice recognition technology plays an crucial role in advancing our own IoT and smart technologies," said Song Dae-hyun, president of LG's Home Appliance & Air Solution Company. "By adhering to LG's Open Platform philosophy, we're able to deliver a diverse range of benefits and services for our customers that is unrivaled in the industry. By strengthening our relationships with Google, Amazon and other players in this space, we're making amazing headway in the Fourth Industrial Revolution."
LG will be welcoming IFA visitors to its booth starting this Friday to experience the amazing world of LG smart appliances for themselves where they will see an array of smart IoT devices that deliver smart lighting, energy, security and air care inside the home.
# # #