August 25, 2017
FROM LOWLY BOX TO HIGH TECH GADGET, LG REFRIGERATORS CONTINUE TO DELIGHT AND AMAZE FAMILIES WORLD OVER
Long a Trendsetter, LG's Influence in the Kitchen
Continues to Shape a Dynamic Market Around the World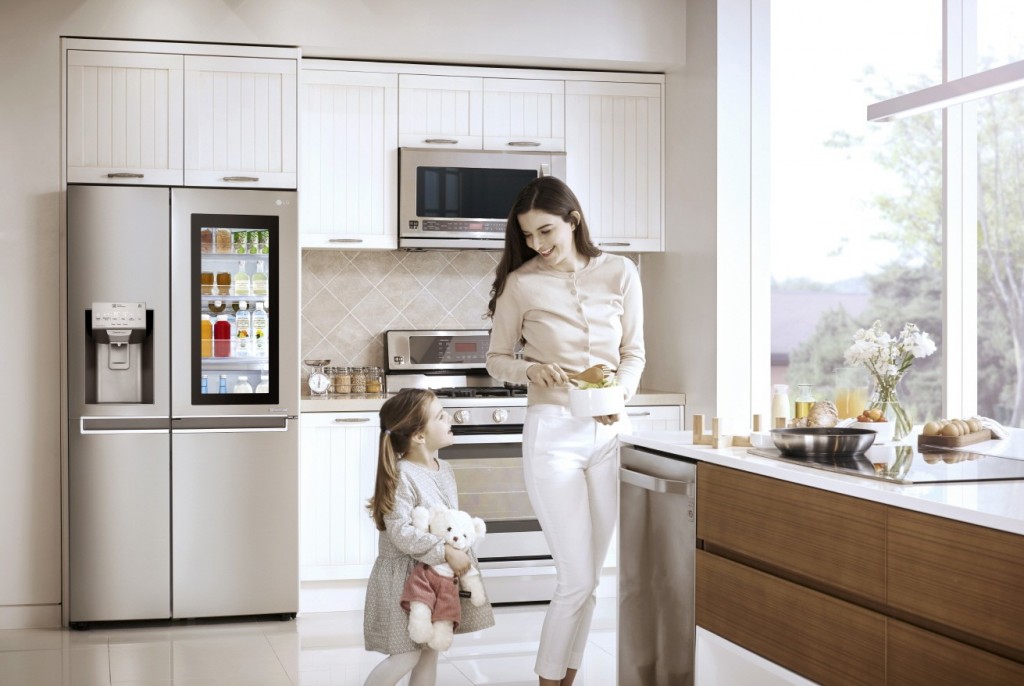 SEOUL, Aug. 25, 2017 — Few will likely name the unassuming refrigerator as the item in the home that has transformed family life. But refrigerator innovation over the past 60 years has transformed this appliance from a lowly kitchen box to become highly functional, ergonomic and environmentally-friendly product that it is today. With the technological advancements in today's refrigerators, consumers have come to hold these products to a higher standard. And to meet the expectations of today's demanding consumers, appliance makers are focusing more than ever on enhancing convenience by improving usability and accessibility.
Appliances are evolving to suit consumer needs as they appear, and the most innovative manufacturers are the ones that are able to predict user trends and meet their demands before they arise. Time and time again, LG Electronics has established a reputation as a company that is unafraid to push the boundaries of innovation and challenge convention. Its dedication to consistently work to bring convenience-enhancing features to consumers has resulted in a number of breakout products including the Home Bar and the InstaView Door-in-Door™ with Inverter Linear Compressor to boost overall energy efficiency and performance.
In 1998, LG introduced the Home Bar, representing the culmination of the company's efforts to bring together both convenience and efficient storage. It offered owners a unique compartmentalized space that could be used as a home bar, a shelf or even a refrigerator. Instead of having to move a single drink over to the kitchen counter after opening the entire appliance to take it out, users could simply pull out the attached rack and pour their drink without moving a single step. If consumers wanted to store their unfinished drinks and snacks for later, they could simply leave the items in the storage area for quick and easy access later.
Following the success of the Home Bar, LG looks at other ways its products could enhance user convenience to surprise and delight LG customers. Research showed that LG customers typically opened their refrigerators an average of 79 times a day 1. Despite this fact, 4 out of 10 customers had trouble remembering what was inside their refrigerators, resulting in spoiled food being thrown away. 2 This prompted LG to create the innovative Door-in-Door™ refrigerator in 2010. A first of a kind, LG's Door-in-Door™ innovation makes it easier to organize frequently accessed items in the refrigerator so that can be easily removed without opening the entire door and letting precious cold air escape. By lessening the number of times the main door is opened, food stay fresh longer. Taking this to another level, LG introduced the world's first Dual Door-in-Door™ in 2014 to double the convenience and allow for greater flexibility in organizing the food.
With efficiency now at the top of LG's priority list, researchers discovered that anywhere from 50-120kwh of electricity was wasted every year from cold air escaping whenever the refrigerator door was opened. 3 So in 2016, LG developed the InstaView Door-in-Door™ to allow family members to now see what was in the refrigerator without having to open anything at all. Knock twice on the transparent door would illuminate the interior allowing for a clear view of what was inside. The response from the public took LG executives by surprise – whenever consumers saw the refrigerator in a store or in a showroom, they couldn't resist the opportunity to knock on the door. The refrigerator had become a conversation piece because fundamentally, LG InstaView Door-in-Door™ transformed the way consumers use refrigerators: from having to open the door to see what's inside to being able to see inside before opening the door.
The new kitchen culture ushered in by LG's Home Bar, Door-in-Door™ and InstaView Door-in-Door™ begs the question: What will LG come up with next? Despite having long been a pioneer and influential player in the global refrigerator industry, LG has never taken its success for granted, continuing to stay committed to the development of home appliances that surpass its customers' expectations and delighting families world over. Always considering user needs and convenience above everything else, LG continues to surprise with its unique, innovative products and technology for the kitchen.
# # #
1   Based on internal consumer research.
2   Based on survey conducted by LG Electronics USA.
3   The Institute of Food and Agricultural Sciences at the University of Florida, http://www.goodhousekeeping.com/home/a19095/refrigerator-door-wastes-energy/