April 7, 2016
LG TVS RECOMMENDED BY NETFLIX FOR SECOND STRAIGHT YEAR
LG's 2016 OLED TVs, SUPER UHD TVs and UHD TVs Boast
Superior Internet TV Experience and Optimal Streaming Capabilities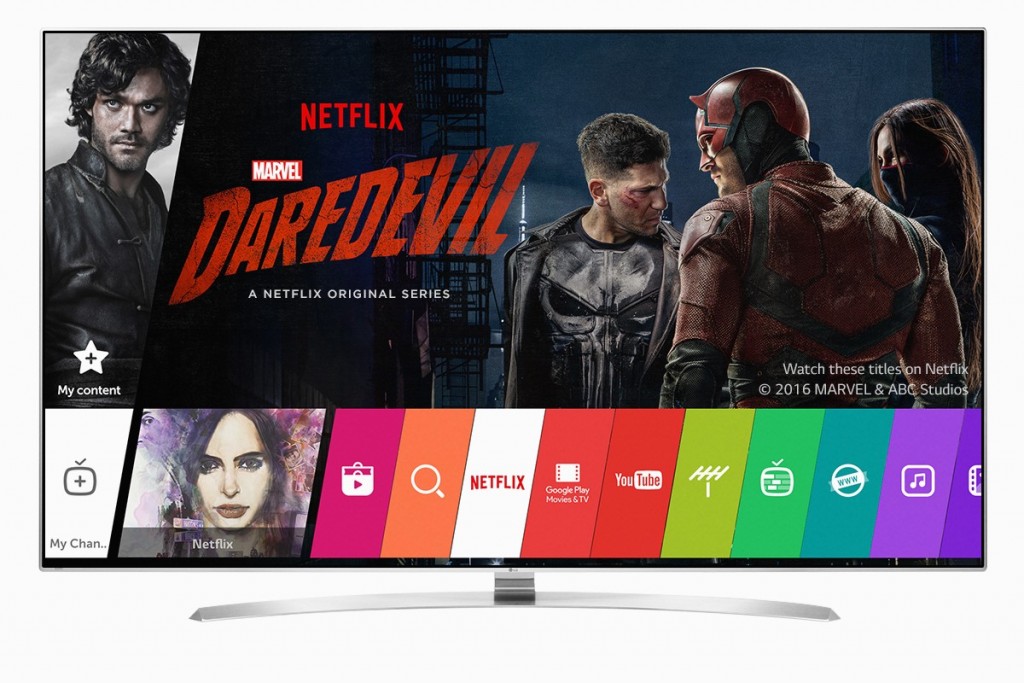 SEOUL, Apr. 7, 2015 — LG Electronics' top-tier 2016 4K TVs have been selected by Netflix for its Netflix Recommended TV program for the second consecutive year. Netflix Recommended TV is an evaluation program recognizing smart TVs that deliver excellent performance for Netflix and a better Internet TV experience overall.
LG's superior webOS 3.0 4K TVs qualified for the global Netflix Recommended TV designation after undergoing a rigorous, criteria-based smart TV evaluation program. Making the list includes LG SIGNATURE OLED TV (G6), 4K OLED TVs (models E6 and C6), LG SUPER UHD TVs (models UH9500 and UH8500) and UHD TVs (models UH7500, UH6500, UH6300 and UH6100) with more models expected to be added as they are evaluated.
The Netflix Recommended TV program is designed to help consumers identify televisions that offer a quicker, easier and up-to-date Netflix experience. LG's webOS 3.0-enabled OLED TVs, SUPER UHD TVs and UHD TVs offer an unbeatable combination of breathtaking picture quality and streamlined, intuitive smart TV features that provide an optimal Internet TV streaming experience.
With an extensive library of award-winning TV shows and movies and over 600 hours of original programming planned for this year, LG TVs offer an amazing 4K viewing and streaming experience for Netflix members across the globe. What's more, select LG webOS 3.0 4K TVs offer best-in-class Instant On performance so you can turn on your TV and start watching Netflix faster than on any other model on the market today. Other WebOS 3.0 features like Fast App Switching mean accessing Netflix and other Internet Services is as easy as changing channels.
On top of flawless 4K content, LG TVs are already prepared to provide optimal HDR picture quality.LG's OLED TVs and SUPER UHD TVs are fully compatible with both the HDR10 and Dolby Vision HDR formats and are ready to offer viewers optimal picture quality for Netflix original series in HDR, including Season 1 of Marco Polo, available now, with Marvel's Daredevil coming soon.
"We are excited that the Netflix Recommended TV program recognizes our exceptional smart TV performance for the second consecutive year," said Brian Kwon, President and CEO at LG's Home Entertainment Company. "On top of smart TV functionality, LG's premium-tier 4K OLED TVs offer unequaled 4K picture capabilities. Now with more 4K and HDR Netflix content available globally, choosing a TV from LG has become the obvious choice."
"LG has continued to lead the way in making streaming services, including Netflix, easier and faster to use" said Scott Mirer, Vice President, Device Partner Ecosystem at Netflix. "We are pleased to designate LG's latest 4K UHD TVs with webOS 3.0 as Netflix Recommended TVs, offering a superior experience for Netflix members all over the world."
LG TV users can access Netflix by selecting the Netflix app in LG's webOS smart TV platform. Netflix is also accessible on older TVs through LG's former smart TV platform, Netcast. For more information on the full list of Netflix Recommended TVs, please visit www.netflix.com/recommendedtv or the LG.com site in your region.
# # #