August 25, 2015
LG TO UNVEIL UBER-DURABLE CENTUM SYSTEM FRONT-LOAD WASHING MACHINE AT IFA 2015
LG's Newest Innovations Sure to Turn Heads at
Europe's Leading Industry Trade Show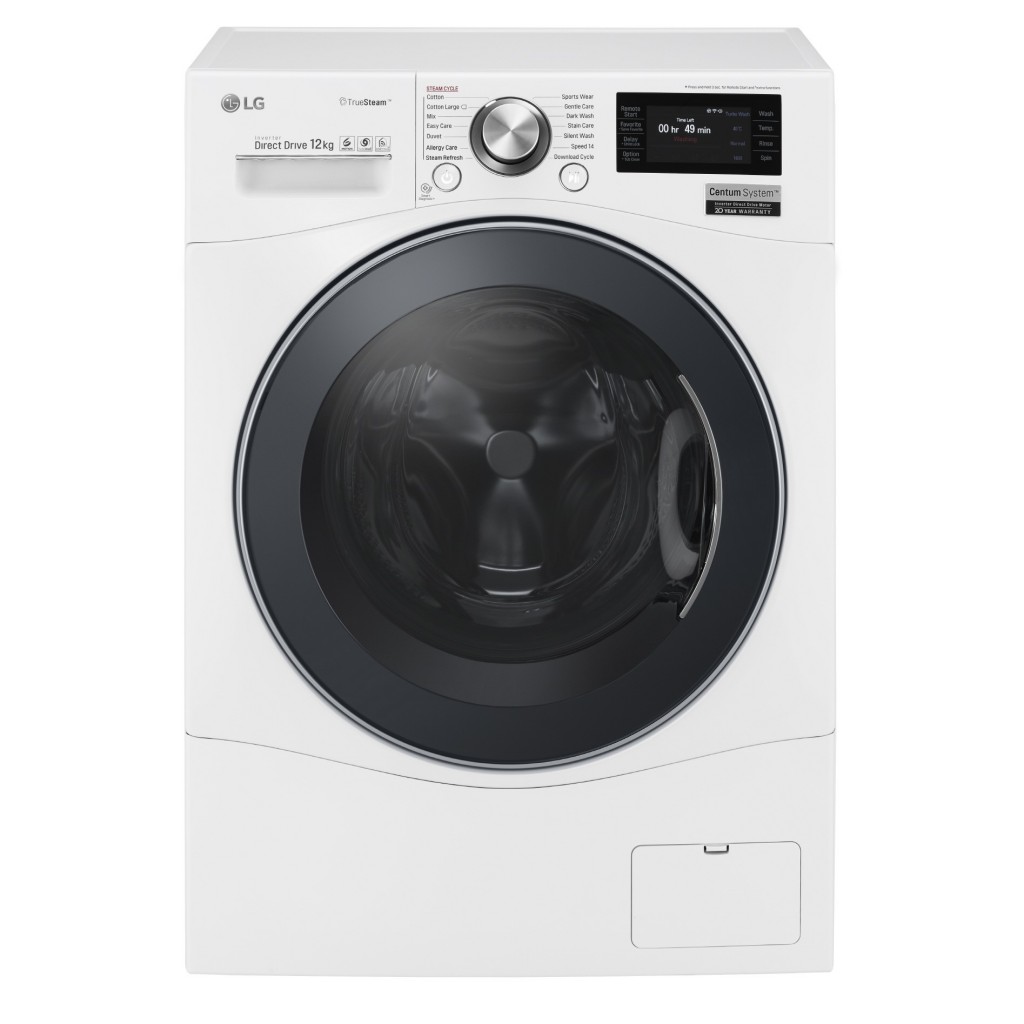 SEOUL, Aug. 25, 2015 — At next month's IFA in Berlin, LG Electronics (LG) will introduce its Centum System™, an innovative suspension system specifically designed to enhance reliability and durability in the company's front-load washing machines. The Centum System will be the latest innovation to be featured in LG's newest front-load washing machines for the European market which offer an upgraded enamel coated exterior design for a more premium look. LG TWIN Wash™, the first washing machine capable of handling dual loads simultaneously, will also be making its European debut at IFA 2015.
Centum System
Another game-changing innovation from the company that introduced the industry to the Direct Drive motor in 1998, LG's unique Centum System does away with traditional springs to support the outer tub by utilizing a new damping system equipped with shock absorbers, similar to those found in automobiles. This fixed-tub system greatly reduces vibration and noise levels, emitting only 67dB during the spin cycle, equivalent to the sound of a typical conversation.1 What's more, with less moving parts, there's less friction, the leading cause of wear and tear in machines. LG is so confident in the technology that it is doubling the standard 10-year warranty on its Inverter Direct Drive motors to 20 years in its Centum System washing machines.
TurboWashTM Technology
LG's advanced washing machines also come equipped with TurboWash, which can complete a half load cycle in only 49 minutes.2 A highly pressurized jet spray removes detergent from clothes during the rinse cycle, using less water and energy than conventional washing machines.
Smart Connectivity and Convenience
LG has long been at the forefront of smart technology and all Centum System washing machines will be available with Wi-Fi connectivity. Homeowners will now be able to start wash cycles and receive real-time laundry notifications via their smartphones from any room in the house. LG washing machines equipped with NFC make it extremely convenient to program different wash cycles by simply touching the smartphone to the washing machine.
Eco-Hybrid Washer-Dryers
Washer-dryer combinations are popular in Europe and LG is leading the way with versatile features in its Eco-Hybrid washer-dryers delivering convenient and efficient options for greater energy savings. This year at IFA, LG will be showcasing Eco-Hybrid washer-dryers in a wide range of capacities. With a washing capacity of 8kg and 5kg drying capacity, LG's Eco-Hybrid washer-dryer is a more compact version of the original 12kg wash and 8kg dry combination but delivers the same reliability and features. LG offers a full-range of washer-dryers capacities, including a 10.5kg/7kg and a 9kg/6kg combination for consumers looking for options in between.
Introducing TWIN Wash to Europe
LG's revolutionary TWIN Wash will be making its appearance in Europe for the first time at IFA 2015. LG TWIN Wash enables two separate loads to be washed simultaneously by combining a full-sized front load washing machine with a mini washer in a hide-away pedestal, generating a whole new set of washing options. The powerful main washing machine handles the bulk of the laundry, while the mini washer can be set to run a different wash cycle. Smaller loads can be washed when needed without having to wait until a full load has accumulated. The mini washer is perfect for delicate or specialized items that require a unique wash setting, such as lingerie or baby clothes.
"Every year, IFA provides the ideal platform for us to highlight the technological advancements we're bringing to Europe through our home appliances," said Jo Seong-jin, president and CEO of the LG Electronics Home Appliance & Air Solutions Company. "Our Centum System front loading washing machines, Eco-Hybrid washer-dryers and new TWIN Wash all show our commitment to providing the very best in durability and convenience for customers in Europe as well as all over the world."
Visitors to IFA 2015 are encouraged to stop by LG's booth in Hall 18 of Messe Berlin from September 4-9 to see LG's newest home appliances for themselves.

Key Specifications:
Centum System Front-Load Washing Machine
49 Minute TurboWash™
Energy Efficiency (A+++-60%)
Inverter Direct Drive Motor (20-Year Warranty)
TrueSteam™
Steam Softener
Steam Refresh
Allergy Care
Speed 14" Quick Cycle
Wi-Fi Connectivity
Smart Diagnosis
Color TFT LCD Display
Full Touch Control Panel
Hidden Handle Door
Large Chrome Door w/ Black Window
——————————————————–
1   Tested by LG Lab in accordance with IEC standards. Based on 12kg load of laundry on Cotton Large cycle spinning at 1400RPM.
2   Tested by LG Lab in accordance with IEC standards. Based on 6kg load of laundry on Cotton cycle using TurboWash option.
# # #