June 17, 2015
LG'S NEWEST MICRO LED PROJECTOR DELIVERS MAXIMUM ENJOYMENT, MINIMUM WEIGHT
Its Lightest Projector Yet, LG Continues to Push
the Boundaries of Portability and Fun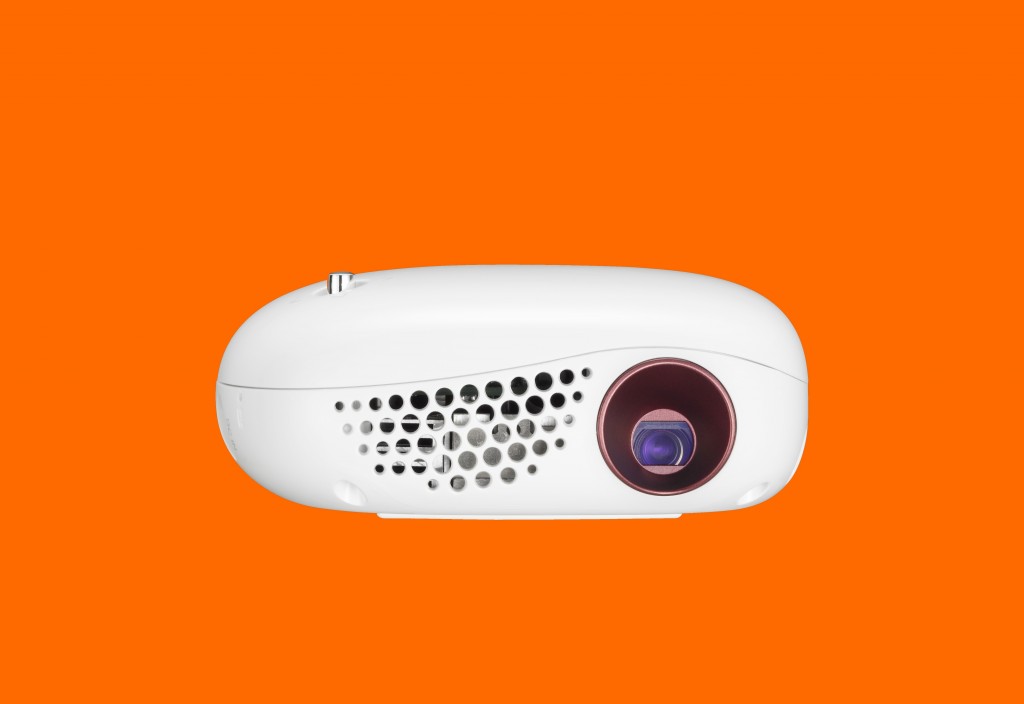 SEOUL, June 17, 2015 — LG Electronics (LG) is proud to announce its newest addition to the Minibeam Series of projectors, the Minibeam Nano (Model PV150G), LG's smallest, lightest and most affordable projector to date. As the world's leading manufacturer of LED projectors for seven straight years1, LG is in an enviable position of defining the direction of the projector market. The miniscule Minibeam Nano delivers high mobility and versatility to consumers for an enjoyable cinematic experience without the inconvenience of wires and weight.
Tipping the scales at only 270 grams, the PV150G weighs no more than a small paperback book. But the Minibeam Nano doesn't skimp on features. It features a wireless mirroring function that allows it to effortlessly connects to a smartphone or tablet for instantaneous viewing on a big screen. The Minibeam Nano can play and project movies, photos, music and even office documents directly from portable USB drives. And with a generous 3,800mAh battery, the miniscule projector can play for up to two hours on battery power alone. The projector connects wirelessly to a smartphone via screen mirroring such as Miracast and Wi-Fi Direct, making it the perfect device for those who enjoy movies, sports or TV programs on a big screen wherever they may be.
The Minibeam Nano's advanced LED lamp displays rich and natural colors and is rated for 30,000 hours, equivalent to a lifespan of 10 years if viewed 8 hours a day. The Auto Keystone function automatically adjusts and controls the projected image, optimizing the angle for the best viewing experience. And because the LG Minibeam Nano can display a picture up to 100 inches diagonally, the friends and family can enjoy the home theater experience together.
"As the number one LED projector maker in the world, we are committed to growing our Minibeam lineup for consumers who are becoming increasingly more mobile but don't want to give up the comforts of a big display when it comes to their entertainment," said Lee In-kyu, senior vice president and head of the TV and Monitor Division at LG's Home Entertainment Company. "The Minibeam Nano is the perfect projector for those who favor portability over everything else. And at only a quarter of a kilogram, you can't get much more portable than Minibeam Nano."
The Minibeam Nano projector will be available starting this month in key markets including North America, Asia, Europe, Africa/Middle East and Latin America. Consumers are encouraged to check their local LG website for more information on availability and pricing.
Key Specifications:
Native Resolution: 854 x 480 (WVGA)
Brightness : 100 ANSI lumens
Contrast Ratio: 100,000:1 (Full On / Full Off)
Illumination: RGB LED (Lifespan: up to 30,000 hours)
Image Size: up to 100 inches (Wall-to-Lens Distance: 3.625m)
Throw Ratio: 1.64 (Normal Throw)
Battery : Built-in (Up to 2 hours)
Aspect Ratio: 16:9
Dimensions (W/D/H): 108 x 103 x 44mm
Weight: 270g
Sound : Built-in (1W Mono)
Screen Share: Wired and Wireless Mirroring with Smartphone / Tablet / PC
USB Support: HD DivX / Office Viewer
HDMI: Supports up to Full HD input
Power Source: 100-240V AC-DC Adapter / 3,800mAh Battery
————————————-
1 Source: PMA Research for 2008-2014 projectors greater than 99 lumens.
# # #