April 14, 2015
LG MUSIC FLOW OFFERS MORE LISTENING OPTIONS WITH GOOGLE CAST
LG-Google Collaboration Makes Accessing Music Even More Convenient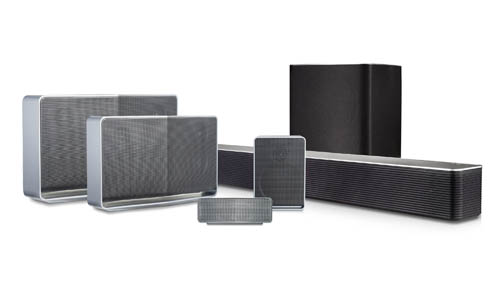 SEOUL, Apr. 14, 2015 — LG Electronics (LG) will introduce its first audio products to offer Google Cast in its lineup of smart Hi-Fi speakers and soundbars. LG's Music Flow is a smart Hi-Fi audio system that takes the experience of reconnecting with favorite music to a whole new level. Google Cast will allow anyone to send their favorite music from their AndroidTM phone or tablet, iPhone, iPad, Mac, Windows laptop or Chromebook to their Google Cast-enabled LG Music Flow audio speakers and soundbars.1
The Music Flow lineup from LG includes the company's first battery-powered Portable Wi-Fi Speaker (Model H4 Portable), Wi-Fi Speakers (Model H7/H5/H3) and Wi-Fi Soundbars (Model HS9/HS7/HS6). Each model can be controlled using LG's intuitive Music Flow app for various Android, iOS or Chromebook mobile devices.
With Google Cast, proud LG Music Flow owners will not only be able to stream music from their mobile devices but also listen to tunes from their favorite online music service, including Google PlayTM Music, Pandora, Songza, TuneIn, iHeartRadio and Rdio, among others. Listeners can enjoy higher audio quality than what they would hear with a Bluetooth speaker because the music is sent from the cloud, not a mobile device.
"We are pleased to announce that LG Music Flow will be among the first audio speakers to feature Google Cast" said Byung-hoon Min, senior vice president and head of the CAV division at the LG Home Entertainment Company. "Google Cast is a perfect companion for LG's Music Flow audio system. We are excited to work with Google in making music a more enjoyable experience for consumers worldwide".
LG has integrated additional streaming partners including the popular services Deezer and Spotify to complement customers' personal music collections. Spotify users can take advantage of Spotify Connect, which will act as a remote, allowing them to control their LG Music Flow speakers through the app.
LG Music Flow system speakers and soundbars can be connected to mobile devices as well as to one another over LG's Advanced Wireless Network for easy audio customization while delivering superior sound performance. All LG Music Flow devices offer additional convenient features such as Home Cinema Mode and Auto Music Play and can connect to streaming services via Bluetooth. Home Cinema Mode lets users enjoy a true home cinema listening experience when watching great TV content and Auto Music Play syncs with users' devices via Wi-Fi using LG's Range-of-Flow technology.
Google Cast will be available in LG Music Flow models including HS9, HS7, HS6, H7, H5, H3 starting in April and in H4 Portable by the end of May. Current owners of LG Music Flow speakers and soundbars will be able to upgrade their products over-the-air with Google Cast once the service is introduced in local markets.
—————————————————-
---
1 Android and Google Cast are trademarks of Google Inc.
# # #