February 24, 2015
LG TO LEAD PREMIUM TV MARKET WITH DUAL PREMIUM STRATEGY
Strategy Focuses on New TV Products with Extraordinary Picture Quality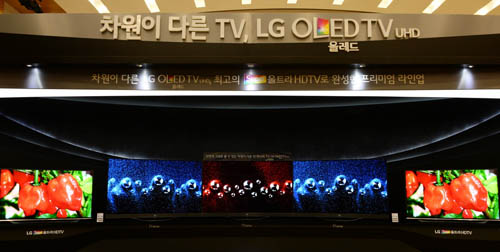 SEOUL, Feb. 24, 2015 — LG Electronics (LG) today unveiled its 2015 global TV lineup in Seoul, announcing at the same time its DUAL PREMIUM strategy to focus on  the premium TV market with its new TV lineup. With its DUAL PREMIUM strategy, LG is confident it can secure a leading position in the global premium TV market with OLED TVs while simultaneously expanding the size of the premium TV segment to create more opportunities for its new PRIME UHD TVs.
Whole New Level of Display with Perfect Black, Perfect Color
LG unveiled a slate of new OLED TV units, including 55-, 65-, and 77-inch models with curved and flat screens. The company also introduced its ABCD concept to encapsulate the main benefits of the company's cutting-edge OLED display technologies:
■ Angle (A) : LG OLED TVs assure that even viewers sitting off-center will enjoy exceptional picture quality.
■ Black (B) and Color (C) : The OLED lineup incorporates several advanced display features, including LG's proprietary WRGB OLED technology. This ensures images are rendered with perfect blacks, striking colors and infinite contrast ratio.
■ Design (D) : LG's Art Slim design philosophy focuses on creating the slimmest TV possible while keeping the overall aesthetic simple and clean.
With a winning combination of superior display technologies, LG's OLED TV won the Best of CES award in the TV Product Category in January. As more and more high quality content becomes available, LG expects sales of its stunning OLED TV to grow as more discerning viewers look for higher quality products in which to view the content. With this in mind, LG plans to expand its OLED TV lineup in Korea from five to ten models to provide consumers with a greater selection of premium TV products.
PRIME UHD TV with Every Color Comes Alive
LG's PRIME UHD TV, which is a tier above the company's ULTRA HD TV, boasts features such as ColorPrime technology, ULTRA Luminance, 4K In-Plane Switching (IPS) panel and Prime Mastering Engine to offer a truly premium, cinema-like experience. LG's ColorPrime technology magnifies the range of colors that can be displayed on screen by utilizing different LED phosphor colors, creating greater image depth and realism. ULTRA Luminance technology continuously analyzes the brightest and darkest parts of the displayed content in order to improve brightness and resolution. Equipped with LG's 4K IPS panel, the TV renders detailed images at extremely wide viewing angles. What's more, the Prime Mastering Engine optimizes the settings of the TV to boost picture quality to premium levels.
In addition, LG's PRIME UHD TV (Model 55UF9500) comes with the stunningly thin 8.5mm UltraSlim Design display in an industry where competing displays are between 40 and 50mm in depth. LG's integrated Auditorium Stand matches the metallic finish on the bezel around the screen. The stand also complements the centralized Harman / Kardon sound system by functioning as a sound reflector.
Outstanding User Experience via webOS 2.0
LG's new webOS 2.0 Smart TV platform is an upgraded version of the company's highly successful original webOS user interface. WebOS was originally designed under the "Make TV Simple Again" concept in an effort to counter the growing frustration with overly complex TV menu systems. Smart TVs equipped with webOS have been forecasted to top one million in unit sales within the first half of 2015.
"We're excited to be introducing a comprehensive range of distinctive TV products that deliver stunning picture quality to communicate what we mean by premium," said Brian Kwon, president and CEO of LG Electronics Home Entertainment Company. "LG OLED TVs and PRIME UHD TVs reinforce the brand as synonymous with picture quality. With these unparalleled home entertainment solutions, LG is finding itself in a very favorable position as the premium TV market leader."
The company will launch its premium TVs in overseas markets beginning at the end of March.
# # #