November 4, 2014
LG WASHING MACHINES SURPASS TWENTY MILLION SALES MARK GLOBALLY
Available in Over 160 Markets, LG Achieves Industry Milestone
with One Washing Machine Sold Every 8 Seconds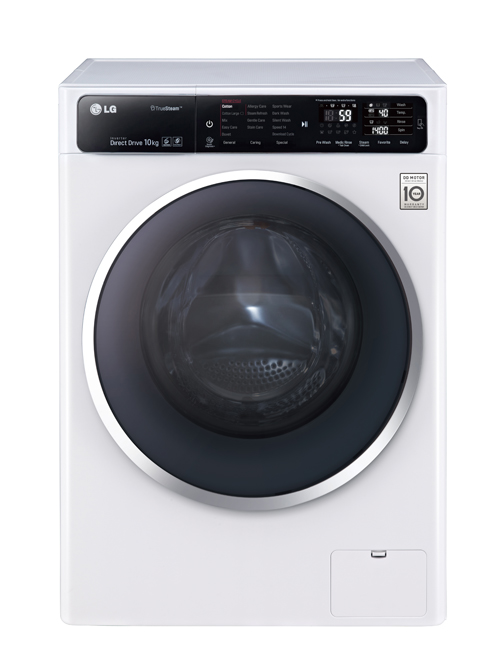 SEOUL, Nov. 4, 2014 — LG Electronics (LG) announced that it has sold more than twenty million units of its washing machines globally in the past five years, a remarkable accomplishment for a home appliance, demonstrating the company's technological leadership in the washing machine market. At the heart of this achievement is LG's innovative 6 Motion Direct Drive technology which offers users powerful yet delicate washing results similar to those of a real hand wash.
LG's 6 Motion Direct Drive technology was first incorporated into the company's front-load washing machines in October 2009, followed by top-load washers in January 2010. In October 2013, LG recorded 10 million in sales of its 6 Motion Direct Drive washing machines and 20 million units by early this month. With one LG washer finding a home somewhere in the world every 8 seconds, it's no wonder LG washing machines have become the industry standard in significant markets such as the United States, Russia, China and even in Korea where there is no dearth of strong competitors. To maintain its industry leadership, LG has filed approximately 150 patent applications in several key countries for its 6 Motion Direct Drive technology.
The popularity of 6 Motion Direct Drive technology is in the six different washing motions — Tumbling, Scrubbing, Filtration, Rolling, Stepping, Swing — that individually or in combination provide powerful washing results. LG washing machines also offer optimized washing programs for a diverse range of fabrics. In addition to enhancing fabric care, the delicate motions cause fewer wrinkles and less damage. The washing machines are powered by LG's advanced Inverter Direct Drive motor which is backed by the reliability of 10 year warranty.
The Korea Institute for Advancement of Technology (KIAT) has recognized LG's 6 Motion Direct Drive technology by awarding it their Green Technology certification for its contribution to reducing greenhouse gases. This year alone, LG's 6 Motion Direct Drive washing machines have received accolades and recognition from consumer-based organizations in nations around the world, including Sweden, Spain, the Netherlands, Italy, Australia and the United States. But rather than resting on the laurels of its 6 Motion Direct Drive, LG continues to introduce a variety of new technologies that to this day bring significant time and energy savings to consumers. For example, LG's revolutionary TurboWash™ feature enables washing cycles to finish in 59 minutes1 and also reduce energy consumption by up to 15 percent and water consumption by up to 40 percent.2
"Since day one, LG has focused solely on developing innovative technologies that benefit consumers first and foremost," said Chris Yi, executive vice president, LG Electronics Home Appliance Company. "The 6 Motion Direct Drive technology is a result of that philosophy and tradition at LG. When you build the products that customers want and take care of them throughout the lifecycle of the product, your market share will be a reflection of their satisfaction."