November 26, 2014
LG SOLAR POWERED REFRIGERATORS TO RURAL COMMUNITIES IN AFRICA AND SOUTH AMERICA
Refrigerators Equipped with Cutting-edge Smart Inverter Compressors
to Improve Health Coverage in Areas Without Reliable Electricity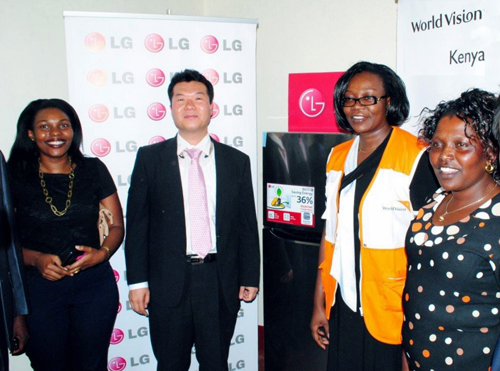 SEOUL, Nov. 26, 2014 — Twenty solar powered refrigerators equipped with Smart Inverter Compressors were donated to local communities in Africa and South America as part of LG Electronics' partnership with the non-profit organization World Vision Kenya as well as the Ministry of Housing, Construction and Sanitation of Peru. These donations specifically targeted areas where the refrigeration of important items like vaccines, medication and food for children and the elderly is essential, but difficult to maintain. The twenty units have been allocated to the neediest communities in Kenya, South Sudan, Tanzania and Peru.
World Vision Kenya will use the LG solar refrigerators to improve immunization coverage among children under five years old as well as among pregnant and lactating women in Kenya's West Pokot County. LG is also partnering with the Ministry of Housing, Construction and Sanitation of Peru, donating refrigerators to the National Tambos Program which helps serve those living in remote mountain villages that have no access to a local power grid.
Thanks to LG's innovative Smart Inverter Compressor, the solar refrigerators can run entirely on power from the sun, with no additional power source. The solar power system consists of solar panels, controllers and a battery so that the refrigerators can operate even in at night and in cloudy weather. LG refrigerator with its innovative Smart Inverter Compressor is 36 percent1 more energy efficient than conventional models equipped with non-inverter compressor and generates only 37.8dB2 of noise while operating, which is less noise than a library.
Thanks to the technology behind the Smart Inverter Compressor, LG refrigerators provide cooling retention even when operating on low voltage unlike other refrigerators. They can also withstand voltage variations, thus ensuring against unpredictable high-voltage streams or power surges3. Due to different voltages and frequencies, solar power can be an unstable source of energy for appliances. However, LG's Inverter technology uses a control technology which allows for consistent operation, adapting its power supply to keep the refrigerator running at peak efficiency while also preventing any damage to the appliance.
"LG is committed to using its innovative technology to help improve the lives of vulnerable children and communities around the world," said Young-il Park, head of the refrigerator business unit at LG. "At LG, we believe that giving back to our communities is what defines a true global citizen."
Immunization coverage for Kenya's West Pokot County is currently only 56 percent, with high infant mortality and death rate for children under the age of five. LG's donation of solar powered refrigerators will allow the communities to obtain the latest immunizations and other medical treatments, ultimately reducing the number of deaths caused by preventable diseases, improving the area's standard of living.
——————————————————–