September 3, 2014
LG'S PREMIUM, STYLISH BUILT-IN APPLIANCES CREATE THE ULTIMATE DREAM KITCHEN
LG Studio Delivers Winning Combination of Premium Styling and Innovation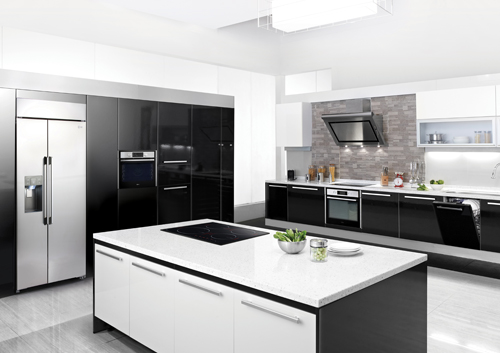 SEOUL, Aug. 29, 2014 ― LG Electronics (LG) is showcasing its new LG Studio premium built-in kitchen package at IFA 2014. A distinctly modern, luxurious take on the traditional European kitchen, LG Studio combines sophisticated styling with the latest innovations in home appliance technology. Each product in the LG Studio has been specifically designed to form part of a total, integrated kitchen solution for maximum performance, convenience and a sense of visual harmony. LG Studio offers a full complement of modern kitchen necessities, including refrigerators, built-in ovens, cooktops, microwave ovens and dishwashers that represent the perfect marriage of functionality and refined European style.
LG Built-in Electric Oven: Keeping Itself Clean
LG's proprietary built-in technology helps create an eco-friendly kitchen by generating energy savings across the entire LG Studio range. EasyClean™ is a self-cleaning function offered in LG's built-in electric ovens that delivers a clean oven interior in as little as 20 minutes. Without the need for harsh chemicals and scrubbing, EasyClean™ transforms cleaning into three simple steps: spray the interior with water, run the 20 minute EasyClean™ cycle with the simple touch of a button, wipe down the enamel-coated interior when the cycle is complete.
LG Built-in Refrigerators: Foods Kept Fresher While Saving Energy
LG Built-in Refrigerators possess Total No Frost, an indirect cooling system which optimizes airflow in the unit's various compartments for longer food freshness. And LG's advanced Inverter Linear Compressor featured in LG Built-in Refrigerators employs a linear piston drive instead of a conventional reciprocating drive, generating less internal friction for greater reliability and durability as well as lower energy requirements and noise. The Moist Balance Crisper™, a special lattice-type fruit and vegetable box cover, reabsorbs evaporated moisture from fruit and vegetables for longer freshness. What's more, the upgraded Hygiene Fresh+™ air purification system uses a highly effective 4-step process including UV LED lighting to eliminate harmful bacteria commonly found inside refrigerators. And with the Zero Clearance door, which open a full 90 degrees even in the tightest space, all the drawers can be fully extended for convenient access to one's favor foods.
LG Built-in Dishwasher: Providing a Smart Clean
LG Built-in Dishwasher delivers sparkling results using TrueSteam™ technology which is activated when the unit's Steam Power mode is engaged. TrueSteam™ discharges high-temperature steam particles ― 1/1600 the size of normal water droplets ― from precisely aimed pressure nozzles so that food particles are dispersed and dishes are left immaculately clean. Steam temperature and pressure are managed by the dishwasher's built-in steam generator, which is gentle yet powerful enough to remove tough stains such as lipstick. The revolutionary TrueSteam-equipped LG Built-in Dishwasher removes the inconvenience of pre-washing dishes by hand. And LG Built-in Dishwasher's amazing energy efficiency (A++) is made possible by LG's unique Inverter Direct Drive. This advanced motor technology optimizes the power needed for each load by directly and more efficiently transferring energy from the motor to the water spray system.
LG Built-in Electric Hob & Hood: The Complete Kitchen
The LG Built-in Electric Hob features illuminated visual indicators, allowing for the active plates to be easily identified, the Built-in Hood offers electronic touch control with features such as an off-timer, filter saturation indicator and the self-timing intensive mode for maximum ease-of-use.
"Today's customers want their kitchens to be functional and visually appealing at the same time," said Seong-jin Jo, president and CEO of the LG Electronics Home Appliance Company. "LG Studio offers the best of both, fusing the understated elegance of European design with the power, precision and efficiency of LG's industry leading technologies. Our built-in package is ideal for those who enjoy the culinary arts, interior décor and, of course, convenience."
# # #