February 24, 2014
LG UNVEILS NEW PRODUCTS AND NEW GOALS AT MWC
LG to Strengthen Global Branding with Unique Consumer-Centric Features
and Two-Tier Focus on Premium and Entry-Level Smartphones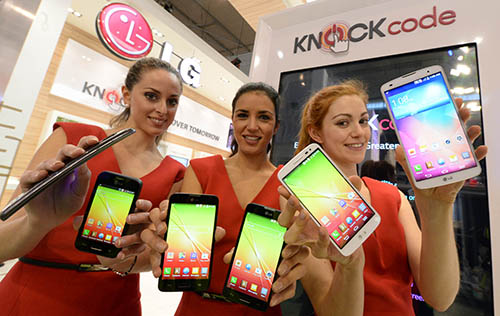 BARCELONA, Feb. 23, 2014 — With two new G Series smartphones, the third genera­tion L SeriesIII and impressive new UX features, LG Electronics (LG) announced prior to the start of Mobile World Congress (MWC) the company's intention to expand its user base in 2014 with compelling products designed to meet the user requirements of a global audience. Coming off a successful 2013 where the company introduced much talked-about devices such as the G2, Nexus 5 and G Flex, LG is confident that its product strategy for 2014 will continue to show strong returns.
"It has become increasingly important for LG to not only deliver the best mobile experi­ences possible to our customers, but also to ensure that those experiences are consistent across all our devices," said Dr. Jong-seok Park, president and CEO of the LG Electronics Mobile Communications Company. "As far as smartphones have come in recent years, we should not lose sight of the fact that less than a quarter of the world's con­sumers are smartphone users. That's why our product lineup in 2014 will include devices with a unique user experience that appeal to a wider spectrum of consumers."
In addition to its newest devices, LG's emphasis on introducing premium UX features, such as Knock CodeTM, will continue to be a priority as a way to more clearly differenti­ate LG smartphones from the competition. First announced in the G Pro 2, Knock Co­de, allows users to power on and unlock their smartphones with simple "knocks" on the screen. This year, Knock Code will be a core offering on a wide range of LG global smartphones as part of the company's strategy to offer a consistent and unique user experi­ence.
Knock CodeTM : Security and Convenience in One
With recent research data showing that users unlock their smartphones more than 100 times a day, LG clearly saw this as an opportunity where it could add value. Knock Code, which evolved from the KnockON feature first introduced in LG G2, enables users to both power on and unlock their LG smartphone in one easy step by tapping a personalized pattern on the phone's screen. Knock Code offers greater security as the pat­tern is entered on a blank screen using an­y­where from two to eight taps, allowing for more than 80,000 possible combinations. What's more, Knock Code can be entered on any part of the display, making one-handed entry effortless and convenient. A number of previously released LG smartphones will also receive Knock Code firmware updates as well.
LG G Pro 2: Sequel Offers Richer, Fuller Experience
The G Pro 2 is a successor to the G Pro, last year's winner of the Best Smartphone of MWC 2013 award. The G Pro 2 is more than just a worthy successor to the original G Pro. With a bold 5.9-inch Full HD IPS display, the latest Android 4.4 KitKat OS and a host of best-in-class technologies, G Pro 2 boasts an immersive viewing experience and is the first LG smartphone to offer an enhanced 13MP camera with Optical Image Stabi­lizer Plus (OIS+) technology. Photography buffs will appreciate the G Pro 2's advanced picture and video editing functions.
LG G2 mini: Powerful and Compact
As LG's first "compact" smartphone, the G2 mini delivers much of the same user experi­ence of the original LG G2 with premium UX features such as Knock Code and Guest Mode. The G2 mini is designed to appeal to a new generation of smartphone own­ers with its 4.7-inch IPS display, 2,440mAh battery life and a Quad-Core processor that doesn't sacrifice speed for size. LG's newest G Series device offers the perfect bal­ance of modern design and practical UX in a compact package without compromising performance.
LG LIII Series: Where 3G Meets Style
LG's L SeriesI and L SeriesII have enjoyed tremendous success worldwide. The new L SeriesIII is expected to continue the momentum of LG's L Series, particularly in fast growing emerging markets. The L40, L70 and L90 smartphones reinforce the family's stylish design heritage, boasting delicate finishing, metallic colors and narrow bezels. The L SeriesIII also comes with the latest Android KitKat OS and premium UX features to deliver the best experience the 3G segment has to offer. The new L SeriesIII is a key com­ponent of LG's strategy to expand its share of new smartphone users in markets that will determine tomorrow's mobile leaders.
Visitors to MWC 2014 can experience all of LG's newest smartphones — LG G Pro 2, G2 mini and L SeriesIII — firsthand at LG's Booth in Hall 3 of Fira Gran Via. For more information, please visit www.LGnewsroom.com.
# # #