January 8, 2014
RENOWNED DESIGNER NATE BERKUS PARTNERS WITH LG ELECTRONICS
Inspirational Design Expert to Serve as Artistic Advisor,
Ambassador for LG Studio Premium Kitchen Appliances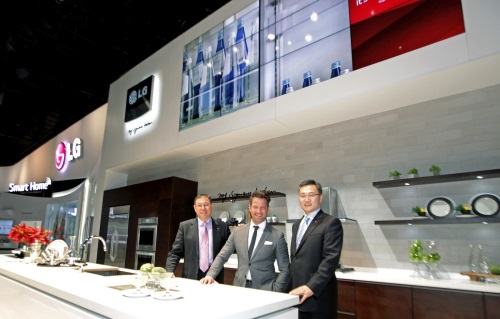 LAS VEGAS, Jan. 6, 2014 — LG Electronics today announced an exclusive new alliance between top decorator and product designer Nate Berkus and LG Studio, the brand's premium line of kitchen appliances.
In his multi-year engagement as artistic advisor, Berkus will work closely with the LG Studio design team to provide input on their premium products, particularly from a design perspective, and help ensure that LG Studio appliances continue to meet evolving consumer needs and stay at the forefront of kitchen design trends.
One of the nation's most sought-after designers and an expert on accessible and inspirational design, Berkus is an award-winning interior designer, host of NBC's upcoming "American Dream Builders," a New York Times best-selling author and product designer with a line of home goods sold nationwide. He started his design firm at age 24 and debuted on television in 2002 as a featured design expert on "The Oprah Winfrey Show."
Speaking at LG's press conference today on the eve of the 2014 International CES®, Berkus said, "LG came to me because they share my deep commitment to living with what is well thought out and well designed, without sacrificing personality. Together we want to introduce products that will anchor the heart of the home, which is always the kitchen, as well as enhance the ease and style of how people live there."
David VanderWaal, director of home appliance brand marketing, LG Electronics USA, added, "LG welcomes Nate Berkus to the LG Studio family to help advance our premium appliance design innovations. We're confident that this venture will help position LG Studio both as a beautiful addition to any premium kitchen and as a 'must-have' for entertaining with style."
The LG Studio line provides an uncompromising approach to design and function, allowing for an enriched cooking experience for today's home chefs. The full kitchen suite has been designed with seamless integration in mind, highlighting clean lines and a unique, modern feel that enhances every kitchen's decor.
From built-in mega-capacity refrigerator-freezers to cooking appliances and dishwashers, LG Studio appliances are equally impressive both inside and out. LG Studio's signature style includes premium stainless steel, distinctive door handles and knobs, LCD touchscreen control panels, as well as radiant interior LED lighting – all helping to achieve a refined, sophisticated look.
For more information on LG's Studio suite of premium appliances, please visit http://lgusa.com/LGStudio.
# # #