January 7, 2014
LG'S PREMIUM, STYLISH KITCHEN APPLIANCES SET TO IMPRESS AT CES 2014
LG Partners with Top Decorator and Product Designer
Nate Berkus to Expand LG Studio Presence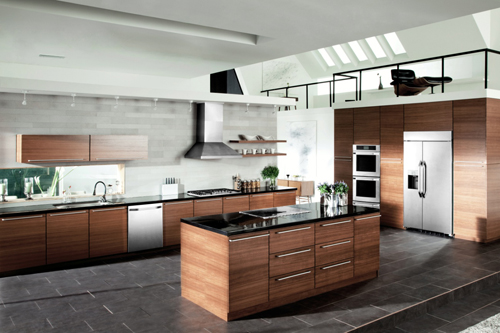 LAS VEGAS, Jan. 6, 2013 — LG Electronics (LG) will showcase its stunning LG Studio premium kitchen appliance lineup at the 2014 Consumer Electronics Show (CES), Jan. 7-10 in Las Vegas.
LG Studio delivers a winning combination of ultra-premium styling and innovative technologies. This year, LG has joined forces with top decorator and product designer Nate Berkus to help position LG Studio both as a premium kitchen appliance solution and as a personalized addition to the home to truly make it the customer's own.
Berkus, an award-winning interior designer, television host and New York Times best-selling author, will work closely with the LG Studio design team to provide input on the premium product suite, particularly from a design perspective. Known as a featured design expert for "The Oprah Winfrey Show" and for his work in top-tier design publications, Berkus will help LG continue to meet the evolving needs of consumers by staying at the forefront of kitchen design trends.
LG Studio includes a full complement of modern kitchen necessities, including ranges, wall ovens, cooktops, microwave ovens and dishwashers. Every model in the painstakingly crafted lineup shares a unified and distinctly modern appearance. Rather than simply combining individual appliances, each product in LG Studio lineup has been specifically designed and manufactured to be used as part of a total kitchen appliance package.
Spearheading LG's luxury built-in kitchen concept is the 42-inch side-by-side refrigerator, which boasts an impressive 26.5 cubic foot capacity — the largest capacity in its class. LG will also be showcasing its 25 cubic foot three-door refrigerator with Door-in-Door™ which can be opened with the simple push of a button, giving customers quick and easy access to their favorite snacks and drinks and reducing cold air loss. And the LG Studio package was designed so that the refrigerator's outer doors sit flush with kitchen cupboards and counters to fit seamlessly into the overall décor.
"Many built-in studio appliances are merely a combination of freestanding products. As such, we're delighted to be showcasing our LG Studio lineup as it features appliances that have been specifically manufactured as premium built-in products," said Seong-jin Jo, President and CEO of the LG Electronics Home Appliance Company. "We pride ourselves on creating products that not only combine excellent energy efficiency, superior performance and arresting design, but have the consumer in mind as well. LG's high quality home appliances reflect our ongoing commitment to excellence."
Premium Style with Greater Convenience
The new LG Studio built-in refrigerator features large interior capacities and a host of smart organizational features that help consumers adapt space to their own needs. The new model also features LG's innovative SpacePlus™ icemaker, which frees up valuable top-shelf space by moving the ice maker into the refrigerator door. Additionally, LG's extra-tall ice and water dispenser can accommodate a wider variety of containers, thanks to its extended height of 9.2 inches. LG's built-in refrigerator also comes with adjustable shelving and sliding door baskets, while multiple pull-out drawers allow for customized organization, enabling consumers to quickly locate exactly what they need. Highlighted by bright LED lighting in the walls and a horizontally brushed stainless steel finish, this refrigerator is as sophisticated as it is functional.
LG's Smart Cooling Plus™ technology with unique Dual Evaporators react quickly to humidity and temperature changes to help keep food fresh. Digital sensors inside the fresh food section also closely monitor temperature and humidity levels to help maintain the perfect temperature for food storage. What's more, the Fresh Air Filter and Multi-Air Flow's strategically located vents in every section of the refrigerator surround food items with cool air.
This new LG Studio refrigerator also features the company's proprietary Smart Diagnosis™. It helps customer service representatives quickly and efficiently troubleshoot mechanical issues over the phone, limiting costly, inconvenient service calls and in-home visits.
All Studio refrigerators are ENERGY STAR® qualified in recognition of their energy efficiency. The refrigerators are built around LG's Inverter Linear Compressor, one of the company's four Core Technologies. With fewer moving parts and greater efficiency, the motor is backed by a 10-year manufacturer's limited warranty.
Powerful Washing Without Prewash
LG's TrueSteam™ technology does away with the need to prewash dishes by discharging powerful, high-temperature steam particles from carefully aimed pressure nozzles. Food particles are dispersed and dishes are left sparkling clean. Steam temperature and pressure are managed by the built-in steam generator, which ensures that the steam is strong enough to dissolve tough food residues but gentle enough to protect delicate items from damage.
The intelligent design of SmartRack™ allows the interior of the dishwasher to be more flexible and offers greater convenience to consumers. It maximizes usable space and accommodates odd-shaped bowls, pans, platters and other items. While most dishwashers feature only two tiers, LG's TrueSteam™ dishwashers come with a height-adjustable third tier, ideal for oversized utensils such as spatulas, whisks or salad tongs.
Complete Built-in Cooking Appliances Set
Keeping varying consumer cooking styles and preferences in mind, LG Studio offers a complete collection of cooking essentials, including gas and electric cooktops, single and double wall ovens, slide-in and freestanding ranges and microwave ovens. Appliances such as wall oven feature a Gourmet Recipe Bank housing 100 recipes — 42 of which are pre-programmed into the oven. LG Studio's modular designs allow customers to custom build kitchens that are tailored to the way they personally cook.
Regardless of which combination of LG Studio appliances the customer selects, the resulting finished package will embrace cutting-edge technologies, attention to detail, uncompromising style and aesthetic harmony. Visitors to LG's booth at CES 2014 (Las Vegas Convention Center, Central Hall #8204) from Jan. 7 through Jan. 10 will be able to see LG's stunning premium kitchen appliances for themselves.
# # #