August 4, 2013
LG'S STUNNING OLED TVS TO GREET TRAVELERS AT AIRPORTS ALL OVER THE WORLD
45 Airports Become Showrooms for TV Technology that
"Must Be Seen to be Believed"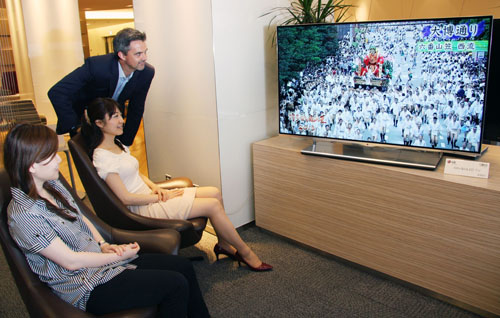 SEOUL, Aug. 4, 2013 — LG Electronics (LG) will be displaying its ultra slim 55-inch OLED TVs (EM9700) in the lounges and open areas at 45 international airports around the globe this month. Travelers will be able to experience for themselves the amazing picture quality of the world's first commercially available, large-screen OLED TV. Starting from Narita Airport in Tokyo, Japan, LG OLED TVs will make their way to international airports in cities such as New York, Berlin, Dubai and Bangkok.
"We are truly excited to give travelers from all over the world the chance to enjoy the future of television," said Havis Kwon, president and CEO of LG Electronics' Home Entertainment Company. "Displaying our advanced product in airport lounges and high traffic areas presents us with a unique opportunity to show consumers how OLED differs from traditional flat-panel TVs. This is a technology that one can't simply describe, it must be seen to be believed. "
On a daily basis, international airports play host to an incredible variety of people from all walks of life and points of origin, from families on holiday to high-powered business executives. Travelers waiting for connecting flights or those just about to embark on an overseas adventure won't be able to help but notice the beautiful design and breathtaking picture quality of LG's OLED TV.
LG launched the world's first OLED TV earlier this year, capturing the attention of consumers, media and the entire entertainment industry. Unlike competing units, LG's OLED TV employs proprietary WRGB technology features a white sub-pixel which guarantees the clearest, most realistic images in an unbelievably thin display. LG's OLED TV also offers an impressively wide viewing angle, ensuring the perfect picture from almost any viewing position. The ultra slim, lightweight model also boasts the strength and durability of carbon fiber reinforced plastics (CFRP).
# # #