July 12, 2013
LG EXPANDS ULTRA HD TV LINEUP WITH GLOBAL INTRODUCTION OF TWO NEW MODELS
With NANO FULL LED Backlighting and Tru-ULTRA HD Engine,
LG's Newest ULTRA HD TVs Deliver Unmatched Picture Quality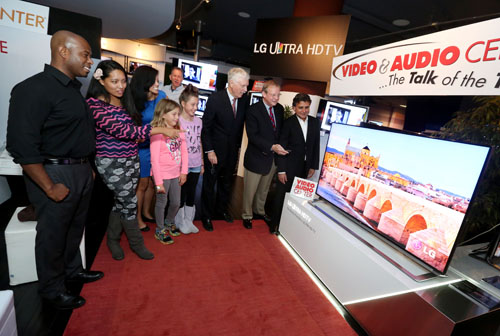 SEOUL, July 12, 2013 — Expanding on the strong interest surrounding its 84-inch ULTRA High Definition TV, LG Electronics (LG) today announced the addition of 55- and 65-inch ULTRA HD TV models in markets around the world, enabling even more consumers to enjoy the benefits of 4K technology. Initially introduced in South Korea last month, the two LA9700 series ULTRA HD TVs were rolled out in the United States this week and will be followed by introductions in overseas markets such as the U.K., Russia and Australia.
"When we first unveiled our 84-inch ULTRA HD TV at CES last year, the reception we received was phenomenal," said Havis Kwon, President and CEO of LG Electronics' Home Entertainment Company. "The ULTRA HD TV format is here to stay and with the new sizes offering NANO FULL LED backlighting and our proprietary Tru-ULTRA HD Engine, these models are in a class of their own."
Unmatched Picture Quality and Sound
The new LA9700 series delivers unbelievable picture quality with more than four times the screen resolution of conventional HD TVs. The 55- and 65-inch ULTRA HD TVs produce incredibly sharp images with a resolution of 8.3 million pixels per frame. The Tru-ULTRA HD Engine maximizes image clarity and provides exceptional up-scaling, enabling consumers to view any video format in near-ULTRA HD quality. Additionally, LG's LA9700 models are equipped with NANO FULL LED backlighting which results in deeper blacks and consistent brightness and contrast. With the inclusion of LG's advanced In-Plane Switching (IPS) panels, the new TVs deliver accurate color expression across a wide, 178 degree viewing angle.
Both LA9700 models offer a 4.1 channel surround sound system which includes the stylish, forward-facing Sliding Speaker. With excellent mid- and high- frequency range performance, this elegant unit can be positioned to remain hidden or visible, delivering excellent sound either way. Alternatively, the Sliding Speaker can be set to extend automatically when the TV is turned on, and retract when powered off. A powerful subwoofer, located behind the TV's screen, ensures strong bass performance.
Smart Design, Smart TV
Design-wise, the LA9700 ULTRA HD TVs create a stunning visual impression and a more immersive viewing experience thanks to the ULTRA-thin bezels of LG's CINEMA SCREEN Design. And LG's intuitive Smart TV platform provides easy access to a wide range of applications and content services from around the globe. The company's excellent Magic Remote boasts natural language recognition, point, wheel, and gesture control options, making it easy to navigate menus, search for content or play exciting Smart TV games. What's more, SmartShare offers the simplicity of Tag On (LG's NFC-based device pairing feature), and the convenience of WiDi and MiracastTM screen mirroring. And the LA9700's Now On function recommends content based on the user's viewing patterns and previous program purchases.
Certified Picture Quality
The exceptional 2D and 3D picture quality of LG's new 55- and 65-inch ULTRA HD TVs has been certified by respected international product testing and certification bodies, Intertek and Underwriters Laboratories (UL). Both organizations employ rigorous assessment processes, measuring a wide range of attributes including viewing angle, contrast consistency, color accuracy and 3D performance.
The new LA9700 models carry a suggested price of USD 7,999 for the 65-inch and USD 6,999 for the 55-inch model in the United States. Prices outside the U.S. will be announced at launch time.
# # #