June 14, 2013
LG SETS STANDARD OF EXCELLENCE IN DIGITAL SIGNAGE WITH FOUR TOP AWARDS AT INFOCOMM
LG Products from Four Separate Digital Signage Categories
Honored By Respected Industry Experts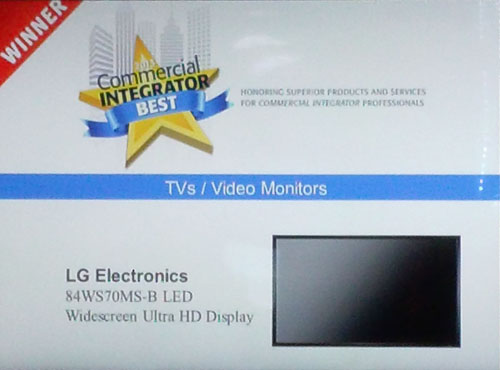 SEOUL, June 14, 2013 — At InfoComm 2013, one of the world's premier commercial AV tradeshows held in Orlando, Florida (USA) from June 12-14, LG Electronics digital signage technology earned four top industry awards for four different signage solutions from Commercial Integrator, Rental & Staging System, AV Technology and System Contractor News magazines.
Advanced LG products honored at InfoComm include its 84-inch WS70MS-B Ultra HD LED Display, 47-inch WX50MF High Brightness Outdoor Display, 55-inch WV70MS-B LED Super Narrow Bezel Video Wall, and all-in-one EzSign TV (LT560E) solution, respectively.
In its third year, the prestigious Commercial Integrator BEST Awards program recognized superior products and services for an integration business. The winners of the BEST Awards were chosen by a panel of industry experts, integrators and the editors of Commercial Integrator magazine. LG's 84-inch Widescreen Ultra HD Display received the "BEST Award" for TVs/Monitors, providing the peak in picture clarity featuring Ultra HD technology, which quadruples FULL HD resolution to 8 million pixels.
Considered among the top honors in the commercial staging and AV market, the Rental & Staging Systems Awards showcase the most innovative commercial AV products. LG's 47-inch class Outdoor Display (47W50MF) was named the winner for the "Best Flat Panel Display" category. With LG's In-Plane Switching (IPS) technology, it is heat resistance up to 230 degrees Fahrenheit and Shine Out™ technology, which is designed to deflect ambient light, making it a well-suited solution for delivering messages in outdoor spaces.
The AV Technology "Best" Awards recognize exceptional products for cutting-edge AV solutions. The publications editors selected winners, announcing LG's 55-inch class WV70MS-B the "Best New Video Wall" as it offers a superior solution for the AV professional with IPS technology with a super narrow bezel.
For two years running LG's EzSign TV won digital signage hardware awards at InfoComm and it continued its dominance this year, taking the "Most Innovative Digital Signage Player Product" award by System Contractor News. The EzSign offers businesses the ability to display customizable content that can run simultaneously with live TV or another external media source, attracting attention while delivering messaging to consumers. Users can create content using the easy-to-use, free software provided by LG along with 55 premade templates.
LG LED commercial displays meet ENERGY STAR® requirements and are designed with green in mind.
# # #