June 17, 2013
LG and IVI Initiate Vaccination Campaign in Africa
Effort Will Immunize 20K Ethiopians Against Cholera and AWD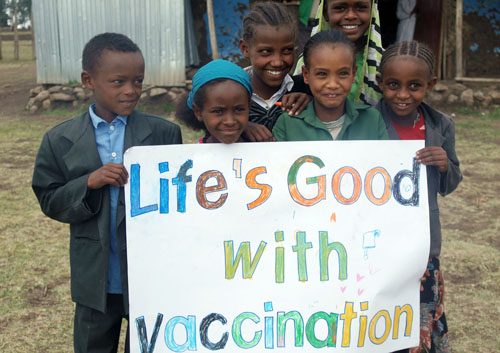 SEOUL, June 17, 2013 — Commencing on International Day of the African Child on June 16, LG Electronics and the International Vaccine Institute (IVI), in collaboration with local partners, will launch a public awareness and vaccination campaign to reduce acute watery diarrheal disease (AWD) resulting from cholera infections. The organizations expect to vaccinate more than 20,000 residents in selected districts of West Arsi Zone in Ethiopia's Oromia Region.
LGE has been supporting IVI's vaccine program in Ethiopia since 2010 to stem the spread of AWD. Together, the organizations conducted vaccine safety research in collaboration with Ethiopia's Armauer Hansen Research Institute (AHRI) over a period of three years to confirm the vaccine's suitability for Ethiopians. Starting next month, LG and IVI officials will visit major cities in the Oromia Region to educate citizens on the importance of the vaccine. From October to December, teams will administer free vaccinations in collaboration with the Ethiopian Health and Nutrition Research Institute (EHNRI). The easy-to-administer liquid vaccine, which only requires two doses over a two-week period, was developed by IVI and received pre-approval from the World Health Organization.
"It has been an honor working with IVI to bring vaccines to Ethiopia and we are delighted that our contribution will be able to make such an important difference in the quality of life of Ethiopians," said Sang-geon Nam, Executive Vice President at LG Electronics. "This endeavor is representative of LG's ongoing mission to play a larger role as a socially caring corporate citizen on global issues."
"LG's sponsorship of this project has been invaluable and a crucially important response to Africa's cholera crisis," said Dr. Samuel Teshome, an Ethiopian scientist working with IVI. "LG has made significant investments in the biomedical field, specifically in countries affected by extreme poverty."
Tackling big issues on the African continent has been a priority for LG for years. In partnership with LG Corp., LG Electronics introduced the "LG Hope Community" Program in 2013 to promote economic development in Ethiopian communities. LG is also focusing on creating self-sufficient farming villages through infrastructure improvement projects and productivity improvement training. Plans are being put into place to establish a vocational school to transfer LG's technological know-how to Ethiopians and to develop programs to support the descendants of Korean War veterans in an effort to foster young talent and create job opportunities in the region.
# # #