May 31, 2013
LG SMART TV APP HELPS ASPIRING GOLFERS PLAY LIKE PROS
LG's "World's Greatest Teachers" Golf App Offers
Exclusive Lessons from Top Professional Instructors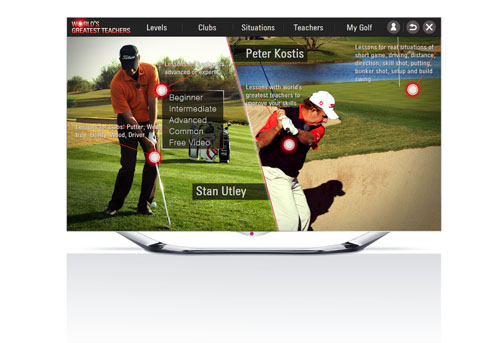 SEOUL, May 31, 2013 ㅡ LG Electronics (LG) today announced the availability of World's Greatest Teachers, a fun and educational golfing app featuring the best golf instructors in the history of the sport. Available exclusively on LG CINEMA 3D Smart TVs, the app boasts a comprehensive set of tutorials designed to help golfers of all levels improve their game.
"World's Great Teachers is an excellent addition to family-friendly range of content for LG Smart TV owners," said Sung-mok Moon, director of Content Business Division of LG Electronics' Smart Business Center. "More than a game, this app is a great example of how LG Smart TVs can actively engage viewers as a teaching tool, beyond just a viewing experience."
Thanks to LG's exclusive World's Greatest Teachers app, golfers don't need to worry about bad weather conditions or making a reservation at the club. The app includes 350 lessons from 25 of the world's most renowned golf teachers, including Gold Digest's number one instructor in the world, David Leadbetter, and LPGA legend Annika Sörenstam. The lessons are searchable by club-type, golfing ability or scenario,making it easy for users to target specific skills such as teeing off, putting or bunker play.
Via an update arriving this fall, World's Greatest Teachers will also offer a camera mirroring function, allowing users to review their own golf swing and stance on screen. Employing the built-in camera[1] on LG's premium Smart TVs, this feature will make it possible for players to visually compare their form with that of elite professional golf instructors. A fun and helpful training tool, World's Greatest Teachers is a great way to stay active.
World's Great Teachers is available now in Australia and Singapore as part of a premium content package. The app will be available via LG Game World in key markets such as the United States, Canada and Germany as well as other countries in North and South America, Europe and Asia starting in June.
---
[1] Built-in camera is exclusive to high-end LG Smart TV models.
# # #