May 29, 2013
LG ANNOUNCES POPULAR GAMES FOR CINEMA 3D SMART TV
Providing Interactive Entertainment for All Ages, LG Introduces
Four New and Exciting Game Titles to Its Smart TV Platform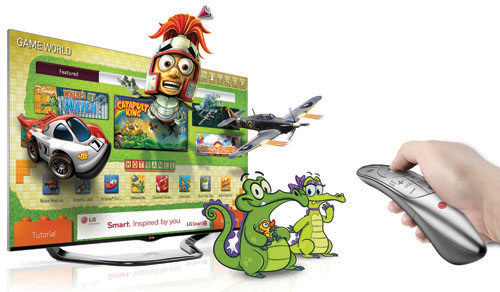 SEOUL, May 29, 2013 ㅡ LG Electronics (LG) today announced the addition of four fun titles to Game World, the company's comprehensive Smart TV game store. The family-friendly selection includes Where's My Water?, Catapult King, Mini Motor Racing and Air Attack. Optimized for LG's CINEMA 3D Smart TVs, each game is playable using the versatile and gesture-sensing Magic Remote. FPR 3D technology and the Dual Play feature further add to the truly magical experience of gaming on LG's Smart TV platform.
"These new titles are part of our commitment to offering LG Smart TV owners the most diverse range of entertainment possible and engage users in new and exciting ways," said Richard Choi, senior vice president of the Smart Business Center at LG Electronics. "The games look fantastic thanks to the larger screen sizes and exceptional picture quality provided by our CINEMA 3D Smart TVs and the intuitive Magic Remote makes it easy for players of all ages to enjoy an action-packed gaming experience."
Where's My Water?
Recognized as the "Game of the Year" by Pocket Gamer and PhoneArena, Disney's Where's My Water? has been downloaded over 120 million times, reaching number one on mobile game charts in 90 countries. Swampy, the game's main character, has taken well over two billion showers since Where's My Water? first launched for mobile devices in 2011. Available now on 2012 LG Smart TV models, end of May on 2013 models.
Catapult King
In Catapult King, the player operates a virtual catapult that can be controlled using the gesture function of the Magic Remote. In this physics-based game, players must knock down enemy soldiers in a bid to rescue a captive princess. With more than 60 expertly designed levels, Catapult King is a challenging yet rewarding game that's sure to amuse and delight CINEMA 3D Smart TV owners. Available early June.
Mini Motor Racing
Mini Motor Racing is a fun auto racing game that lets players hit the gas as they speed their way around more than 40 unique tracks. Developed by The Binary Mill and powered by Unity's advanced graphics engine, this thrilling game supports LG's immersive 3D and Dual Play features. Dual Play uses LG's FPR 3D technology to enable each player to simultaneously view a different, full-screen image eliminating the need for split-screens when players go head-to-head. Available end of May.
Air Attack
Produced by Art in Games, the award-winning Air Attack allows gamers to participate in a number of daring air raids as they take on the role of an ace military pilot. Using the motion-sensitive Magic Remote, players can out-maneuver and out-gun the enemy in both 2D and 3D. This tactical aviation shooter has stunning graphics and a fantastic sound track, keeping adrenaline levels high throughout eight thrilling missions. Available now.
# # #