October 31, 2012
LG UNVEILS ADVANCED TOUCH 10 MONITOR OPTIMIZED FOR WINDOWS 8
Innovative 10-Point IPS Monitor Expands the Horizon of Touchscreen Technology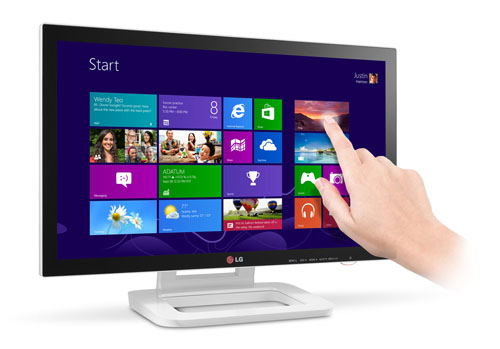 SEOUL, Oct. 31, 2012 – LG Electronics (LG) introduced its Touch 10 monitor (model: ET83), optimized for use with Windows 8, which was launched by Microsoft last week. Whereas conventional touchscreens enable two-finger dragging, scrolling and pinching, LG's 23-inch Touch 10 monitor allows all ten fingers to be used simultaneously. The Touch 10 monitor is an excellent choice for those looking to enjoy an enhanced touch computing experience without having to upgrade their entire PC.
"This is a compelling new product that re-imagines the touch experience and shows that LG is an industry leader in developing the next generation of touch monitor products," said J.J. Lee, Executive Vice President and Head of the IT Business Unit at the LG Home Entertainment Company. "Smartphones and tablets have already proven that consumers are ready to fully embrace touch features. Our 10-point touchscreen takes it one step further by exponentially expanding the range of interactive possibilities. We believe this technology will excite and inspire software developers and users alike."
For tablet and smartphone owners, the Touch 10 monitor will feel like a huge improvement in the intuitive user experience they're familiar with. Most touchscreens utilize a two-finger recognition system which allows for basic manipulation of onscreen elements. LG's Touch 10 monitor affords users the ability to use all their fingers at the same time, meaning they can perform a number of new actions, such as dragging and rotating multiple items simultaneously. The highly responsive touchscreen also enables the user to take advantage of Windows 8 features, including the on-screen keyboard. The Touch 10 monitor also supports a capacitive stylus (purchased separately) should the user prefer a pen-like interface.
It's great to see LG bringing touch to computing in innovative new ways," said John Case, Vice President WW OEM Marketing, Microsoft Corporation. "Pairing LG's Touch 10 monitor with a desktop or non-touch laptop will help create amazing Windows 8 touch experiences for customers."
The impressive 23-inch monitor is great for musical applications featuring virtual pianos, synthesizers and string instruments. A bigger display is also makes watching movies, playing games and children's educational programs much more enjoyable. A range of touch-friendly apps is available from the Windows Store. Moreover, from a consumer standpoint, the monitor's setup is refreshingly hassle-free; full touch functionality is available as soon as the monitor is connected, and no extra software is required.
To ensure optimal picture quality, the monitor utilizes an advanced In-Plane Switching (IPS) panel. IPS displays have inherent advantages over conventional Twisted Nematic (TN) displays in terms of both color and clarity. The range of colors displayed is both vibrant and naturalistic, with good contrast and overall consistency. IPS technology also provides a more comfortable viewing experience for the user, reducing eye strain and thereby allowing extended periods of use.
The Touch 10 monitor will be available in Korea next month followed by markets in Europe and elsewhere.
# # #