August 27, 2012
LG OPENS GAME WORLD FOR CONVENIENT ACCESS TO WIDE RANGE OF SMART TV GAMES
Intuitive Interface, Magic Remote Compatibility and 3D
Makes for Optimal CINEMA TV Gaming Experience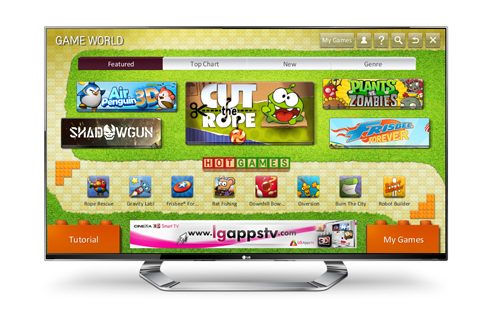 BERLIN, Aug. 27, 2012 –- LG Electronics (LG) will be unveiling its new Smart TV game portal, Game World, at IFA 2012 in Berlin. Anticipating a new era of downloadable casual 3D games, LG developed Game World exclusively for its CINEMA 3D Smart TV lineup. The portal provides a user-friendly way to search, purchase, and play game apps -– in both 2D and 3D – through an intuitive interface. Many of the games can be played with LG's Magic Remote or with any third-party game pad.
"Game World is a wonderful source of games -– especially 3D games –- which are suitable for everyone," said Havis Kwon, President and CEO of LG Home Entertainment Company. "Many popular titles will be available along with games developed exclusively for LG CINEMA 3D Smart TVs. By making the most of the capabilities of LG 3D TVs, Game World will allow us to push the boundaries of 3D gaming and expand the market."
A simplified user experience begins with the main menu, which prominently displays a menu bar listing four categories -– Featured, Top Chart, New and Genre -– for quick access to the contents. The Featured category comprises some of the hottest games available, including games recommended by LG. Top Chart offers the most popular paid as well as freeware games. The New link lists the most recent games available in Game World while the Genre option gives access to game titles in the following categories: action, adventure, arcade, puzzle, RPG, shooter, simulation, sports, and strategy.
The main menu of Game World also provides a tutorial, with manuals and instructions for playing with a Magic Remote or a game pad. The My Games section links users to all previously purchased games and displays a list of the most frequently played games, making it easy to find the next big hit. The titles available on Game World will consist mainly of family-friendly titles, with most titles being compatible with LG Magic Remote's gestures and movement capabilities and many also playable in 3D.
Game World will be launched globally in the second half of this year.
# # #