May 24, 2012
LG USHERS IN A NEW ERA OF VIEWING PLEASURE WITH "ULTIMATE DISPLAY" OLED TV
Based on WRGB Technology, World's Largest and Slimmest OLED TV Demonstrates
LG's TV Leadership by Delivering Unrivalled Picture Quality with Gorgeous Design
MONACO, May 23, 2012 -– LG Electronics (LG) ushered in a new era of television with the unveiling of the world's largest and slimmest 55-inch OLED TV on European soil at Monaco's renowned Salle des Etoiles. In front of an audience of 400 dealers, journalists and special guest F1 champion Sebastian Vettel, LG officials vowed to develop the most advanced commercial OLED TV in the market and to be the first company to bring these TVs to European consumers in the second half of the year.
"In the history of television, there have been very few innovations as impactful as the coming of OLED TV," said Havis Kwon, President and CEO of LG's Home Entertainment Company. "We say THE ULTIMATE DISPLAY because LG OLED TV is truly above all expectations and beyond everyone's imagination with uncompromising picture quality and beautiful design. This year, we plan to make OLED synonymous with LG."
The OLED TV's WRGB technology is the culmination of years of research and development at LG, the company behind the world's first commercialized 15-inch OLED TV in 2009. LG's 4 Color Pixel technology relies on a white sub-pixel to perfect the color output. A Color Refiner enhances the image, resulting in pictures that are the most vibrant, natural and comfortable to the human eye. The screen also delivers a perfect viewing experience without distortion or loss of contrast regardless of ambient brightness or viewing angle.
And unlike LCD or LED displays which require backlights, OLED TVs generate their own light, eliminating the need for backlighting. Furthermore, by utilizing carbon fiber reinforced plastics (CFRP) for the exterior, LG engineers were able to create a final product with a thickness of only 4mm and weighed only 10kg. Thus the Paper Slim design philosophy was born. What's more, LG's OLED TV combines the company's industry-leading CINEMA 3D technology with Smart TV capabilities, creating the most immersive and comprehensive home entertainment experience on the market today.
"With OLED TV leading our premium product lineup in Europe, we have a very strong case to become the number one TV brand in this region." said Stanley Cho, head of LG's Europe Operations. "Until that day, we will continue to develop the products that have made us the most innovative home entertainment company in the industry."
Along with OLED TV, LG introduced the company's latest premium TV lineup for the European market. Ranging from CINEMA 3D Smart TVs with CINEMA SCREEN Design to Ultra Definition (UD) 3D TVs, this year's TV lineup is LG's most aggressive in terms of technology and design, reinforcing LG's premium image.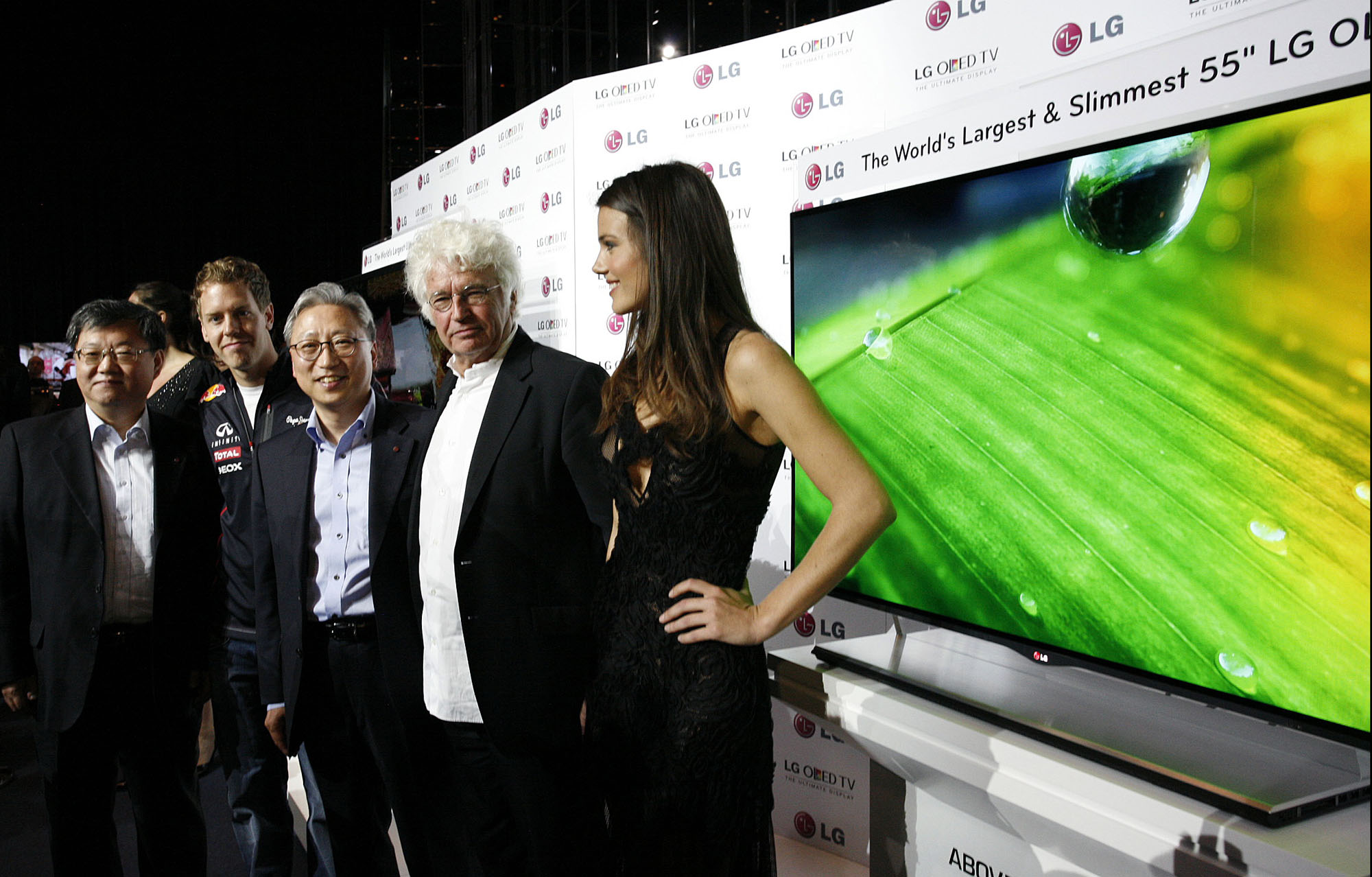 PHOTO OLED1:
From left to right: LG Vice President of Overseas TV Sales and Marketing Ki-il Kwon, F1 Champion Sebastian Vettel, LG Europe Head Stanley Cho, film director Jean-Jacques Annaud and model Gemma Sanderson pose in front of LG's 55-inch OLED TV in Monaco.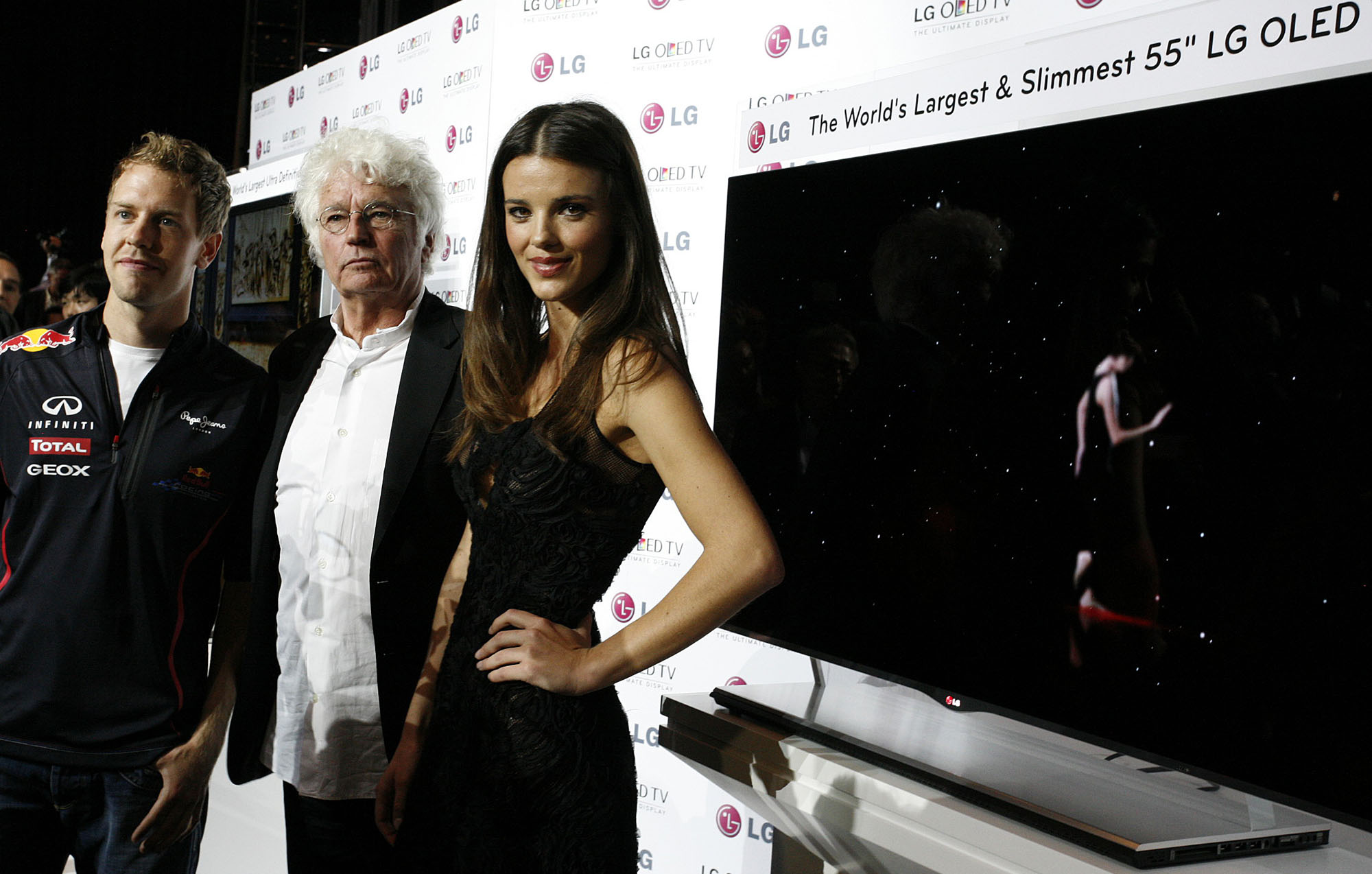 PHOTO OLED2:
F1 Champion Sebastian Vettel, film director Jean-Jacques Annaud and model Gemma Sanderson pose in front of LG's new 55-inch OLED TV in Monaco.
PHOTO OLED3:
Film director Jean-Jacques Annaud, model Gemma Sanderson and F1 Champion Sebastian Vettel pose in front of LG's new 55-inch OLED TV in Monaco.
PHOTO OLED4:
Attendees don 3D glasses to view a 3D video on LG's new OLED TVs at Salle des Etoiles in Monaco.
# # #