May 11, 2012
LG CINEMA 3D TV RECOGNIZED IN EUROPE AS CLIMATE-FRIENDLY TV
LG's TV Receives Climatop Label in Recognition of Reduced Carbon Emissions by
Cutting Power Consumption and Product Weight and Using Fewer Materials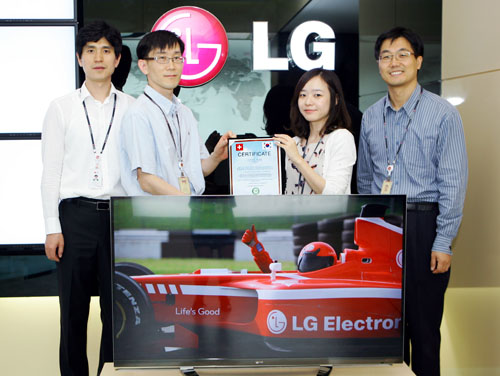 SEOUL, May. 11, 2012 -– LG Electronics (LG) announced that its CINEMA 3D Smart TV (Model Number: 47LM760S) has received the Climatop Label for its effectiveness in cutting carbon emissions and for LG's climate-friendly production and transportation process. Climatop is an independent labeling organization based in Switzerland that supports climate-friendly purchasing behavior as well as a long-term development and distribution of climate-friendly products and services.
"Power consumption is a major source of carbon emissions, and at LG, we've been looking at advanced techniques to make TVs that use less power," said Seogho Ro, head of LG Electronics' TV division. "We're also aggressively pursuing manufacturing and delivery processes that cut back carbon emissions. This includes giving support to business partners who also promote green business practices."
The Climatop Label reflects LG's pledge to reduce carbon emissions. Climatop's independent tests showed that the emissions created by the 47LM760S are significantly lower than other 3D Smart TVs.
The lower emissions are a direct result of the 47LM760S's lighter weight. These weight reductions are made possible by the lightweight 3D glasses and the almost-zero bezel Cinema Screen design. All together, the weight savings made the 47LM760S 14 percent lighter than the previous model. The reduced weight also translates into less energy required for transportation and distribution of the TVs to retailers and customers.
Using 20 percent less power than previous TVs, the 47LM760S was also given an A+ for energy efficiency, high level in Europe's grading system. If the 47LM760S were to replace a conventional TV, it would save approximately 90kg of carbon after seven years of use, which is the average life span of a TV in Europe.
# # #