March 23, 2012
LG TO MAKE WISHES COME TRUE THROUGH FACEBOOK EVENT IN CELEBRATION OF THE OPTIMUS L SERIES
LG to Host Optimus L Series Event Inspired by L-Style's Timeless Philosophy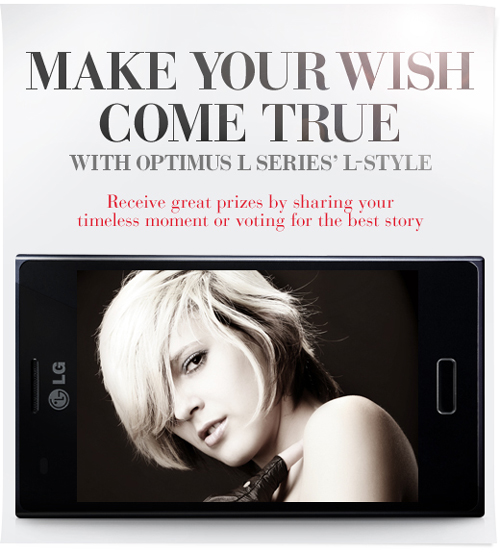 SEOUL, Mar. 23, 2012 -– LG Electronics (LG) is kicking off the LG Optimus L Series Event, inviting the company's mobile fans to share their wishes and have the opportunity to live it. This event was designed to promote the Optimus L series lineup, which was unveiled at 2012 Mobile World Congress (MWC) and embodies the timeless, priceless, and endless moment philosophy. This event will be held through LG mobile's official global Facebook page (www.facebook.com/lgmobile).
Effective from March 21 until May 20, people will have a once in a lifetime opportunity to live out their dreams with LG's support. LG mobile fans who want to participate in this event first have to submit their Timeless Moment plan, through the submission form on LG's Facebook page. Fans who submit their stories by April 11 are subject to be among 5 winners, selected based on the votes on the Facebook page (amongst other criteria).
LG will make the dreams of the five winners come true. In addition, the company will introduce each winner's Timeless Moment journey through a film clip to be shared on Facebook.
"Through this event, LG aims to make our users cherish every moment of their lives and bring mobile fans timeless delights," said Brian Na, Executive Vice President and the Head of Global Sales and Marketing. "The event is derived from the L-Style philosophy. The Optimus L series' L-Style was inspired by, and designed to, present timeless fulfillment and esteemed value to our users. We hope our users enjoy and appreciate their lives and we want to be part of it with our phones."
The Optimus L series lineup's L-Style is the inspiration behind the event. Its initial lineup includes the Optimus L7, L5 and L3. The Optimus L7 and L5 will soon be available starting from Europe following the launch of the Optimus L3 in early March in Europe.
# # #