March 14, 2012
LG RECOGNIZED BY RED DOT AND IF DESIGN AWARDS
Prestigious Global Design Awards Recognize Design Excellence in LG's 2012 Products
SEOUL, Mar. 14, 2012 — Fourteen of LG Electronics' (LG) 2012 products were recognized by the red dot design awards for their excellence in the field of design. A panel of 30 independent judges considered over 4,500 products from 1,800 manufacturers and designers in nearly 60 countries. In all, LG took 12 red dot design awards as well as two honorable mentions.
LG's success at the 2012 red dot design awards follows the 14 awards the company received among the 2,923 competing entries at the iF (International Forum) design award earlier in the year. LG Optimus 2.0, an Android-based smartphone interface, was recognized for its unique user interface design. LG was also recognized for being environmentally responsible in designing the MACHJET printer's packaging using pulp molded recycling buffer material.
"LG's philosophy is that every LG product incorporates user experience in its design," said Kun-pyo Lee, head of Corporate Design at LG Electronics. "Our ultimate philosophy to incorporate designs that work but also evoke some emotional response."
Several of the key products recognized at the 2012 red dot design award include:
LM9600: CINEMA 3D Smart TV
The LM9600 leads LG's new CINEMA 3D Smart TV lineup for 2012. Alongside its new 3D technology and enhanced Smart TV function, the LM9600 also features LG's CINEMA SCREEN Design. With a barely visible bezel, the LG9600 offers a 3D viewing experience that is reminiscent of a large-screen movie theater. The barely visible bezel completes the sophisticated design of the new CINEMA 3D Smart TVs which complement even the most elegant of interior decors.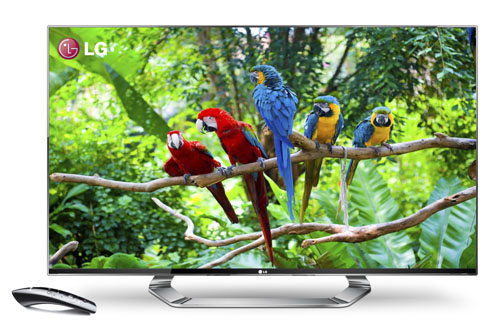 Magic Remote
LG's new Magic Remote brings user convenience through its innovative control modes as well as ergonomic design. The smooth, curved shape accommodates the viewer's grip, while its new control modes — Voice, Wheel, Pointing and Gesture — have replaced conventional push buttons with a set of modish controls that are intuitive and extremely user-friendly.

LG Styler
The Styler clothing care management solution boasts a modern, elegant finish that complements the interior decor of any bedroom, walk-in closet or laundry room. Consistent with the Styler's premium design, controls are displayed on a front touch panel, illuminated by soft, gentle lighting. The Styler uses steam cycles to reduce everyday wrinkles and unpleasant odors. It also keeps clothes neat and fresh, using a selection of scents that can be subtly infused into the stored clothing items. The Styler is the ultimate solution for maintaining one's wardrobe with a professional touch.

Bottom-Freezer Refrigerator for EU Market
LG's seamless, modern and sleek bottom-freezer (model number: GB5240AVAZ) is equipped with maximum capacity and Slim Water Dispenser for great looks and convenience. Incorporating Zero Clearance design, the refrigerator doors can be opened up to 90 degrees without bumping into the wall. The new bottom-freezer is also highly energy efficient with a rating of A++, largely due to its Linear Compressor technology.
# # #