January 5, 2012
LG TO UNVEIL NEXT-GENERATION SMART APPLIANCES AT CES, AIMS TO REDEFINE HOUSEWORK
With Upgraded Smart ThinQ™ Technology, New Home Energy Management System and 
 Device-to-Device Connectivity, LG's Smart Appliances Ready to Lead Connected Lifestyles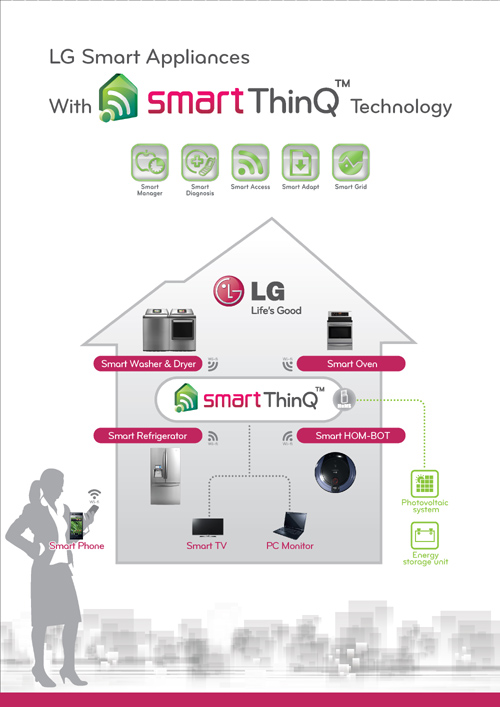 SEOUL, Jan. 5, 2012 -– Showcasing its next generation of revolutionary smart appliances for 2012, LG Electronics (LG) is highlighting its upgraded Smart ThinQ™ technology and its new Home Energy Management System (HeMS) at the 2012 International CES® in Las Vegas.
Together, Smart ThinQ™ and HeMS provide consumers with a more comfortable and convenient way to manage chores, as well as potentially big savings in energy use and electricity bills. At CES, visitors to the LG booth will also experience enhanced device-to-device connectivity across home appliances, Smart TVs, smartphones and PCs.
Also featured at CES are advanced new LG appliances designed to further complement the modern consumer lifestyle. These include an ultra large-capacity, Blast Chillerequipped French-door refrigerator, which earned the CES 2012 "Best of Innovations" award, and a large and fast clothes washer, also honored with a 2012 CES Innovations Award.
"We first previewed our smart appliances at CES a year ago, and the lineup has evolved considerably since then," said Moon-bum Shin, Executive Vice President and CEO of LG Electronics Home Appliance Company. "LG has not only upgraded individual technologies for each product, but has also greatly enhanced connectivity throughout the home. By creating new possibilities for chore management, such as allowing consumers to monitor washing machines through their TVs or smartphones, LG is enabling homeowners to rethink the concept of household chores."
LG's upgraded Smart ThinQ™ technology offers customized convenience and flexible ways to control energy use. At the center of the smart technologies is Smart Manager, which offers a complete food management system. With Smart Manager, consumers can use the refrigerator's LCD panel or their smartphones to check what food is inside, where it's located and when it will expire. For improved service, Smart Diagnosis™ enables the quick and convenient diagnosis or troubleshooting via smart devices.
Smart Access lets consumers access and monitor the operational status of appliances through smart devices, while with Smart Adapt, users can download new programs or software, providing all the benefits of LG's latest developments without needing to buy a new product. Equally significant, LG smart appliances are Smart Grid-ready, meaning that once local utility companies begin offering Smart Grid-compatible, differentiated energy-rate time slots, consumers can re-adjust their function settings to take advantage of optimum energy rates every day.
This year, LG has taken advantage of its advances in smart technology to create a total home network with HeMS, another unique innovation being premiered at CES 2012. HeMS gives users access to the energy usage data of the smart appliances in the home via smartphone or PC1. Customers can monitor their energy usage and the according energy costs by the hour, day, month or year. When needed, they can adjust the usage to reduce energy consumption and save money on electricity bills.
At CES, LG is demonstrating its latest smart refrigerator, smart washing machine, smart oven and smart robotic vacuum cleaner. In particular, the smart refrigerator and smart washing machine are being featured as the embodiments of LG's most advanced smart technologies. And LG's proprietary Core Technologies -– Linear Compressor, Inverter Direct Drive™, Infrared Grill and KOMPRESSOR® –- help enhance performance, increase durability and maximize efficient energy usage in LG appliances.
Visitors will be able to see firsthand LG's large-capacity French-door refrigerator equipped with the innovative Blast Chiller, which was awarded the coveted CES 2012 "Best of Innovations" Award. The Blast Chiller, an innovative quickchilling compartment for drinks, can cool a 12-ounce can of beer or soda in less than five minutes, perfect for those unexpected visits from friends or relatives.
LG has also brought the large-capacity, ultra-fast front-load washing machine, as well as its oven equipped with the unique Infrared Grill technology. LG's dishwasher is also on display, boasting a powerful washing performance and more efficient water usage with TrueSteam™ technology.
Particularly adept at handling clothes that require special care such as suits and blouses, the LG Styler offers total clothing care management solution when combined with other LG products, such as LG's washing machines. The Styler uses steam cycles to reduce everyday wrinkles and unpleasant odors. It also keeps clothes neat and fresh, using a selection of aromas that can be subtly infused into the stored clothing items. Simply, the Styler lets consumers maintain their wardrobe with a professional touch.
The HOM-BOT is LG's advanced robotic vacuum cleaner, enabling easy and convenient automatic vacuuming at home. The Dual Eye Mapping feature uses smart navigation to allow for more fast and precise cleaning, while the low height of just 3.5 inches and a noise level of only 50dB allow consumers to enjoy other activities while the robotic cleaner tends to the floor.
LG's outstanding appliances are offered in an elegant sequence of the built-in LG Studio Series™, which include an ultra-large capacity 3-door refrigerator with the door-indoor feature and a built-in side-by-side refrigerator with a sophisticated design.
For more information and product images, please visit LG's online press kit at www.LGnewsroom.com/CES2012 from January 9th.
# # #
1 Wireless internet connection required and sold separately.