November 1, 2011
LG 3D NOTEBOOK RECEIVES WORLD'S FIRST FLICKER-FREE CERTIFICATION
TÜV Rheinland, Europe's Authority on Standards,
Says LG Has Solved 3D's Most Vexing Shortcoming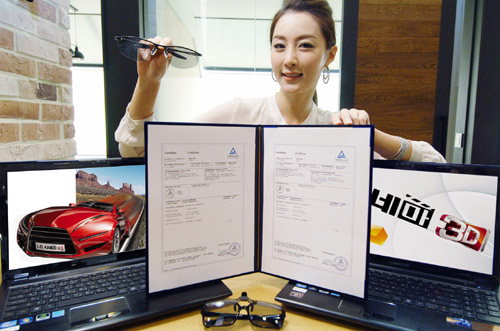 SEOUL, Nov. 1, 2011 — LG Electronics (LG) has become the first company to be certified by a recognized authority for its flicker-free 3D notebook display. TUV Rheinland, one of the world's leading technical, safety and certification services and Europe's highest authority on standards, recognized the LG A530 notebook for being the first 3D notebook PC to offer a flicker-free viewing experience.
TUV issued its certification after rigorous testing of LG's 3D display which the agency said resolved the flickering problem which has plagued all other previous 3D notebooks. Flickering screens cause discomfort when viewed for a prolonged period of time.
"Recognition from TÜV Rheinland is especially welcome given the organization's focus on quality and safety," said J.J. Lee, Executive Vice President and Head of LG Electronics PC Business Unit. "Official certifications from leading third party authorities only help to confirm our belief that LG's 3D technology is second to none."
Thanks to LG's proprietary Film Patterned Retarder (FPR) screen with Full HD 1920×1080 resolution, images on the LG A530 are significantly brighter than on shutter glasses-type 3D notebooks, meaning the LG notebook offers richer, more vivid games, movies and pictures.
The LG A530, which was introduced in Korea two months ago, is currently the top seller in the local 3D notebook segment. Behind products such as the A530, LG is well positioned to lead the global market in 3D notebooks and will be making its presence known worldwide in the coming year.
# # #