October 19, 2011
LG SMARTWORLD TO OPEN PREMIUM APP SERVICE
LG Offers a Wider Range of Mobile Content with New Paid Apps,
Including 3D Content Exclusively Designed for Optimus 3D Users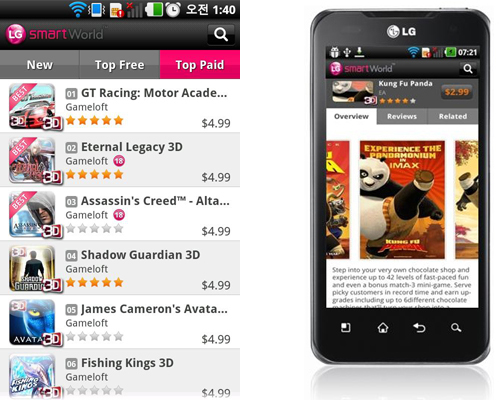 SEOUL, Oct. 19, 2011 –- LG Electronics (LG) announced today that it will open a premium paid app service for customers in the U.S. starting this month. The new offering on LG SmartWorld (www.lgsmartworld.com), follows in the footsteps of the paid premium service's successful launch in the U.K. in July. The additional service will complement the free apps currently available on the LG SmartWorld site, which is available in 39 countries.
LG SmartWorld features the 3D Zone with an array of premium 3D content, including 3D videos and games exclusively designed for LG Optimus 3D users. Of the 10 most popular paid apps on LG SmartWorld, eight are 3D content, reflecting the growing demand and popularity of the mobile 3D experience. In particular, 3D games developed in partnership with leading game publishers — GT Racing: Motor Academy, Near Orbit Vanguard Alliance (N.O.V.A.) and Archer Craft from Gameloft, among others — rank high at LG SmartWorld.
"Our goal with the addition of paid premium apps is to make LG SmartWorld a seamless gateway to the best content currently available for our Android smartphones," said Dr. Jongseok Park, President and CEO of LG Electronics Mobile Communications Company. "With the expansion of our premium app service on LG SmartWorld, we are continuing to broaden customers' access to higher quality content and apps."
LG SmartWorld offers a dedicated home screen widget for better user accessibility, easier navigation through banner menus and auto-download via Wi-Fi for larger files. The paid app service on LG SmartWorld will be introduced market-by-market over the next several months.
# # #