September 29, 2011
LG EMBRACES IPS PANEL TECHNOLOGY FOR A NEW STANDARD IN MONITOR PERFORMANCE
With Expert-Tuned Color Accuracy And Wide Viewing Angle, LG's IPS5 Monitors
Let Users Experience and Share Images As They Were Intended To Be Seen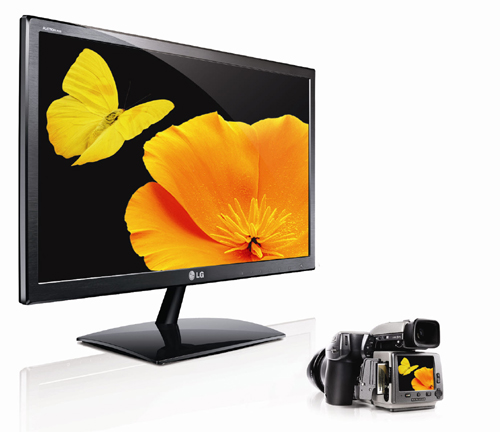 SEOUL, Sep. 29, 2011 -– LG Electronics (LG) has introduced a new monitor series based on in-plane switching (IPS) technology, the IPS5. The IPS5 series is the latest version of the Technical Image Press Association (TIPA) Award winning monitor lineups of the IPS1 and IPS6 series. The IPS5 series has been upgraded with expert color calibration to ensure that colors remain sharp and true. The IPS5 series is equipped with outstanding color reproduction technology intended for enterprise customers and photographers who require bright and realistic images.
"We're committed to continually improving all aspects of our monitors with the best technology currently available," said Havis Kwon, President and CEO of LG Electronics Home Entertainment Company. "The IPS5 series is proof of that commitment, as these monitors deliver superbly accurate images with true color representation with a wide viewing angle for demanding professionals."
Expertly Tuned Color Accuracy
By replacing TN (twisted nematic) panels with IPS, the IPS5 series provides exceptionally realistic images with enhanced color accuracy. This accuracy is further assured by a report on color-calibration prepared by LG experts, which accompanies the monitors. The IPS5 series is one of very few high-end professional graphics monitors to offer such a guarantee. In turn, customers can be assured that onscreen colors are identical to real-life colors.
Consistent Color Tone Through Consistent Color Temperature
The IPS5 monitors maintain color temperatures at an optimum level of around 6,500K (Kelvin), enabling reproductions of colors closest to the original. This consistency helps retain color impressions identical to those on the original image, so viewers can always see the image as it was intended.
Color Shift Free
Thanks to an alchemic convergence of IPS and LED, the new IPS5 monitors deliver highly advanced picture quality without any color shift. They also greatly extend viewing angle, ensuring viewers see crisp, realistic pictures from almost any position in front of the screen.
With its Dual Package feature, the IPS5 allows easy configuration of a second display, such as setting the split main monitor screen in dual mode, connecting a second monitor with a single click and showing the task bar on both monitors. Additionally, the Super Energy Saving technology makes the IPS5 as eco-friendly as it is technologically sophisticated. The IPS5P series is ergonomically designed with a height-adjustable stand which can be adjusted to almost any angle.
The IPS5 series is available this month while the IPS5P will be introduced in Europe in November.

# # #