August 29, 2011
LG'S NEW HX906TX CINEMA 3D SOUND HTS BOASTS TRUE 360-DEGREE SOUND AS IMMERSIVE AS A MOVIE THEATRE
LG's HX906TX Combines 9.1 speakers with State-of-the-Art
Upright 3D Speakers to Create World's First 3D Sound Home Theatre System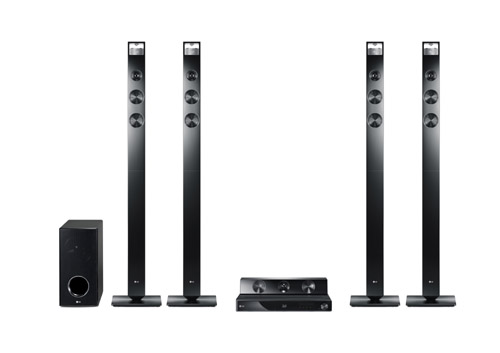 SEOUL, Aug. 29, 2011 — LG Electronics (LG) will be thrilling IFA 2011 with the HX906TX, its all-new CINEMA 3D Sound HTS whose 9.1 speaker system creates the closest thing to the audio power of movie theatres or live concerts. Thanks to its innovative new sound configuration, the HX906TX delivers truly 360-degree sound that envelopes viewers in audio –- both horizontally and vertically -– like never before.
"LG is pioneering the field of 3D sound with the 9.1 speaker system on the HX906TX," said Havis Kwon, President and CEO of LG Electronics Home Entertainment Company. "Along with our groundbreaking CINEMA 3D TV, the HX906TX sets new standards in immersive entertainment, with a sound so rich and textured, it's hard to believe it's not real."
The key feature in creating the HX906TX's sound is its 9.1 speaker system, which adds four Upright 3D Speakers to the conventional 5.1 channels on a home theatre system. With 10 speakers in total delivering an optimized, multi-directional audio, the HX906TX creates an immersive sound that is also powerful enough to capture the delicate background sounds of everyday life.
By sitting on top of the Tallboy speaker units, the Upright 3D Speakers further enrich the audio by pumping sound upward, ensuring that the vertical space is completely filled with sound. In addition, a 360-degree Reflector inside each of the Upright 3D Speakers reflects sound in all directions, creating acoustics as rich as those in a concert hall.
By applying LG's unique 3D effect DSP algorithm, Sound Field Expansion technology further expands the horizontal sound field, and works in harmony with the Upright 3D Speakers to create a truly immersive, 360-degree sound experience. Sound Field Expansion extends the audio "sweet spot" so viewers always feel as if they are right in the middle of the sound, even when they're gathered together in larger groups. Moreover, the 3D Sound Analyzer analyzes complex layers of original sound, adding sound information to any empty space. The result is more detailed and realistic 3D Sound audio.
Among its array of other top-notch features, the HX906TX boasts 3D Blu-ray™ Playback that delivers stunning 3D images in full, 1,080p HD. Producing clear 3D images with 12-bit, 4,096-step gradation, the HX906TX's 3D Blu-ray™ Playback is the perfect visual accompaniment to its immersive sound.
The HX906TX's cubic, slim-line design combines a metallic silver hairline with a glossy texture to create a unit that complements any living room or lounge.
For the best in entertainment options, the HX906TX comes with LG's outstanding Smart TV functions. Premium Content provides a wide array of VOD services for the whole family, while LG Apps deliver top quality lifestyle, educational and interactive applications tailor-made for TVs. And users only need to download an app to turn their Android or iPhone smartphone into a comprehensive remote control for the HX906TX.
Ensuring viewers will never be short of things to listen to or watch, the HX906TX's Wi-Fi Direct™ enables simple file sharing without the need for a wireless hotspot. The HX906TX can also access and share any content on DLNA-certified digital devices -– such as mobile phones, tablets and PCs – while the single HDMI connection means viewers can send or receive top-quality audio data via a single HDMI cable. In addition, multi-playback lets the HX906TX support a wide range of media formats, including MKV and DivX HD.
Further ramping up the convenience and fun, Music ID by Gracenote provides simultaneous information -– including artist, song and album titles –- on whatever the user is listening to. And an iPhone/iPod cradle lets users enjoy their own personal music libraries via the HX906TX's rich digital sound.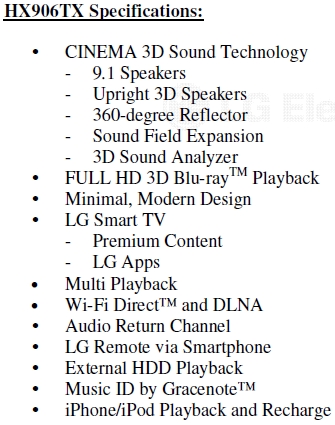 To see more of LG's Home Entertainment offerings at IFA, take a "LG 3D World Booth Tour" on HE Media Day on September 1 at 15:00 or 16:00 in Hall 11.2 of Messe Berlin.
# # #