June 7, 2011
LG BRINGS CINEMA 3D TV TO NEW MARKETS AS DEMAND EXCEEDS EXPECTATIONS
LG Confident FPR Will Dominate Home 3D Market As Consumers Become More Informed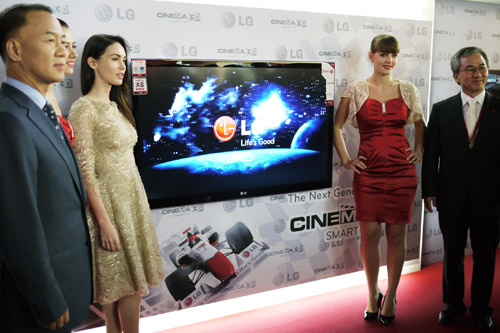 SEOUL, Jun. 7, 2011 -– LG Electronics (LG) continued its push to dominate the home 3D TV market with a grand event at Ferrari World in exotic Abu Dhabi to introduce its patented Film Patterned Retarder (FPR) CINEMA 3D TV to a discerning Middle East audience for the first time.
Megan Fox, star of the Transformers movie series, headlined the posh event at the sprawling Ferrari World, billed as "the world's largest theme park". More than 3,500 guests were treated to a visual spectacle, only possible due to CINEMA 3D's Flexible Viewing Positions and Wide Viewing Angle features which create the perfect viewing experience for large groups.
"CINEMA 3D is leading the transformation of home 3D from an expensive 'nice-tohave' feature into something that consumers and experts alike are excited about and embracing," said Kyung-hoon Byun, Executive Vice President of LG Electronics Home Entertainment Company. "CINEMA 3D is the disruptive force that the industry so desperately needed after last year's cool response to 3D products. Based on the reception we've received elsewhere this year, we're more confident than ever that CINEMA 3D will become the standard for 3D TVs around the world."
And with CINEMA 3D TVs offering the full range of LG's internet-linked Smart TV functions, there's no need to make any difficult choices. A Home Dashboard provides an easy interface to access the TVs' vast selection of content, customized LG Apps provide additional functions and Smart Share allows users to quickly and easily share content between the TV and other digital devices.
"What we have here is a state-of-the-art product that marries high quality performance with innovation and the very latest in technological advancement," said Mr. K.W. Kim, President of LG Electronics, Middle East and Africa. "LG's CINEMA 3D TV is effectively the most complete television available in the market today for TV viewing, gaming and online connectivity."
LG is pinning its strategy on customers seeing 3D as a highly desirable feature once the inconvenience of shutter glasses and the lack of good content are resolved.
"Although it's still too early in the year, I think we're going to see some surprisingly positive numbers related to home 3D adoption in six months," added Mr. Byun. "Customers who have bought next generation CINEMA 3D TVs are very happy with their decisions and are telling their friends and relatives. This is how all great movements start."
# # #