March 31, 2011
LG ELECTRONICS AND WFP: HOW TECHNOLOGY CAN HELP END HUNGER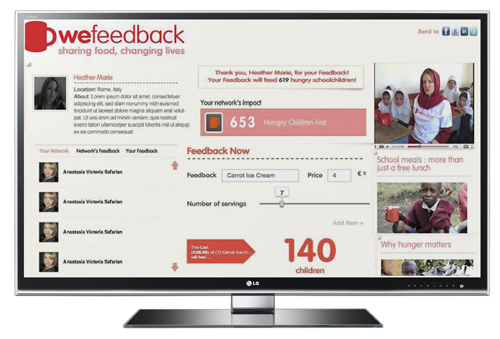 SEOUL, Mar. 31, 2011 –- The United Nations World Food Programme (WFP) and LG Electronics today announced a bold new initiative which will bring the fight against hunger into homes around the world thanks to the very latest in digital technology.
Owners of LG's latest line of Smart TVs, which embody the most advanced technology of internet-linked TVs, will be able to download a new application (or "app") to allow them to engage directly with global efforts to achieve Millennium Development Goal 1 – the eradication of extreme poverty and hunger.
"LG is on the frontline of technological innovation and WFP is on the frontline in the fight against hunger," said Havis Kwon, Executive Vice President and CEO of LG Electronics Home Entertainment Company. "By coming together in this way we believe we can make a very real impact on one of the world's most devastating and persistent problems."
The LG smart television application features WeFeedback, WFP's groundbreaking social media tool which encourages people to engage in a "solidarity platform" to transform their favourite food into hope for hungry school children in countries where WFP works.
The integration of television and internet technology in the smart tv will provide a powerful new tool through which people and companies can "feed back" their foods – from pizza to sushi to apple pie – to make a difference in children's lives.
Since launching WeFeedback (www.wefeedback.org) earlier this month, enough funds have been raised to feed around 90,000 children through WFP's school meals programmes.
"LG is leading the way in demonstrating how the private sector can use technology to support WFP's effort fighting hunger worldwide," said WFP's Director of Communications, Public Policy and Private Partnerships, Nancy Roman.
The LGE WeFeedback app will also include RSS feeds of stories that show the human face of WFP's work, a link to WFP's YouTube channel and regular updates on WFP's operations, country by country.
Future versions of the application may provide the possibility for owners of LG smart televisions to donate directly to WFP operations during major emergencies.
LG Electronics has been a partner in WFP's global work to eradicate hunger since 2009. LG Hope Family for Asia supports a total of 12,000 families in Bangladesh and Cambodia through innovative food-for-work projects designed to lift people out of poverty. The LG Hope School in Kenya and LG Hope Village in Ethiopia provide support to 30,000 people.
# # #