March 31, 2011
LG CLAIMS TOP GLOBAL MARKET SHARE IN LED MONITORS
Consumer-Focused Technology Puts LG at Top of Fast-Growing Monitor Sector in 2010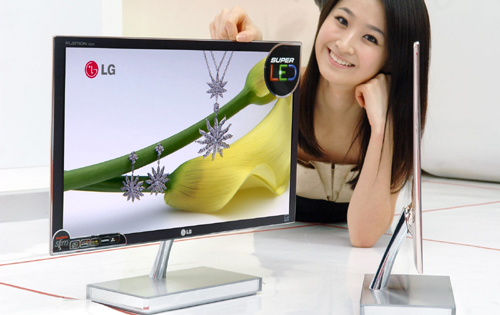 SEOUL, Mar. 31, 2011 –- LG Electronics (LG) was the world's market leader in LED LCD monitors in 2010 with an 18 percent market share – accounting for 2.92 million of 16.68 million LED LCD monitors sold around the world – according to global market research firm DisplaySearch.
"This represents a strong endorsement of LG's drive to increase investment in R&D over the last 12 months," said Si-hwan Park, Vice President of the Monitor Division at LG's Home Entertainment Company. "The reason for our success is simple: We've focused on listening to our customers and then innovating around those needs. To keep on growing our market share, we're going to be moving strongly into CINEMA 3D
monitors in the near future."
From just 1 percent in 2009, LED monitors' share of the monitor market leaped to 10percent last year. Having prepared in advance for the shift from LCD to LED LCD monitors, LG was well placed to capitalize as the market took off last year. LG invested heavily last year in growing its LED LCD monitor business, while also conducting a major marketing campaign – called "Show Your Sincerity" – in nine countries worldwide.
LG's wide range of LED LCD monitors include the E50series, awarded environmental certification from UL, the E60 series, designed with an ultra slim depth of just 12.9mm, and the M80 series, which merges the functions of LED monitors with FULL HD TV. In addition, with a depth of just 7.2mm – the slimmest LED LCD monitors in the world – the E90 series took an Innovations Award at this year's Consumer Electronics Show in Las Vegas.
With LED LCD monitors' share of the overall monitor market expected to grow to 30 percent this year from 10 percent last year, LG is aiming to secure 20 percent of this fast-growing sector. As it pushes hard to consolidate its No. 1 position in the global LED LCD monitor market, LG will be placing a particular focus on products with its In Plane Switching (IPS) panels, sophisticated, slim design and CINEMA 3D monitors.
# # #