January 27, 2011
GLOBAL TEXTING CHAMPIONS CROWNED AT LG MOBILE WORLDCUP CHAMPIONSHIP 2010-2011
Panama Team Wins USD 100,000 and Title of Fastest, Most Accurate Texters in the World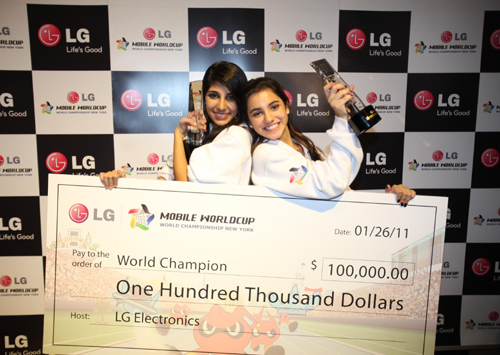 SEOUL, Jan. 26, 2011 — LG Electronics (LG) crowned the winners of the second annual LG Mobile Worldcup Championship 2010-2011 today, naming Cristina Sales Ancines, age 20, and Jennifer Sales Ancines, age 15, from Panama as the "World's Fastest Texters." Held at historic Gotham Hall in New York City, the new champions outlasted competitors from 16 countries through a series of rigorous texting challenges to win USD100,000 in prize money, as well as recognition the world over.
"We are thrilled to have won against the world's best texters," said Cristina Sales Ancines. "Meeting new friends from around the world and participating in this exciting event has been an experience that we will remember for the rest of our lives."
A celebration of mobile culture, LG Mobile Worldcup Championship has quickly become a showcase global event, expanding from four participating countries in 2008 to 16 in 2010. Altogether, more than 13 million people have participated in the LG Mobile Worldcup since its inception.
"The LG Mobile Worldcup has left us all with a treasured moment that will last a lifetime," said Dr. Jong-seok Park, President and CEO of LG Electronics Mobile Communications Company. "As we look ahead, LG will continue working hard to provide extraordinary mobile experiences to our consumers with the very latest and advanced in mobile technology."
During the competition, players demonstrated their texting skills using the New LG Chocolate BL20 and the LG TOWN GT350, which served as the two official phones for the event. Contestants from Korea placed second and took home USD 20,000, while team Brazil placed third, winning USD 10,000. In each round, contestants raced to be the first to type in phrases exactly as they appeared on nearby LG plasma screens, with no mistakes or abbreviations.
In addition to the main competition, the participants also competed for the opportunity to set a Guinness World Record® for fastest texting on a QWERTY mobile phone device. Cheong Kit Au from Australia earned a place in the record books by typing out a 264-character text in one minute and 17 seconds, beating out 2010 winner and former Guinness World Record holder, Pedro Matias, by 43 seconds.
The selection of finalists for the LG Mobile Worldcup began with a series of national texting contests in 16 countries: Argentina, Australia, Brazil, Chile, El Salvador, Guatemala, Honduras, Indonesia, Korea, Morocco, Nicaragua, Panama, Portugal, South Africa, Thailand and the U.S. Thirty two contestants were ultimately invited to New York for the grand finale.
# # #