November 22, 2010
LG CELEBRATES 20 YEARS OF SUCCESS IN INDONESIA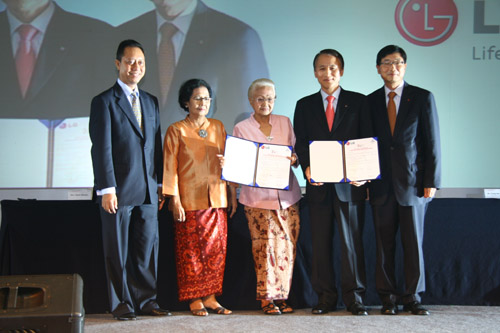 As the Country's Biggest Exporter of Electronics Goods,
LG Looks to Recreate Success Across Southeast Asia
SEOUL, Nov. 22, 2010 –- Twenty years since LG Electronics (LG) began operations in Indonesia, the company now counts the fourth largest populated country in the world as one of its biggest success stories. After two decades, LG is now widely recognized as one of the emerging economy's best retailers and exporters, producing cutting-edge TVs, refrigerators and monitors. The formula that worked so successfully for LG in the world's largest Muslim country is now being applied to other markets across Southeast Asia.
Since opening its first Indonesian office in 1990 with an investment of USD 4.6 million, LG has grown its presence every year. From USD 1.5 billion in 2006, the company this year expects to record USD 2.1 billion in sales, an increase of 40 percent. In a report by global market research firm GfK, LG Indonesia was named the country's top producer of electronics goods by volume for the year up to September. By categories, LG held 33.5 percent of Indonesia's domestic LCD TV market, 31.3 percent of its refrigerators, 27.1 percent of its washing machines, 32.8 of its home air conditioners, 36 percent of its LCD monitors and 37 percent of its audio players.
"Our success in Indonesia is due to much perseverance and listening and understanding the needs of our local audience," said Mr. Weon-dae Kim, President of LG Electronics Indonesia. "And Indonesia, as a founding member of ASEAN and a G-20 nation, is the lynchpin of our success in Southeast Asia."
And with the population and average annual economic growth of the ASEAN member states exceed those of the EU, NAFTA, and MERCOSUR, success in Southeast Asia is crucial for LG's global expansion.
"Indonesia and the other ASEAN countries have continued to improve policies govern-ing trade and investment, opening up their markets to companies such as LG and we have benefitted from this initiative," said Mr. Kim. "We are confident that what has served us well in Indonesia will also work for LG in other Southeast Asian markets such as Thailand, Singapore, Malaysia and Vietnam."
LG's strategy for Southeast Asia is based on long-term commitment and continued in-vestment. For example, when the global recession hit in 2008, LG ramped up invest-ment and production in Indonesia, rather than reduce its business scope as other multi-national companies had done. LG's bold move was seen as a sign of confidence in the country and did not go unrecognized by consumers.
"In the end, it's not just about our market share or revenues. What's most important to LG is our ability to become part of the social fabric here in Indonesia and elsewhere," said Mr. Kim. "While we are certainly proud of what we've achieved here in the last 20 years, what I remember most is the smiles on students' faces when we donate computers or air conditioners to their classrooms. Those memories will stay with me for the next 20 years."
# # #
From left: Budi Darmaji, Vice Minister of Indonesia Department of Industry; R. Tjip Winoto, Vice Chairman of Yayasan Sayap Ibu; Soemarmi Marjono, Chairman of Yayasan Sayap Ibu; Young-kee Kim, Executive Vice President of LG Electronics; Weon-dae Kim, President of LG Electronics Indonesia