December 29, 2020
Mini LED TV: The Ongoing Evolution of LCD TV Technology
Until recently, the term "Mini LED" would have been unfamiliar to all but the most ardent of TV technology buffs. Although talked about in tech circles for years, the term has only just started to enter the wider public consciousness, spurred by the fact that several TV manufacturers are now either showcasing, rolling out or communicating their intention to launch TV products with this feature.
In this article, we will take a look at what's behind this growing interest in Mini LED TVs.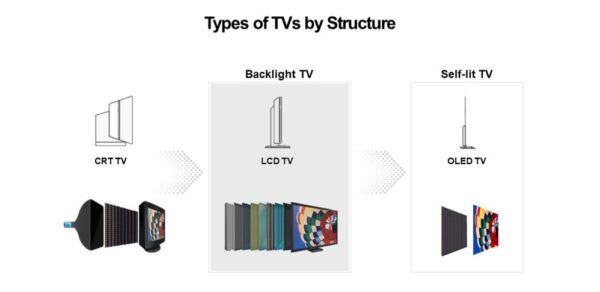 OLED's dominance in the premium TV category is primarily due to its self-lighting pixels, independent dimming control and lack of backlighting for an incredibly thin profile unmatched by any other high-end TV technology. The LED-backlit LCD TV space, however, remains more competitive. Within this more accessibly-priced market, LG and other TV makers continue to develop a variety of technologies in an effort to bring consumers TVs with better picture quality primarily focusing on improving contrast and color reproduction. The emergence of Mini LED as the next step in the evolution of LCD TV is a direct consequence of this R&D effort.
Next Level Contrast: The Evolution of Backlight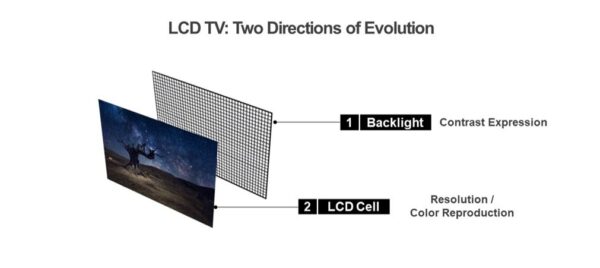 Backlight TVs have been evolving their light source technologies with advancements like CCFL (Cold-Cathode Fluorescent Lamp), Edge LED or Direct LED, offering improved performance. Also, technologies like Local Dimming and FALD (Full Array Local Dimming) are increasingly more advanced ways to express better contrast.
Mini LED technology "miniaturizes" the TV's light source, making it much smaller. The smaller size allows manufacturers to pack more LEDs in the same TV screen size for increased brightness compared to regular LCD TVs. Also, having more dimming zones allows for more precise control of that brightness. As such, a Mini LED TV can achieve deeper blacks and a higher contrast ratio than other types of LED TV. Scenes both light and dark, benefit greatly from these performance upgrades, appearing more real.
LCD Cell: The Evolution of Color
As LCD technology evolved, it offered better and higher resolution and color. Quantum dot and NanoCell technologies are examples of ways to increase color performance. By developing the combined Quantum Dot NanoCell Technology, LG has taken the best of both quantum dot and NanoCell to further enhance the ability to represent and create outstanding color in an LCD TV.
And LG combined the best LCD light source with the best color enhancement technologies, by creating LG QNED Mini LED TV.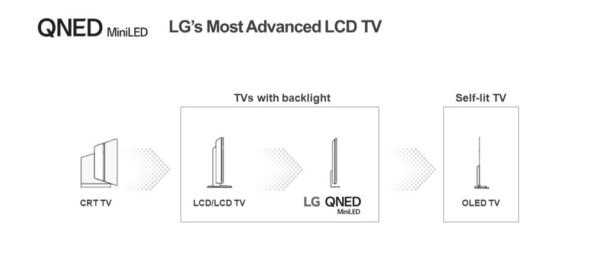 LG's new, flagship 86-inch 8K model featuring Mini LED technology comes with a backlight unit composed of almost 30,000 tiny LEDs and nearly 2,500 dimming blocks, for outstanding brightness and an impressive 1,000,000:1 contrast ratio, unheard of performance for an LCD TV.1
With 8K OLED offering self-lit pixels that provide perfect black, infinite contrast over 100 million subpixels, no current display technology is the equal of OLED.2 However, Mini LED offers the best picture quality of any LCD TV to date and represents a compelling new option for consumers seeking to upgrade their viewing experience.
# # #
1 Measurement based on 86-inch 8K QNED TV.
2 Measurement based on 88-inch 8K OLED TV.
All images are simulated for illustrative purposes only.