August 23, 2016
LG'S NEW BLUETOOTH SPEAKERS DESIGNED FOR ACTIVE LIFESTYLE AUDIOPHILES
From Bedside to Campsite, the Perfect Audio Solution for Any Situation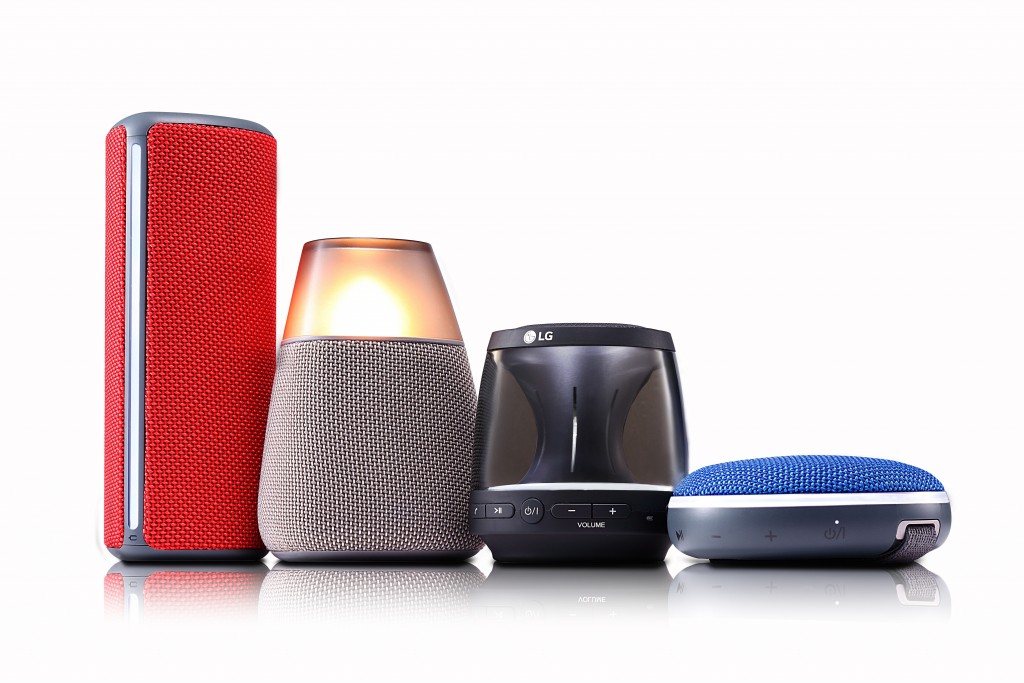 SEOUL, Aug. 23, 2016 — Equipped with a number of cutting-edge features and boasting sleek, innovative designs, LG Electronics' newest Bluetooth speakers (models PH1, PH2, PH3 and PH4) deliver the ideal audio solution for a diver range of listening environments, indoors and out.
Listeners prioritizing portability and rugged durability will be drawn to the PH2 and PH4. Weighing only 167 grams, the compact, splash-proof PH2 is designed to bring high-quality audio to even the most active users. This versatile speaker is ready for anything that users may throw its way, perfect for customers who enjoy the great outdoors. The more powerful PH4 speaker is perfectly suited for outdoor gatherings such as campouts or poolside barbeques where powerful sound is required. Delivering complex, powerful and rich sound while maintaining portability and flexibility, the PH4 is ideal for audiophiles who refuse to compromise.
Both the PH2 and PH4 boast a connected strap which makes it easy to attach the speakers to a variety of surfaces for added portability. Rain and splashes are no problem for either speaker due to their water resistant design that allows them to be taken almost anywhere. With 360 degree omni-directional output and Bass Boost, both speakers deliver crystal-clear sound in any setting. The Dual Passive Radiators featured in the PH4 increase sound quality and bass output unmatched by other similarly-sized speakers. LED indicators and a long lasting batteries (PH2: 6 hours, PH4: 10 hours) enhance portability and usability, making the speakers the natural choice for active customers.
Built to match any décor, the lights on the eye-catching PH3 help set the mood no matter where it is placed — from night tables to garden terraces. The unique candle-like PH3 comes in three colors and features five different multicolored lighting modes. This combination of rich audio and vibrant lights set it apart from the competition with illuminated music that reaches every corner of a room. And the speaker's 10-hour built-in battery gives users an unprecedented degree of freedom.
All three speakers are equipped with auxiliary input ports to connect to devices without Bluetooth capability such as older MP3 and CD players. For newer devices, the speakers' advanced Multi Point connectivity features allows for connection to two Bluetooth devices simultaneously.
The PH1 features built-in mood lighting and a five-hour battery, perfect for any room in the house. Lightweight and portable with Bluetooth and hands-free speakerphone capabilities, this speaker can also be used as a nightlight.
"At LG, we seek to develop products that fit the real life needs of consumers," said Brian Kwon, president of the LG Home Entertainment Company. "With our diverse lineup of wireless speakers, I am confident consumers will be able to find the perfect audio solution for any setting."
Visitors to the LG's booth in Hall 18 of Messe Berlin during IFA 2016 will have a chance to experience the new products firsthand.
# # #