December 16, 2015
LG'S STUNNING NEW MONITORS AND PCS TURN DREAMS INTO REALITY
New 21:9 UltraWide™ Monitors, 4K Monitors and Ultra PC gram
Designed to Appeal to Creative Professionals and Gamers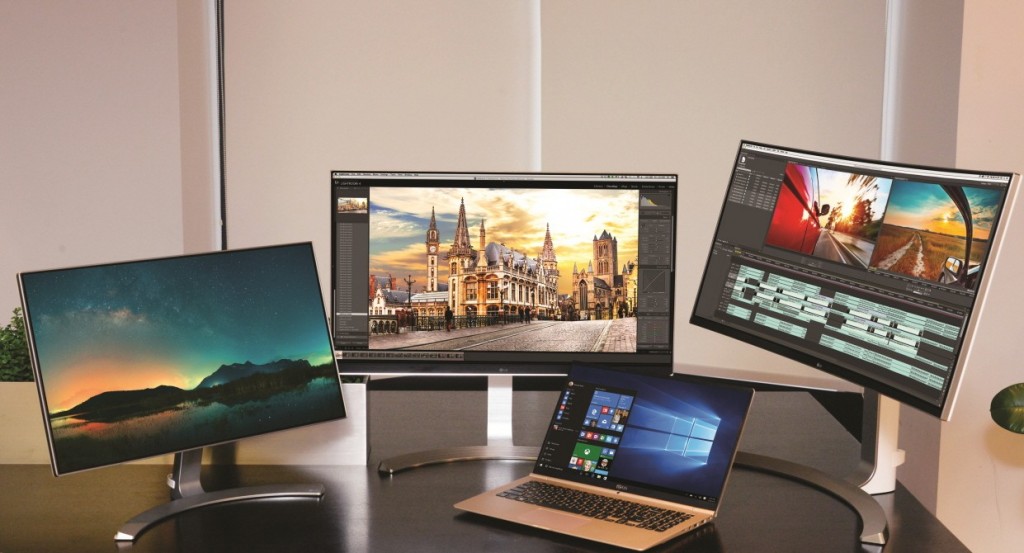 SEOUL, Dec. 16, 2015 — With computers playing an indispensable role in professional and leisure lives, LG Electronics (LG) will be unveiling a new lineup of products to allow consumers more freedom to customize their work and play space to better fit their growing needs. At CES 2016, LG will showcase its newest 21:9 UltraWide™ monitors, 4K gaming monitors and Ultra PC gram laptop, all designed for maximum productivity and entertainment for today's demanding power users.
LG's monitor exhibition at CES will feature a number of dream setups built around LG's impressive monitor lineup. One setup for gamers and digital professionals will be based around the wide 34-inch, 21:9 Curved UltraWide™ Monitor (model 34UC98) featuring Thunderbolt™ 2. The 3440 x 1440 QHD monitor's large screen size, picture quality-enhancing IPS technology and streamlined features are designed to meet the needs of a wide range of users from avid gamers to digital media professionals, delivering a well-rounded multimedia experience for content creators and viewers alike.
The LG 34UC88 offers an amazing QHD picture with its expansive 21:9 Curved UltraWide™ display. Equally stunning is LG's Ultra HD 4K Monitor (model 27UD68) for images so sharp gaming will never be the same again. Both monitors utilize AMD's advanced FreeSync technology for a seamless, fluid gaming experience free of artifacts, choppiness and broken frames.
At its CES booth, LG will also showcase its flat 21:9 UltraWide™ 34UM88 Monitor, the perfect workstation for digital professionals such as photographers and graphic designers who depend on precise image reproduction. The wider field of view of this monitor enhances productivity by creating a bigger workspace in which to view photos side-by-side and work on multiple applications at the same time. And the monitor's Thunderbolt™ 2 compatibility is indispensable for artists who work with large image and video files.
Also debuting at CES is the LG Ultra HD 4K Monitor (model 27UD88), a 27-inch monitor designed for creative professionals featuring the latest USB-C port technology. Representing the next generation of computer connectivity, the monitor allows users to charge a laptop as fast as with a dedicated power cord and simultaneously transfer data at USB 3.0 speeds. The single cable gives users the ability to connect their laptops to an external monitor while also using the monitor as a power source, eliminating the need for more cables. The 27UD88 also offers color presets including the popular Rec. 709 and SMPTE-C broadcasting standards, giving users a fast and easy way to adjust the picture depending on the content displayed on the screen.
In addition to its proprietary color-enhancing IPS display technology, LG will debut a number of impressive design elements in its 2016 monitor lineup. The virtually invisible bezel on select Infinity Display model(24MP88) and the elegant ArcLine Stand add touches of elegance that matches the stunning beauty of their IPS displays.
Visitors to LG's booth at CES will also have a chance to experience the company's newest portable PCs firsthand. Despite its large 15.6-inch screen, the LG gram 15 (model 15Z960) is barely larger than a conventional 14-inch laptop. As the lightest 15-inch laptop in the world, the LG gram 15 is built to be durable while maintaining a weight of just 980 grams, making this lightweight laptop the perfect choice for busy office workers or students with busy schedules. With a 6th Gen Intel® Core™ processors and Windows 10, the LG gram 15 prioritizes both productivity and mobility.
"We are always thrilled to be able to show international audiences our newest monitor and PC innovations at CES," said Jang Ik-hwan, head of the monitor and PC division at LG Electronics. "LG is always innovating to exceed customers' expectations by creating products that provide breathtaking aesthetics and unparalleled user experience."
Attendees of CES 2016 are encouraged to stop by LG's booth at the Las Vegas Convention Center in Central Hall #8204 from Jan. 6-9 to see LG's newest monitor and PC products for themselves.
# # #