April 20, 2023
[Future Tech] Improving Convenience and Experiences With Service Robots
In the very near future, service robots are expected to help people in a variety of different ways and in all kinds of different fields and settings, from manufacturing and healthcare to construction and the home. Designed to perform useful tasks or provide relevant information, they can enhance convenience, efficiency and safety wherever they're used.
According to Renub Research, the global robotics industry is rapidly expanding, with the service robot sector predicted to maintain a compound annual growth rate (CAGR) of 24.6 percent from 2021 to 2027.
At CES 2018, LG unveiled for the first time LG CLOi robots, which are already capable of offering a diverse array of services.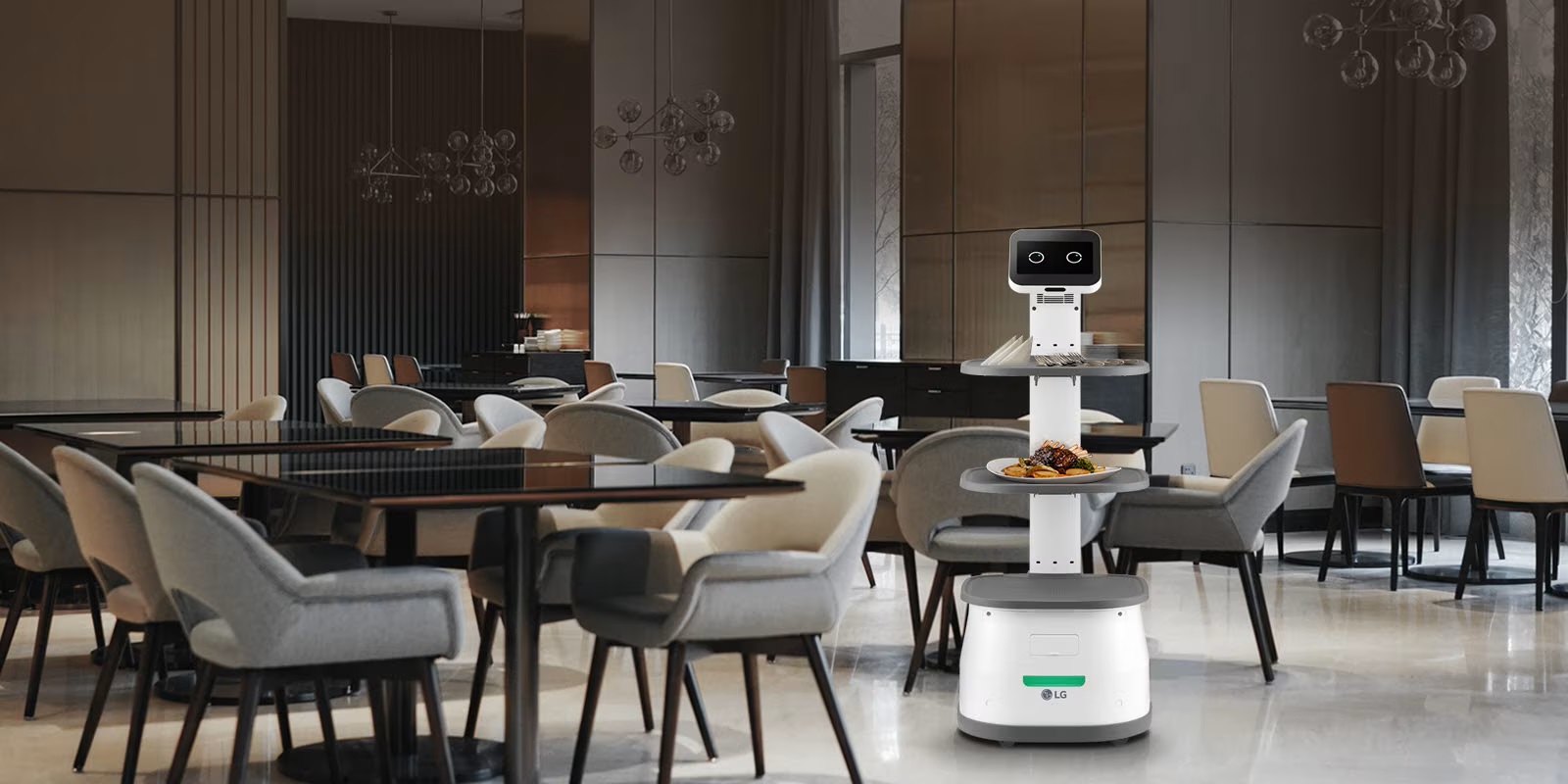 Leveraging several of its cutting-edge core technologies, including the areas of autonomous driving, sensors, artificial intelligence (AI) and cameras, LG has established its robotics business as one of the central pillars of its future success. The data and expertise accumulated from introducing robot solutions optimized for various environments, including restaurants, hotels, museums, shopping malls and hospitals, are helping LG to create the next generation of service robots.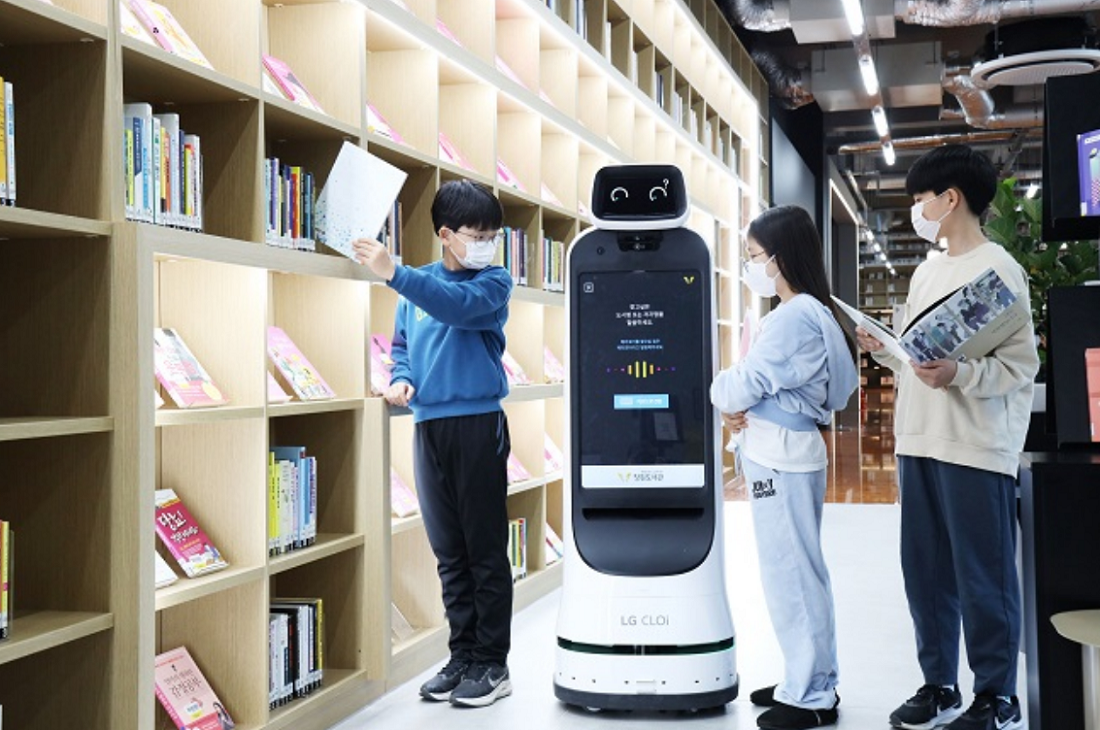 Recently, the company supplied the Changwon Public Library in Changwon, South Korea, with an LG CLOi GuideBot programmed to perform a range of library-specific functions. The collaboration represents the first time that an LG CLOi solution has been connected to a library management system. Additionally, the company provided Changwon Public Library with three LG CLOi ServeBot – two shelf-types and one drawer-type – to increase accessibility and convenience for visitors.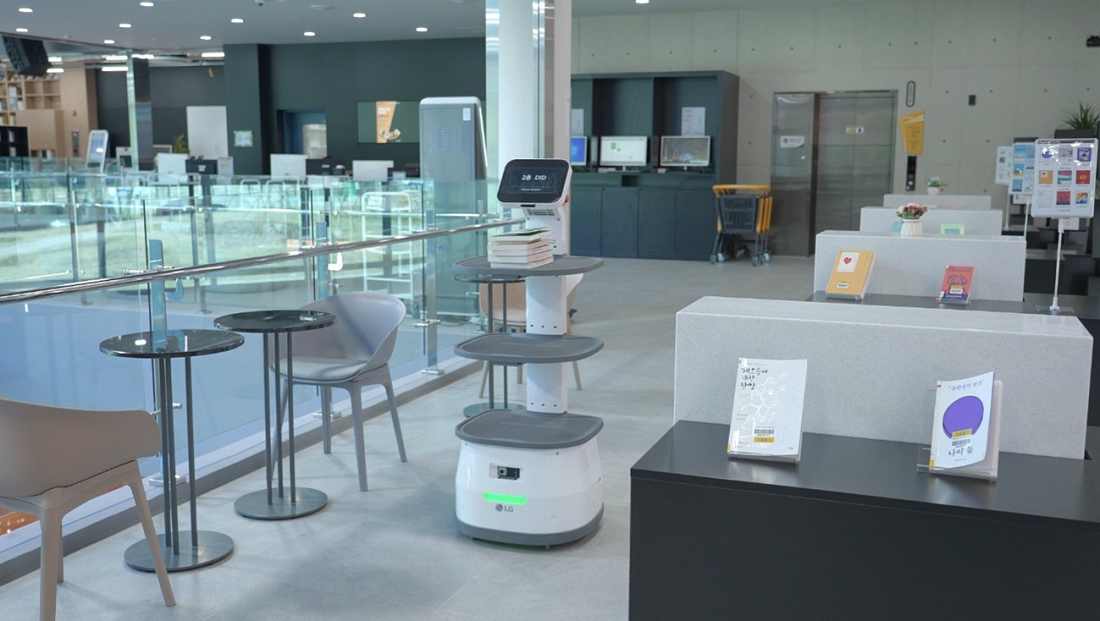 The drawer-type LG CLOi ServeBot helps transport books to children and to persons with mobility issues, anywhere in the library. Users can request a book at the search desk and, after the librarian has retrieved the item, have it delivered to them in the drawer of LG CLOi ServeBot. To ensure delivery is made to the correct person, the drawer will only open after the requestor enters a password – created at the search desk – on the robot's display. And because LG's robots can easily navigate getting on and off the elevator, they can travel to any of the library's different levels whenever required.
Meanwhile, LG's shelf-type CLOi ServeBot has endeared itself to busy staff members at Changwon Library by conveying returned books to automated book return desks. Without the need to push around or unload carts stacked with heavy books, staff has more time and energy to help visitors seeking advice or to answer their questions.
LG CLOi robots are also currently improving the visitor experience at select museums in South Korea. Last month, the LG CLOi GuideBot was deployed at both the Gongju National Museum and National Assembly Museum, where it provided directions to amenities and exhibits and informative commentary on the museums' artifacts and collections. The intelligent and interactive LG CLOi GuideBot boosted visitor satisfaction and accessibility and added a new dimension to the museum-going experience.
To help visitors with limited hearing, the CLOi GuideBot can offer commentary in sign language and display easy-to-read subtitles on its built-in screen. It can also help visitors who use wheelchairs by guiding them along the most convenient routes to the museums' various exhibits. Additionally, the CLOi GuideBot features interactive content designed to help young learners understand the significance of the objects and histories on display.
For its role at museums, LG CLOi was equipped with specially-designed software that allows it to autonomously find its way around and deliver a wide range of information specific to each site.
LG is committed to offering products and solutions that not only present an enhanced level of convenience but help improve people's lives in meaningful ways. To learn more about the company's future core technologies, stay tuned to LG Newsroom for the next episode in the Future Tech series.
# # #