June 18, 2021
Putting the Spotlight on Athletes of East Africa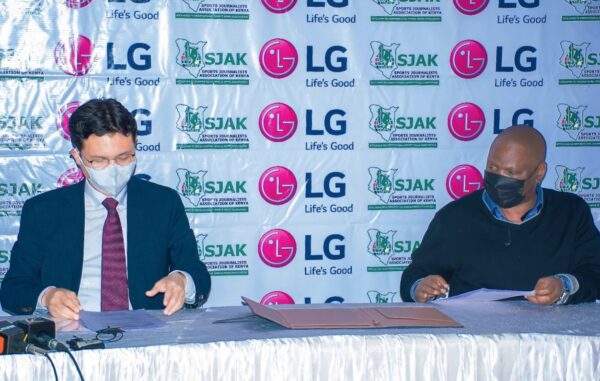 LG East Africa managing director Kim Sa-nyoung and SJAK President Chris Mbaisi
Sports promote greater diversity by bringing cultures and people together and its profound impact is felt in many spheres of life. But since the start of the pandemic, most of the world has not been able to enjoy the fruits and joys of this favorite pastime. As countries slowly begin reopening for business and return to life as usual, LG East Africa partnered with the Sports Journalists Association of Kenya (SJAK) to recognize and reward outstanding sporting talent in Kenya.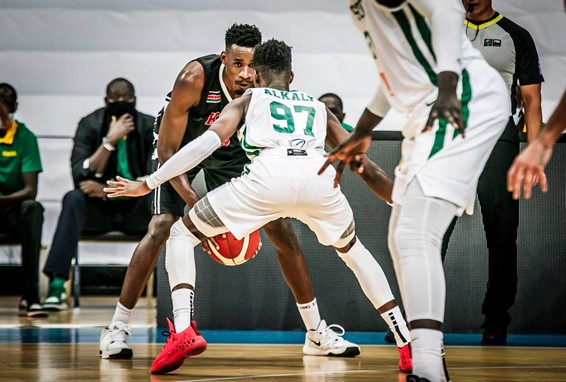 Tylor Okari Ongwae, Photo Credit: Kenya Basketball Federation
The LG Sports Personality of the Month Award, a year-long collaboration, gives LG and SJAK the opportunity to put a spotlight on the most exceptional Kenyan sportsmen and sportswomen for their achievements. A winner is selected by a panel of SJAK members from eight different media outlets in Kenya every month. Five athletes in the fields of tennis, basketball, boxing and marathon running have already been recognized this year with LG Sports Personality of the Month Awards.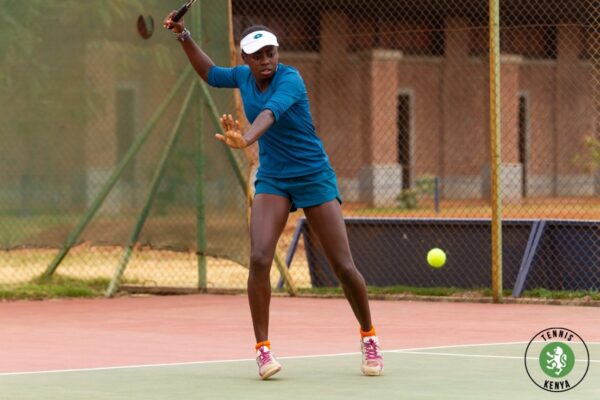 Angela Okutoyi, Photo Credit: Tennis Kenya
Winners to date include tennis star Angela Okutoyi and basketball player Tylor Okari Ongwae who were both awarded LG Instaview refrigerators in recognition of their amazing achievements on their respective courts. Boxer Elly Ajowi received an LG NanoCell TV while Ruth Chepng'etich, who recently set the world record for the half marathon, received an LG AI DD washing machine for her contribution to the sport. Earlier this week marathoner Titus Ekiru was named the latest winner which included the prize of an LG SolarDOM oven.
"This award has really motivated me to do well in my next race in Tokyo so I can hopefully bring back another medal for Kenya," said Chepng'etich.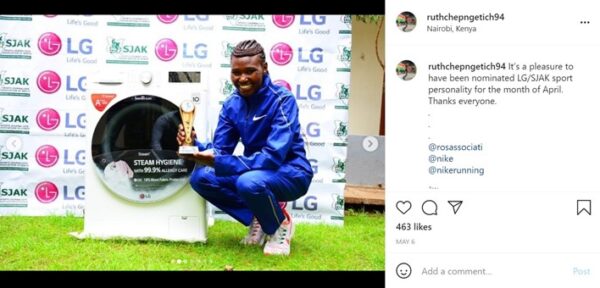 Ruth Chepng'etich
This isn't the first time LG has worked with SJAK, having previously coordinated on the nation's Footballer of the Month award. According to SJAK president Chris Mbaisi, the LG Sports Personality of the Month Award is already motivating both up-and-coming and established athletes alike at a time when the sports world has had little to be optimistic about.

Elly Ajowi
Boxer Ajowi applauded LG and SJAK for creating the much-appreciated award program and said the recognition would inspire other boxers to be the best that they can be in the sport.
Throughout these creative partnerships, LG is demonstrating its commitment to social sustainability. Collaborations such as the LG Sports Personality of the Month Award underline the crucial role the private sector can play in championing the development of local talent who could one day go for gold and bring pride to a whole nation.
Contributed by LG East Africa
# # #