February 7, 2017
LG INTRODUCES INNOVATIVE OLED DIGITAL SIGNAGE AND ADVANCED B2B LCD SOLUTIONS AT ISE 2017
Next-Generation, Flexible Open Frame OLED and Ultra Stretch LCD Digital
Signage Solutions to Expand Visual Options for Enterprises Worldwide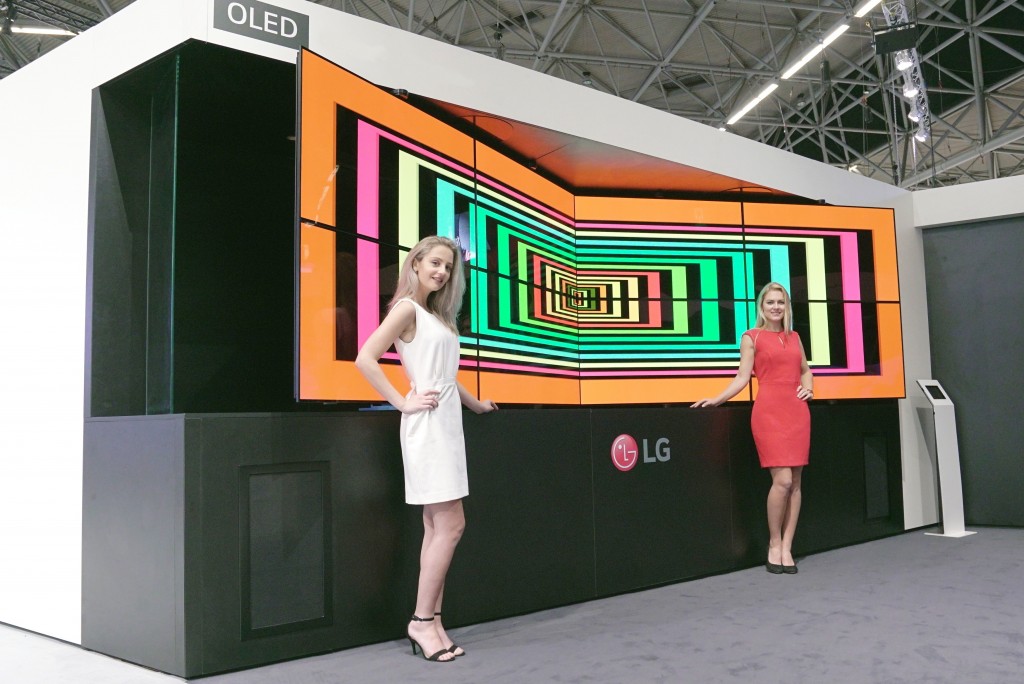 SEOUL, Feb 7, 2017 – LG Electronics (LG) is taking digital signage technology to a whole new level by showcasing its advanced business-to-business digital signage solutions at Integrated Systems Europe (ISE) 2017 in Amsterdam from February 7-10. Innovative products such as LG's Flexible Open Frame OLED, In-Glass Wallpaper OLED and Ultra Stretch LCD Signage solutions will allow European enterprises to provide their consumers with a stunning visual experience, ideal for advertising, interactive video art, education, hospitality and more.
LG's stand (Booth 12-K70) at ISE 2017 will feature a Flexible Open Frame OLED Signage display that will highlight OLED's inherent advantages. OLED technology allows screens to emit light without the need of backlighting for superb images with the deepest possible blacks and lifelike colors, while providing wider viewing angles than conventional backlit displays. And because OLED displays are thin and flexible, LG's next generation Flexible Open Frame OLED Signage allows customers to change the curvature of their installations in either landscape or portrait modes. The curvature of the screen can be changed even after installation, allowing for both convex and concave displays.
Other OLED solutions include LG's 65-inch Dual-View Curved Tiling OLED Signage to demonstrate OLED's slim design and versatility. The display consists of eight connected double-sided, flexible OLED panels for superior image rendering viewed from any angle. Each panel offers 4K Ultra HD image quality with 3,840 x 2,160 individual pixels while system on a chip (SoC) and 128GB of internal memory work together to deliver perfect UHD playback without the need for a separate PC or media player.
Designed with dual-sided ultra-slim OLED panels in a glass pane, LG's In-Glass Wallpaper OLED Signage is perfect for boutiques, art galleries and other businesses that want to add a sophisticated touch to their interior décor. Available in both standing and hanging versions, the In-Glass Wallpaper OLED solution allows businesses the freedom to utilize signage in their space as effectively as possible.
At ISE 2017, LG will also introduce its 65 and 55-inch OLED Video Wall solution in both portrait and landscape formats to meet customers' specific signage needs. On display at ISE will be LG's 1 x 4 OLED Video Wall unit which can be connected with other units to create signs of various configurations.
Visitors to LG's ISE booth will be met by an immersive video wall comprised of twelve 55-inch LCD display panels. With industry-leading thin bezels, the video wall units can be linked together to form even larger commercial displays. LG will also unveil its split-screen capable 86-inch Ultra Stretch digital solution, ultra-wide 58:9 signage with minimal bezels capable of displaying up to four simultaneous images. The 86-inch Ultra Stretch solution utilizes LG SuperSign media editor software for fast and convenient customization of images and video content.
LG's largest 88-inch Ultra Stretch digital signage handles 32:9 aspect ratio images and are split-screen capable to provide an even more immersive experience. Equivalent to two 49-inch panels connected side-by-side, this display can render fine details and is the perfect signage solution for kiosk displays, financial institutions and dining establishments, among others.
Other LG industry-leading LED digital signage technologies will also be featured at ISE 2017. The company's large 173-inch Ultra HD LED digital signage with 1mm diodes uniformly arranged to provide consistent backlighting. Another unique technology making its debut at the show incorporates LED diodes in a transparent film which can be installed over windows to expand installation options. The film will be incorporated into new digital signage solutions set to roll out in early 2017.
"Our Flexible Open Frame OLED and the Ultra Stretch LCD digital signage products demonstrate the kind of innovative solutions that today's B2B customers demand," said Kwon Soon-hwang, head of the Information Display division at the LG Home Entertainment Company. "We will continue to raise the bar in developing new display technologies for European and global customers who rely on the best tools in the industry to help them succeed."
# # #