October 4, 2016
LG BRINGS STREAMLINED PAYMENT OPTION TO SMART TVS
Paymentwall-LG Partnership Expands Viewers' Access to Content and Online Retailers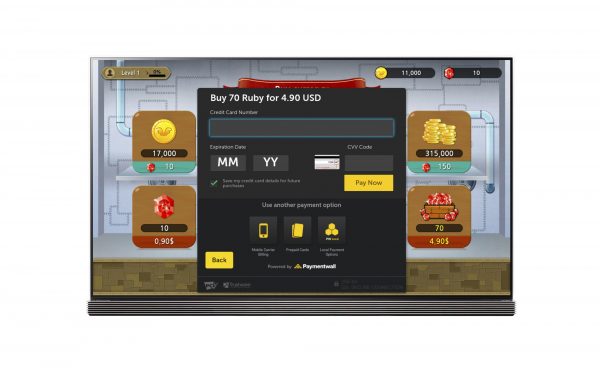 SEOUL, Oct. 4, 2016 ― Starting today, LG and Paymentwall will give developers the opportunity to create apps that enable LG webOS Smart TVs in over 200 countries to support more than 140 different payment methods. This partnership will give consumers easier access to paid apps, movies, games and much more through LG's intuitive webOS Smart TV platform.
By expanding the number of markets where online payments via LG webOS Smart TVs will be accepted, this integration with Paymentwall will allow LG customers to enjoy a larger selection of paid content globally via the LG app store. By simply clicking the Buy Now button and entering a credit or debit card number, owners of LG Smart TVs with webOS will be able to conduct hassle-free online purchases all over the world without having to sign in separately. LG webOS Smart TV owners will also get support for payment via desktops, laptops, tablets or mobile devices using QR codes and other secure verification protocols.
The versatility of the webOS platform has made LG's Smart TVs the ultimate choice for customers seeking a wide selection of engaging content. LG's new webOS 3.0 platform delivers an expansive world of content, including live TV, streaming services as well as fun and challenging games. webOS is also compatible with next-generation 4K Ultra HD programming, as well as High Dynamic Range (HDR) movies and shows.
"By collaborating with Paymentwall, we're able to evolve the smart TV purchasing experience on the LG webOS platform much faster than if we had worked alone," said Brian Kwon, President and CEO at LG's Home Entertainment Company. "This partnership is another example of how LG's collaborative effort has elevated us into one of the leaders in the global smart TV industry."
# # #